First Generation Tiger Nurse - Brad Harrell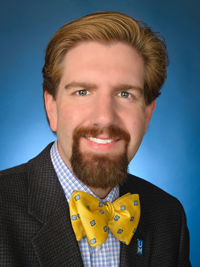 I grew up in a very rural, country community in Tennessee. Grandparents on both sides were farmers and sharecroppers for generations. My father worked in factories and my mother in secretarial positions and then later in the farming insurance industry. Neither attended college. The closest member of the family that attended a university was my aunt. Even though she had a great influence on my career, there was little to glean from her own college journey 30 years ago. I knew only two things: (1) I wanted to care for people and their health and (2) I wanted to teach. I had few sources of information outside of my high school guidance counselor and an occasional conversation with my aunt. In the final years of high school, I depended on information from high school friends that were also forging their own first generation journey. I watched some overwhelmingly succeed and some miserably stumble. I wanted to be in the succeed group. I was becoming more excited about college, but still had no idea how to get there. One other "small problem" – there was no money. I would have to find a way to attend college, but also pay for college. I worked hard in high school. I worked hard to keep my grades up. I worked hard to stay engaged with my community and in various clubs in school. That paid off because I created lasting relationships that fostered a sense of direction and belonging in this college journey that seemed so foreign to me. Nevertheless, I moved forward into the unknown. I enrolled in a community college with a full music scholarship and took nearly every course (it seemed) in the sciences. I always took an overload of courses every semester (usually 25-30 credit hours). This overload had to be authorized by the college's vice president. I had a standing meeting of sorts with him prior to every semester. My conversations with him provided great insight and guidance on my academic journey. I knew my time at the community college was quickly coming to an end and the decision to move to a university that would award a bachelor's degree would need to happen soon. I applied and was accepted to many universities both near and far, but this country boy knew deep down that a reputable university, close to home, with a stellar reputation – particularly the nursing program – was what I needed.
The University of Memphis quickly settled in my sights as a top contender. It was affordable. It was close enough to home. It had a highly-respected nursing program. Bingo! My first interaction with the University of Memphis was directly with the Loewenberg School of Nursing. My first on-campus experience (outside of occasional high school honor bands and friend visits) was to the nursing school. I had a meeting with the dean. I was welcomed even though I really didn't know what a Dean was. I was made to feel at home. I was quickly accepted and enrolled in one of the best undergraduate nursing programs in the country. How did this happen?! I continued to complete my undergraduate and graduate degrees in nursing at University of Memphis. Faculty were accommodating. Close ties to advisors and faculty made me feel comfortable. Engagement in student associations and groups was readily available and allowed me to "plug in" to the larger university. A broad set of liberal study pre-requisite courses – taught by very interesting faculty experts – provided a breadth and depth that this "meat and potatoes guy" really needed. I was amazed that so many very smart people were so close to home!
Not only did I enter my professional career with knowledge and experience from University of Memphis, but I chose this great place to continue with a graduate degree in nursing. I also chose this great university to continue – through my own career – the work of the great faculty, mentors, and advisors that were so formative in my early university days. The University of Memphis was central to my education, growth, professional development, and platform to achieve a terminal degree in nursing.
Today, I am an Assistant Professor and Director of MSN and TNeCampus in the Loewenberg College of Nursing at University of Memphis. I am so fortunate to be in a position to mentor and engage students every single day. I love to hear students' stories and I love to share my own story. I came from knowing very little about a college or university. I worked hard. I played a little. I engaged with University of Memphis to become a "Tiger Nurse." Now, I live a full life of caring for others, teaching others, and researching areas that I care most about. Occasionally, I still get to drive a tractor around the farm.
Brad Harrell | Loewenberg College of Nursing | bharrell@memphis.edu | 901.678.3100