Know Your Resources: Get the Support You Need! - Dr. Dan Bureau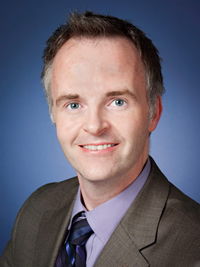 I had no idea I was a first-generation student. I grew up around a college: My parents worked at New Hampshire College in food service. My Dad was a chef and my mom was a food service manager. Neither went to college but they worked every day at the college. They also had a very college like experience: they served as advisors for a local fraternity and sorority at the campus. I grew up around college students. I hung out in the cafeteria at night when my parents couldn't find a babysitter for me. I used their recreation center. I even wrote for their school newspaper when I was six. My sister received her associate's from the New Hampshire College as well.
My parents, who would identify as lower middle class when I was growing up, may not have gone to college, but they instilled a love for college in me.
When I went off to college, I thought I knew what I needed to know and because I had really been "in college" since I was five. I wanted to have a traditional college experience: join student organizations, become a member of a fraternity as I had seen my parents benefit from their connections with fraternity/sorority life, live in a residence hall, do well academically, etc. I did all of those things and had a wonderfully amazing college experience from which I learned A LOT! It also was a lot of hard work and I had to work all through college, sometimes having three jobs in the summers to make money to help pay for college and other things I wanted. I was fortunate because people looked out for me. I made connections for jobs. I took advantage of the services provided for students on my campus.
And this is where my advice to you lies: Know your resources. Know what is available to you in terms of support services. Do you need help with a class? Do you need help managing a problem? Do you need help getting connected? We have those services all over our campus. If you can't figure out where to go contact me (dabureau@memphis.edu) and I can help.
Working on campus was helpful for me as it allowed me to make money while not having to always drive to work. I recommend you learn where and how you can find on-campus employment. Do your best to not work off-campus or limit your schedule to working no more than 20-25 hours a week unless absolutely necessary. I really recommend this even if it means working more in the summer. Some people can work full-time and go to school, but most cannot do that very well.
Finally, my advice is to ask as many questions as you need in order to feel confident and competent as a college student. Seek out your faculty. Seek out staff (basically everyone who is not a professor). Just find someone and ask them if they know how to help you.
Dr. Dan Bureau | 235 Administration Bldg | dabureau@memphis.edu | 901.678.2114