Begin with the End in Mind – Kyle Nixon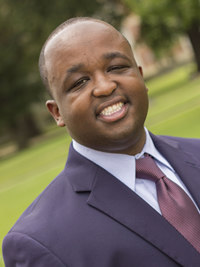 I started college in 2007 at the University of Southern Mississippi – just an hour north of my hometown. In high school, I was pretty involved and made good grades. I figured college would be similar -- but little did I know, I was in for quite a surprise. Having not had any immediate family members to attend college, I had to complete a lot of the college search process alone or with the help of my aunt who had attended 30 years before. No one really taught me what the FAFSA was or the importance of getting college applications in on time to take advantage of scholarships. Looking back, I often felt like a lost first-generation college student, even though I had no idea that the term even existed at the time.
My first year of college was pretty good. I was the eager freshman committed to joining organizations and becoming engaged early as quickly as possible. I went to class – most of the time 30 minutes early – and studied a good bit to maintain a quality GPA. My first set of challenges actually came during my sophomore year of college, when, in my opinion, I lost some of the more focused attention from the institution. A lot of programs were built around first-year students -- but more often than not, the second-year students also need the same level of support. Especially first-generation college students. As a sophomore, I made a 'D' in two courses and thought my career was over. I had a pity party, but then I got it together and took advantage of tutoring, and recognized the importance of mentorship and connection.
One piece of advice that I have for first generation college students is to begin with the end in mind. (A piece of advice that was shared with me during my freshman year of college). Your college experience will come and go quickly, and before you know it, you'll be searching for a job or applying for graduate programs. Take advantage of free tutoring. Go to your professor during office hours to get to know them. Attend a play organized by the theatre department, or cheer on the Tigers from the Liberty Bowl. Laugh hysterically with your friends until 2 in the morning. Make the connections that will last a lifetime. Begin with the end in mind. The investments that you make early on -- whether through studying, networking, or simply through self-care – will end up being what helps you cross the stage at FedEx Forum! (We'll all be cheering you on!)
Kyle Nixon | 101 Wilder Tower | kcnixon@memphis.edu | 901.678.0857