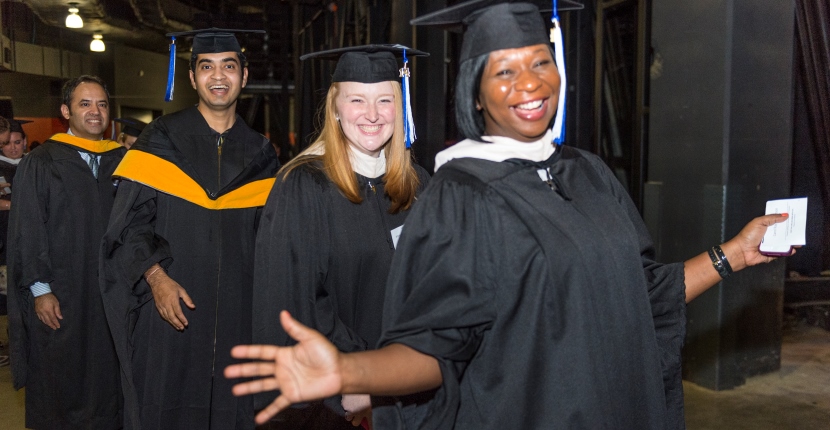 Graduation Information
(Read page in its entirety before completing forms) You can see an instructional video that walks you through the graduation application process here. You can see an instructional video that walks you through using DocuSign here.
Required Forms
Failure to submit BOTH the graduation application and the degree and/or certificate candidacy form will delay your graduation until the next semester.
FILING ELIGIBILITY RULES:
You must have a cumulative graduate GPA of 3.00 or better.
You must be fully admitted to a graduate degree and/or graduate certificate program before filing your graduation application.
Non-Degree Students are NOT eligible to file for graduation.
SUBMISSION PROCESS:
We strongly recommend that you send the candidacy form to your departmental advisor at least 1-2 weeks prior to the submission deadline so that the form will reach the Graduation Analyst by the required deadlines. Any received after the deadline will NOT be approved.
IMPORTANT NOTES:
Students completing a Graduate Certificate program must be officially admitted to the program in order to both apply to graduate and to officially receive the certificate. If you are not admitted, please submit an Academic Program Update Form to Graduate Admissions (FedEx Institute of Technology, 201) immediately.
Students completing an Education Specialist degree may substitute the College of Education Education Specialist Program of Studies and Candidacy form for the Graduate School candidacy form. If you have not completed the EdS Program of Studies, the form must be completed and submitted to the College Director of Graduate Studies by the deadline listed below.
All future correspondence pertaining to graduation will be sent to student University email accounts only. No written correspondence will be sent via U.S. mail. Please check your university account periodically throughout the semester.
DEGREE CERTIFICATION:
Students will be certified for graduation only when all degree requirements are met, including the removal of all "I" or "IP" grades earned from previous semesters and the successful completion of comprehensive examination requirements or final approval of master's theses or doctoral dissertations.
If degree candidates earn any "I" or "IP" grades during their last semester of enrollment, they will automatically be disqualified from graduation and will be notified of this disqualification via U of M email only.
HOW TO "APPLY TO GRADUATE":
Visit your MyMemphis portal at: https://myuofm.memphis.edu/
To access the application, click on the Student link and locate the Banner Self Service channel. You will see a box with a folder called Banner Self-Service and folders underneath. Click the Student folder. Then click Student Records. Then click Apply to Graduate. Follow the prescribed steps listed below:
Carefully review Step 1 - Prerequisites to Graduate.
Click on Step 2 - Apply to Graduate to complete application.
Once Step 2 has been completed, proceed to Step 3 - Diploma Mailing/Cap and Gown form. All students are required to complete both the Diploma Mailing and Cap and Gown form, even if there are no plans to attend graduation exercises. For students completing only a graduate certificate program, there will be no access to the Cap and Gown portion as these students are not allowed to participate in graduation.
Step 4 will be emailed to approved students in your final semester. The form will be sent from The Commencement Office to your Memphis email account only.
After the application has been completed, click View Application to Graduate.
Proceed to Step 3 only if you need to make changes to your name or to the diploma mailing address. Do not go back to Step 2.