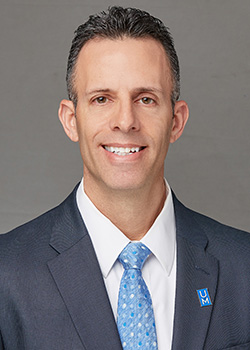 Richard Bloomer, Ph.D.
Dean & Professor
Email
rbloomer@memphis.edu
Office Hours
By appointment
About Richard Bloomer
Richard Bloomer, Ph.D. joined the faculty of the University of Memphis as an assistant professor in the Department of Health and Sport Sciences (now the College of Health Sciences) in 2004, having held prior positions at Duke University Medical Center and Wake Forest University. He currently serves as dean of the College of Health Sciences and Campus Recreation. He holds the rank of professor and directs both the Cardiorespiratory/Metabolic Laboratory and the Center for Nutraceutical and Dietary Supplement Research.
Dr. Bloomer maintains an active research agenda, having received external funding as principal investigator for close to 50 projects since 2005, totaling approximately $3 million. As a result of his active research agenda, he has been lead or co-author on close to 200 peer-reviewed manuscripts and book chapters. In 2013, he co-authored the book, The Daniel Cure (Zondervan), which highlights his research with the dietary restriction model known as the Daniel Fast.
He has specific expertise in the area of oxidative stress and antioxidant therapy, as well as in the use of dietary ingredients for purposes of improving cardio-metabolic health. He has served as a consultant to a variety of nutraceutical and dietary supplement companies and has been an invited guest on radio programs nationwide to discuss his research. He has written more than 75 health related articles for various online and print media targeted at non-scientific audiences.
Education
Ph.D. Exercise Physiology - University of North Carolina at Greensboro - 2003
M.S. Exercise Physiology - Ithaca College - 1998
B.S. Health and Wellness - Buffalo State College - 1996