Welcome to the Meeman Biological Station
The Edward J. Meeman Biological Station consists of two sites: The Meeman site (623 acres; 252 ha) is located about 25 miles north of Memphis and 2 miles east of the Mississippi River on a Chickasaw Bluff. This site is in the narrow transition zone between the Mississippi River Valley and West Tennessee Coastal Plain physiographic regions. The Station and surrounding areas are characterized by low plains and fertile valleys which are drained by the Mississippi River and several tributaries.
The Station has a modest conference/administrative center, large laboratory building with classrooms, research and teaching labs, dormitory room, and a kitchen. The Brunswick site (367 acres; 149 ha) is located adjacent to the Loosahatchie River about 20 miles east of the Meeman Site. This is a bottomland site with sluggish streams, cypress swamps, and numerous old fields surrounded by private lands.
The Station is available to graduate students and qualified investigators throughout the year. Faculty from The University of Memphis and several other institutions in the Mid-South utilize the facility for research purposes. Ongoing research programs include river and wetland ecology, wildlife ecology, plant community ecology, population ecology, evolutionary ecology, ecological genetics, and others.
Courses in ecology, botany, field techniques, and related disciplines are offered during the summer.
Edward J. Meeman Biological Station Conceptual Master Plan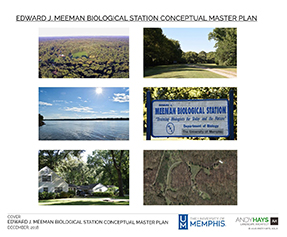 A Conceptual Master Plan has been developed for the Edward J. Meeman Biological Station. The plan envisions renovation to the field research laboratory, the Conference Center and summer cottage, and establishment of centrally-located administrative offices. Other upgrades include signage for trails and property boundaries, a boardwalk through wetlands on the Brunswick property, and securing the properties with electronic gates and cameras.
Proposed new buildings include a modern research laboratory, a multipurpose meeting/classroom building, and two dormitories to house ~100 students. Two additional buildings will provide space for research equipment (including boats and canoes) and permanent cover for maintenance equipment. A Mississippi River Center and Museum Complex, space for a hiking/biking/canoeing outfitter, and an above-the-canopy observation tower will complete the transformation. This ~$15M plan represents a guiding document to develop Meeman Biological Station into the world class campus that Mr. Meeman could only have imagined 50 years ago when he donated his property for use as a natural area for biological research and education. Read the Full Master Plan.