News
MTSU's Teaching with Primary Sources Uses Memphis Massacre to Teach Media Literacy
Media literacy is a vital civic skill. Every American needs to learn sooner or later how to sift reliable from unreliable information. We need to know how to identify an author's agenda, his or her purpose, and the audience to whom she or he is speaking. The proliferation of fake news from both ends of the political spectrum makes it all the more pressing that we and our students master these basic media literacy skills. In their March 2017 newsletter, MTSU's Teaching with Primary Sources takes on this challenge, using competing, contemporary reports about the Memphis Massacre, to help our students learn how to make sense of and evaluate the flood of information that comes our way daily. Check it out!
Memphis Massacre Featured in a Round-Table on Reconstruction History
In May 2016, Beverly Bond, co-director of the Memphis Massacre project, joined five other leading scholars of Reconstruction to discuss where we go next. With Reconstruction's sesquicentennial upon us, the scholars asked, what will it entail? "What issues confront scholars, civil rights advocates, public history practitioners, and teachers devoted to deepening conversations about Reconstruction? What opportunities does Reconstruction's sesquicentennial present"? The answers to these and other questions about how we remember our past are now available. Check out here to see the edited results of a lively discussion as it appears on the website of the Journal of the Civil War Era.
Germantown High School "Crosstalk"
On January 30, 2017, Susan O'Donovan, co-director of the Memphis Massacre project, joined Noelle Trente of the National Civil Rights Museum, to talk with host of Germantown High School's GHS-TV "Crosstalk" about Black History Month in general and the Memphis Massacre in particular. Video of that conversation can be found here.
Memphis Massacre featured in "Process: A Blog for American History"
As national interest in Reconstruction grows, so too does interest in the Memphis Massacre and what has been an amazingly successful effort to commemorate the violent loss of lives that shook a city and a country in May 1866. Besides speaking about our project at recent conferences in Richmond, Virginia, and Oxford, Mississippi, Beverly Bond and Susan O'Donovan have published an essay in "Process," the blog of the Organization of American Historians. Click here to read our reflections on the community collaboration that has broken the silence that has long shrouded on of the most turbulent and formative periods of our nation's past.
Memphis Massacre Featured by the UofM
The University of Memphis featured the Memphis Massacre Project in a new promotional video: "Commemorating the 1866 Memphis Massacre: Exploring Slavery, Emancipation, and Reconstruction." Filmed at the Orange Mound Gallery, our video has already gotten 177 views. History sells!! Please check it out, and then visit the rest of our website, our blog, and our Facebook page. Follow us on Twitter too.
Memphis Massacre on "Muster"
Word continues to circulate about Reconstruction, its meanings, and its deep importance to American history. For the Memphis Massacre project directors' latest contribution to a discussion that must not die, see "'A History They Can Use': The Memphis Massacre and Reconstruction's Public History Terrain," on Muster, the official blog of the Journal of the Civil War Era.
Memphis Massacre to be Broadcast on C-SPAN 3
For those of you who missed the symposium, "Memories of a Massacre: Memphis in 1866, a Symposium Exploring Slavery, Emancipation, and Reconstruction" will be re-broadcast on C-SPAN 3 in July!
Session 4: The Memphis Massacre, featuring Stephen V. Ash, Hannah Rosen, and Andrew Slap, will air at 6:00pm ET (5:00pm CT) on July 9.
Session 5: The Radicalization of Reconstruction, featuring Julie Saville, Carole Emberton, and Timothy Huebner, will air at 6:00pm ET (5:00pm CT) on July 23.
Because both sessions are slightly longer than the two hours regularly allotted to this slot, C-SPAN plans to start them slightly before 6:00pm ET. As the scheduled airing date approaches, C-SPAN will post the exact start times on their website. We will also post them here, and on the Memphis Massacre social media sites (Facebook, blog, and Twitter).
Changing the Historical Landscape
So much has happened since our last news report, that it is difficult to know where to begin! Dr. Beverly Bond delivered a lecture on "Women and Post-Civil War Racial Violence" on March 25; on April 1, Dr. Christi Moss of the University of Memphis delivered a talk on Rhetoric and Commemoration; Dr. Susan O'Donovan led a discussion at the Benjamin L. Hooks Central Library on April 14; and with Kira Duke of Middle Tennessee State University, Dr. O'Donovan conducted a teachers' workshop on April 15 at the National Civil Rights Museum. All of these well-attended events included lively and far-reaching discussions about the Memphis Massacre and its place in American history and memory. How should we account for murder and massacre? Whose story gets to be told, how, and by whom? What happens to our knowledge of nation and nation-making when we leave out important parts of our collective story?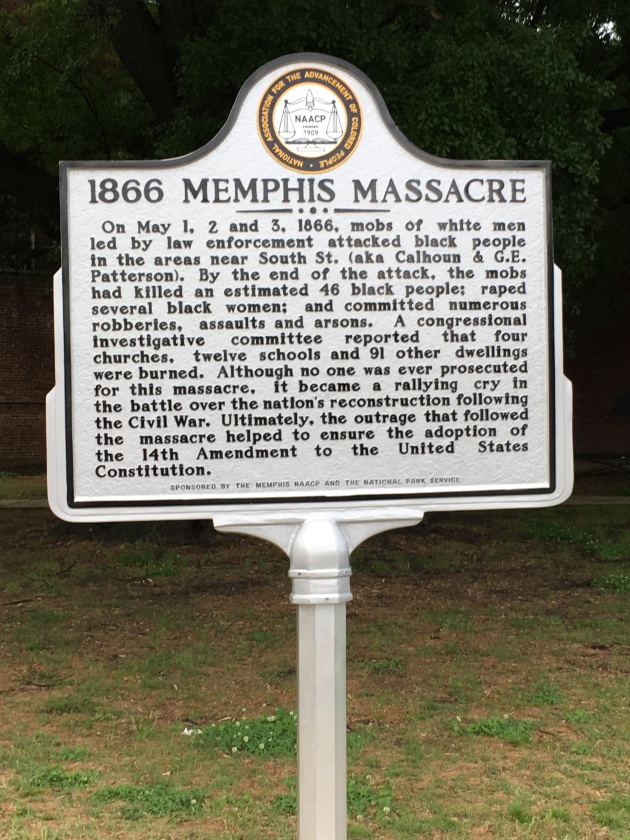 The best news of all, however, is that after a wait of 150 years, Memphis has a commemorative marker! On Sunday, May 1, the Memphis NAACP unveiled the first-ever marker to any aspect of Reconstruction's turbulent history. Memphis made history this Sunday. We have done what no other community across the country has ever done. We are the vanguard of a new era of historical memory: one that is all-inclusive, one that does not shy away from the more troubling aspects of our past, one that is willing to grapple with honestly with our nation's history in order to better prepare for our nation's future. All of us at the Memphis Massacre project are very proud of what the Memphis NAACP and their National Park Service partners have accomplished with this marker. The challenge now is to maintain that all important momentum and to continue leading the country toward a more complete recognition of who we were, who we are, and who we can be.
Media coverage of this ground-breaking, nation-changing event can be found on the "media" tab on the Memphis Massacre blog. Listen to Dr. Bond on NPR. Read about Mayor Jim Strickland's support of the new marker. Consider the words of Bryan Stevenson when he speaks about the need to update and extend the iconography that marks our historical landscape. Then go see the marker for yourself. You will find it in Army and Navy Park, which is located at the corner of G.E. Patterson and 2nd Street.
Talks, Talks, and Blogs
The news is coming fast and thick. The best place to keep up with breaking news on the Memphis Massacre front is our blog. There you can find compilations of tweets from recent lectures by Dr. Stephen Ash and Dr. Tim Huebner. You can also find a brand-new blog by guest writer and historian of religion, Elizabeth Jemison. An assistant professor at Clemson University, Dr. Jemison explains why the mob that ravished Memphis in May 1866 paid special attention to black churches. Those churches were more than houses of worship, she tells us. They were houses of hope and ambition, and sites of community mobilization.
Check out our "Upcoming Events" page for April's commemorative activities; "like" and "share" our Facebook page too. The Memphis Massacre is already reaching hundreds of people. We want to reach thousands. Help us break the silence. Help us tell the Reconstruction story.
Teachers' Workshop
In partnership with Teaching with Primary Sources (MTSU) and the National Civil Rights Museum, the Memphis Massacre Project will be offering on April 15 a special workshop "Remembering the Memphis Massacre: Teaching Reconstruction's History with Primary Sources." All participants will receive lunch and educational resources, including a copy of Stephen V. Ash's book A Massacre in Memphis and Nashville Public Television's documentary Reconstruction: A Moment in the Sun. Access here for more information about the workshop and about how to register.
NAACP Art and writing contest
In commemoration of the 150th anniversary of the Memphis Massacre, the Memphis NAACP is inviting all 8th through 12th grade students in Shelby County to submit an original essay, original poem, or original work of art that explores some aspect of the Memphis Massacre and its legacies. The winners will be recognized with cash awards. The deadline for submissions is April 11, 2016, at 5:00PM. This is a wonderful opportunity for our students, and a wonderful way for them to deepen their understanding of an extraordinarily important event in Memphis and American history. Click here for more information about the contest.
The National Park Service as History's Schoolroom
Teaching takes place in all manner of venues, including our National Park Service sites. For that reason, Will Wilson, Park Guide at the Vicksburg National Military Park jumped at the opportunity to participate in a teachers' workshop held recently in Memphis by Facing History and Ourselves. Here's what Will had to say about his experience:
"I was one of two National Park Service personnel in attendance, while most participants were teachers from Memphis and Mississippi. The workshop focused on The Reconstruction Era and the Fragility of Democracy, but more specifically the 1866 Memphis Massacre. This event is little known, much less taught in our schools. This workshop was a means for me to learn more about the event and learn new ways to talk about race in American history.
I found that the staff at Facing History and Ourselves were well prepared and offered wonderful insight into this horrendous event in our nation's history. The lectures were followed by activities that participants engaged in that allowed us to have a better understanding of how to use these activities to reach an audience. These activities, in particular the Gallery Walk; Graffiti Boards; Word Wall; and Think, Pair, Share - Facilitating Discussions in Small and Large Groups were all beneficial for the development of programs that the National Park Service is looking to incorporate into programs regarding Reconstruction.
As we have now concluded the commemoration of the American Civil War and are now commemorating the 150th anniversary of Reconstruction, all of these activities are great tools for the National Park Service to implement for visitors to have a better understanding of our nation's past and how it plays a role in today's society. We hope this is a way that we, as the Park Service, can connect with and create the next generation of park visitors, supporters, and advocates."
Do Black Truths Matter?
That was the question Dr. Andre Johnson of the Department of Communications put to a packed room on February 16 at the University Center. In a moving address, Dr. Johnson reminded his audience that black truths do not always matter today. Black testimony is too easily discounted and disregarded. This is especially so when the person who offers those truths is considered "imperfect": a poor person, a person with an arrest record, a desperate person who does whatever is needed to get by. But as Dr. Johnson also reminded his audience, this has not always been the case. There have been moments in American history when black truths mattered, and mattered a lot. One of those times was in May 1866, when in the wake of the Memphis Massacre, a congressional delegation headed by Elihu B. Washburne gathered testimony from 170 eye witnesses to and victims of three days of racial terror. The truths that Washburne and his delegation collected and took seriously helped change the course of our nation's history. They were part of an avalanche of black truths that ushered in new law and gave new meaning to citizenship and freedom. So much did those black truths matter in America of 1866 that the testimony Washburne's delegation collected has been enshrined at the Library of Congress. Read that testimony. Remember when black truths mattered.
Remembering Lincoln Chapel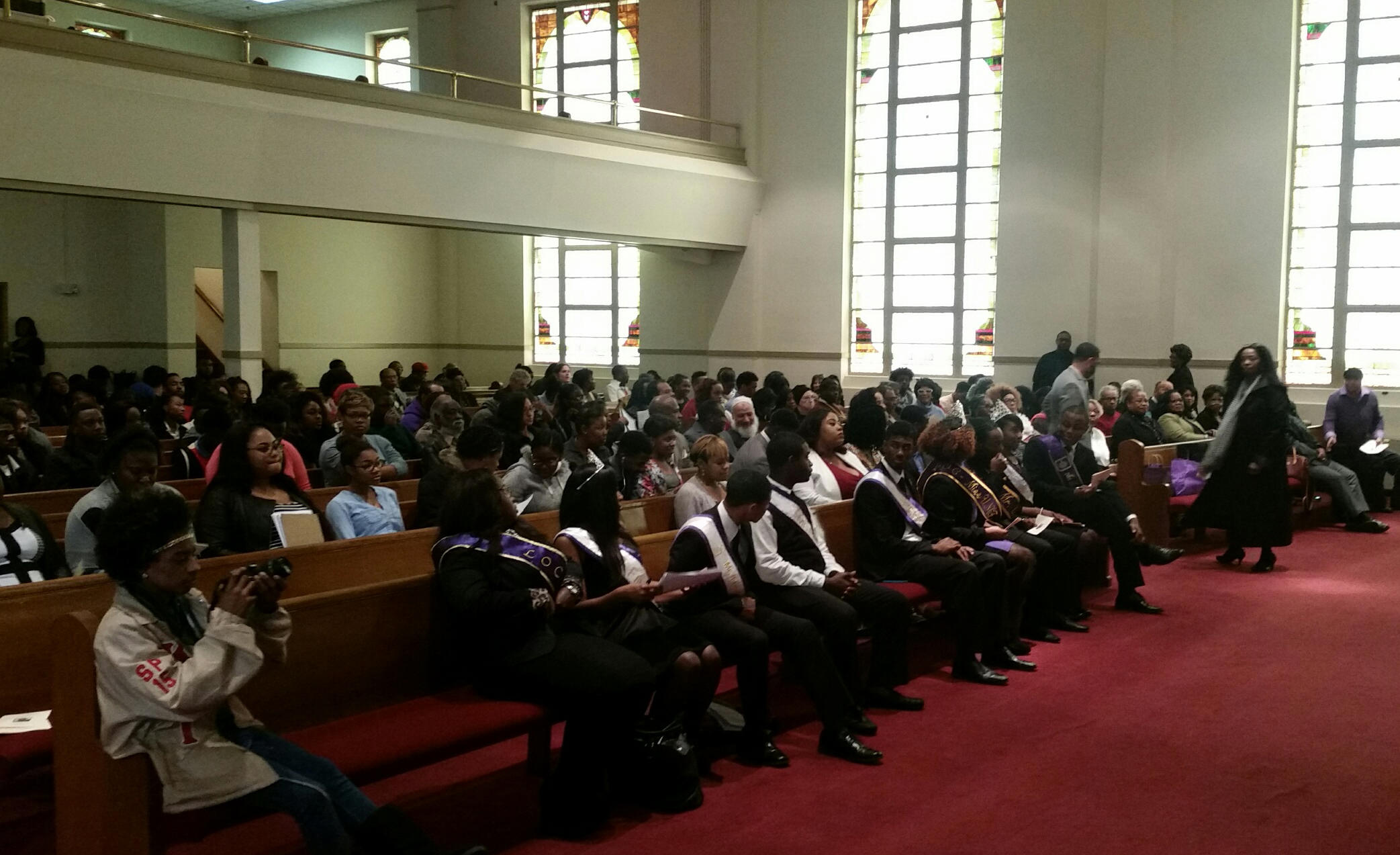 On February 3, a large audience gathered at the Metropolitan Baptist Church to commemorate the May 1866 destruction of Lincoln Chapel, an American Missionary Association-sponsored school that had been organized during the Civil War for the benefit of former slaves. As Dr. Andre Johnson explains in a recent blog post, fire was not enough to keep the school down. By dint of black Memphians who refused to cede dreams of education to violence, the school re-emerged from those ashes, growing into the institution we now know as LeMoyne-Owen College.
Read all about it
Marti Tippens Murphy of Facing the Past and Ourselves, a Memphis educational nonprofit, reflects on the problem of slavery and family memory in the February 2, 2016, issue of the Memphis Commercial Appeal.
Memphis Massacre Partners Meeting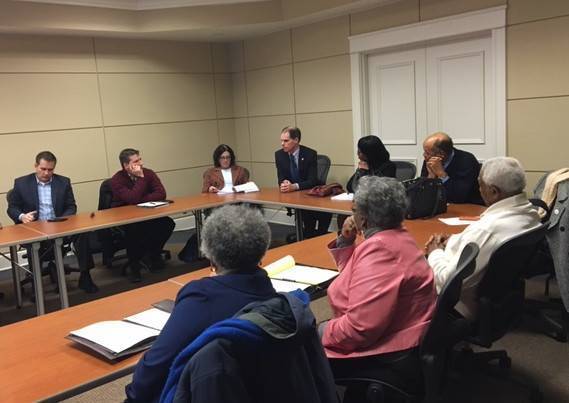 On Tuesday, January 26, the Memphis Massacre partners gathered at the Pink Palace Museum for a final meeting before kicking off four months of commemorative events. Joined by representatives from Rhodes College, the National Parks Service, LeMoyne-Owen College, the Memphis chapters of the NAACP and ASALH, the Marcus W. Orr Center for the Humanities, the Benjamin L. Hooks Institute, Humanities Tennessee, Orange Mound Cultural Center, the University of Memphis Libraries, and other interested citizens, we reviewed our calendar, unveiled the project website and our blog, and finalized publicity plans. Partners spoke briefly about their individual commemorative activities, and we all reflected on the historic importance of the Memphis Massacre Project.