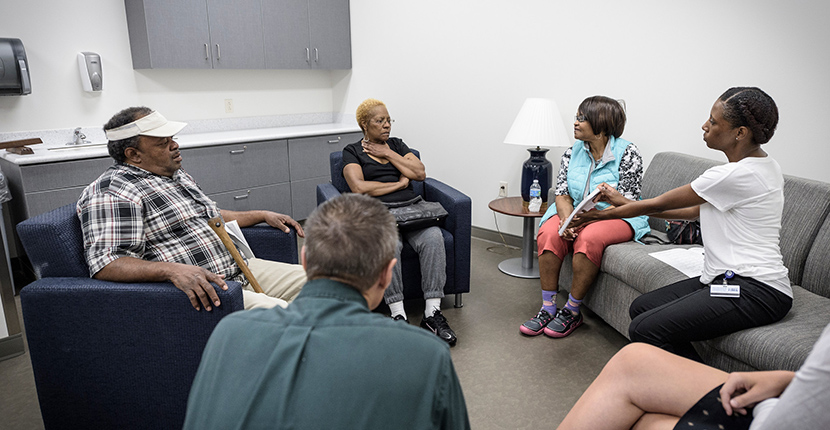 Aphasia Boot Camp
This four-week intensive program empowers stroke survivors to maximize their communication potential and enhance life participation. Research shows that an individual's recovery is not over at the one-year mark. There is much more to be gained.

Licensed speech-language pathologists lead the program with the assistance of graduate student clinicians.

Each day will include:

One hour of individual therapy
One hour of group therapy
One hour of rotating therapy (computer, individual, group)
Weekly caregiver support group
Program Goals:

Provide the best, yet affordable service available.
Value the client, the family, and their goals.
Focus on individualized, functional results that make day-to-day life as close to normal as possible.
Establish a maintainable base of skills from which to grow.
Where:
Memphis Speech and Hearing Center
4055 North Park Loop, Memphis
(Community Health Building, 1st floor)

When:

Assessments start the week of 4/15/19
The program runs 6/3/19-6/28/19
Monday through Friday
9:00 am – 12:00 pm
Cost: $2440

Includes baseline evaluation and 60 hours of therapy
Insurance billing and fee assistance are available for those who qualify
A physician's referral is required
Contact: Memphis Speech & Hearing Center
901.678.2009
Tawni Ballinger, MA, CCC-SLP
Kelli Owens, MA, CCC-SLP
Reference:
Babbitt, E. M., Worrall, L., & Cherney, L. R. (2015, November). Structure, Processes, and Retrospective Outcomes From an Intensive Comprehensive Aphasia Program. American Journal of Speech Language Pathology, 24.