Samuel Hester Crone (1858-1913)

Samuel Crone was born in Columbia, Tennessee to German immigrants George and Margaret Crone. The family soon moved to Memphis, where the children grew up. During his youth, Sam apprenticed in one of the city's many photography studios, where he eventually specialized in painting portraits from photographs. By 1877 he was listed in the Memphis city directory as an artist. That year he left for Munich, Kingdom of Bavaria, to matriculate in the Royal Academy of Fine Art, which was then Europe's premier school of art. He completed his studies in 1881 and remained in Europe to pursue his career as a painter.
Samuel Crone's career was bright at the time of his graduation from the Royal Academy. He had won a prestigious medal in 1881, and his masterpiece, the painting that culminated his studies, was widely heralded and reproduced in publications. Later paintings were shown in prestigious salon-style exhibitions in Philadelphia and New York as well as European cities. However, daily life requires regular income, and it is likely that most of his practice consisted of modest paintings for gallery sales to upper middle class buyers. The relatively few paintings that we know about cover a wide spectrum of types within the academic tradition: genre scenes, landscapes, harbor scenes, still life and allegorical subjects.
During the two decades after his formal training, Crone lived primarily in Munich but stayed for periods in London, Paris, and Rome, where he continued his education by studying the techniques of great artists that he found in the major museums. He made two trips in 1885 and 1892-1893 to the United States. The first trip was with his new wife, Sarah Voegtly Crone, whom he met and married in London, to visit his family in Memphis and hers in Pittsburgh. In 1892, they apparently tested the idea of relocating the U.S. but returned to Europe in 1893, where they moved around in Germany, Switzerland and Italy until their final return to the U.S in 1913. Sam contracted pneumonia and died 16 days after they landed in New York. All of his unsold work, including the drawings in this show, remained with his wife in Pennsylvania and was passed on to her nieces and nephews and their children.
One of the great nephews, William Huff, received over 200 drawings from his mother. Eventually, he also amassed many of the paintings that had been dispersed among his cousins and purchased a few that had been sold in Europe and the U.S. Huff's tireless commitment to Samuel Crone's legacy, and his gift of the collection, research materials and supporting endowment to the Art Museum of the University of Memphis, ensures that Samuel Crone's career will be remembered, valued and studied.
This exhibition celebrates the career of Memphian Samuel Hester Crone and the extraordinary gift by William S. Huff to AMUM. On September 18, 2015, the Samuel Hester Crone Gallery will be dedicated. more here / Samuel Hester Crone Gallery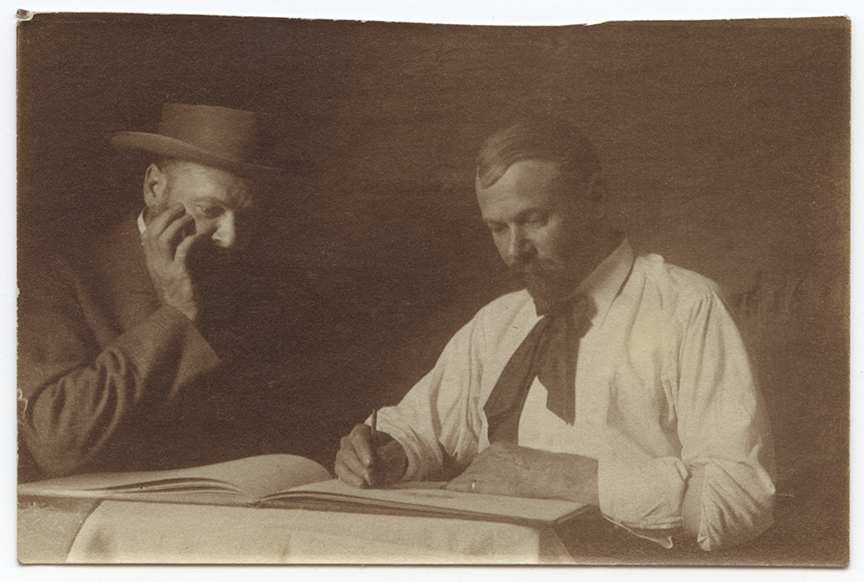 Double Self Portrait, 2013.12.itola1_40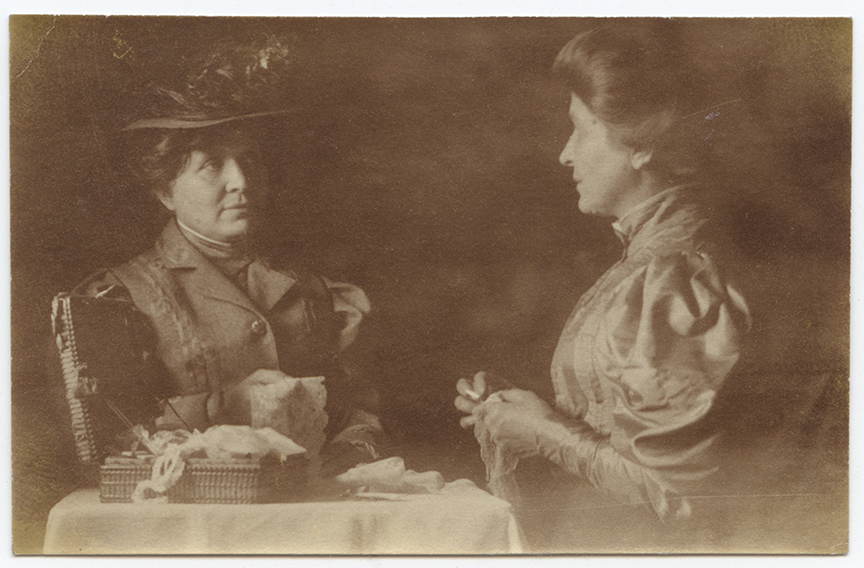 Double of Sadie Crone, 2013.12.itola1_75
Two Families
Generations of two families, unknown to each other, grew up with paintings by their uncle, Samuel Hester Crone (1858-1913), and romantic stories about his artistic career in Europe.
In Pittsburgh, William Huff, his sister and brother, their mother and her relatives had many Crone paintings in their homes. Some of these had been given by or purchased from Sam during his lifetime, others came from his wife Sarah (Sadie) Crone, their great aunt, who married Sam in 1895 in London and became his partner and muse. They traveled and resided in Germany, France, Switzerland and Italy. In 1913 as Europe staggered toward war, they packed up decades of their lives and Sam's work and returned to the United States where Sam died of pneumonia near Pittsburgh two weeks after they landed.
In Memphis, the Crone family lived with his pre-European paintings as well as a few later ones that he sent as gifts and the mementos of his childhood and youth among his brothers and sisters. During the years abroad, he and Sadie corresponded with his father, brothers and sisters-in-law, but after Sam's death the exchanges dwindled. Among the following generations of both families, art works and memorabilia perpetuated family stories of Uncle Sam and Aunt Sadie, but the Memphis and Pittsburgh in-laws lost knowledge of each other.
William Huff's mother inherited over 200 of Sam's drawings and sketches, which she later gave to William, because he was "the artistic one in the family." A professor of architecture, William taught a Bauhaus-inspired design curriculum at the University of Buffalo; 19th century academic art was not his métier. He had lived with Crone's paintings and the family stories, but he was daunted by what he accepted as his responsibility to Uncle Sam's legacy.
In 1981, seeking a professional opinion, he took selected drawings to a curator of art at the Carnegie Museum in Pittsburgh, who proposed a small show on the condition that Huff could provide certifiable information about Samuel Crone. He couldn't. Very little in the family anecdotes could be verified, including Sam's birth place, said to be in Bolivar, Tennessee.
Thus commenced a research project that has occupied nearly 35 years of William Huff's life and led him across Europe and into archives there and in the U.S. that often disappointed but occasionally provided keys that unlocked treasures. One such was an instruction in the morgue copy of a Pittsburgh newspaper obituary of Samuel Crone: [Memphis (Tenn.) papers please copy.] Indeed, the paper's sister publication, The Commercial Appeal, had an expanded obituary that named three surviving brothers. Huff selected random Crones listed in a 1980s Memphis phone book to whom he wrote letters asking if they knew about the artist Samuel Hester Crone. Three responses reunited Sam and Sadie's great nephews and nieces, and that reunion is the basis for this exhibition and the extraordinary gift by William Huff of Samuel Hester Crone's art and his own vast and meticulous research to the Art Museum of the University of Memphis in Crone's hometown.