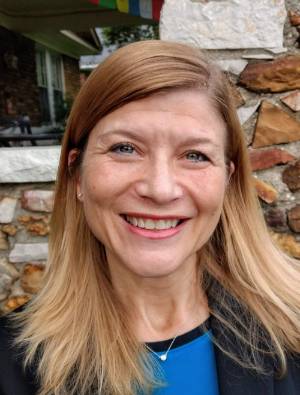 Dr. A. Katherine Lambert-Pennington
Associate Professor
Email
almbrtpn@memphis.edu
Office
308 Manning Hall, Memphis, TN 38152
Office Hours
Call for Hours
About Dr. Lambert-Pennington
Dr. Katherine Lambert-Pennington received her Ph.D. from Duke University in 2005. She currently holds the Public Policy seat for the Members' Programmatic Advisory and Advocacy Committee (MPAAC) in the American Anthropological Association (AAA). She is also the Director of School of the School of Urban Affairs and Public Policy at the University of Memphis.
Her dissertation research, in La Perouse, Australia, examined how changing racial ideologies, Aboriginal policies, and public perceptions of Aborigines have created a predicament of culture for urban indigenous people. In Memphis, as a member of an interdisciplinary research team, Dr. Lambert-Pennington has explored community-based models of development, food justice, and community-university partnerships. Her interest in citizen- led development has taken her to Sicily where she is partnering with Dr. Laura Saija (University of Catania) on research on the activists and leaders involved in the creation and implementation of Simeto River Agreement, a development strategy based on the activism, ecological sustainability, and shared governance. Dr. Lambert-Pennington is also a co- leader of the Community, Planning and Environmental Design (CoPED) study abroad program each summer. CoPED participants collaborate with community organizations in the Simteo River Valley in Sicily to implement key aspects of the Simeto River Agreement.
Check out the 2017 summer school, which focused on Zero Waste: https://vimeo.com/227772798.
CoPED Summer School 2017 [DOC] from ZOOMFILMMAKERS on Vimeo.
Expertise and Interests
Race and social inequality, community development, social movements, identity production, food justice, alternative food networks, participatory action research, urban Indigenous culture and Identity in Australia
Selected Publications
Under Review . Lambert-Pennington, Katherine and Lyndsey Pender. Doing Food at the Intersection of Gender and Aging, submitted to Anthropology and Aging.
2018 Lambert-Pennington, Katherine, Laura Saija, & Alice Franchina. From Possibility to Action: An Interdisciplinary Action-Learning School dealing with Waste. Cambio. Rivista sulle Trasformazioni Sociali, 8(15), 73-87.
2016 Lambert-Pennington, Katherine and Kathryn Hicks. Class Conscious, Color-Blind: Examining the Dynamics of Food Access and the Justice Potential of Farmers Markets. Culture, Agriculture, Food and Environment, 38(1) 57-66.
2016 Lambert-Pennington, Katherine. Promoting Engaged Scholars: Matching Tenure Policy and Scholarly Practice. Metropolitan Universities Journal. 27(2) 50-58.
2015 Antonio Raciti, Katherine A. Lambert-Pennington, Kenneth M. Reardon. The struggle for the future of public housing in Memphis,
Tennessee: Reflections on HUD's Choice Neighborhoods planning program, Cities, Available online 11 December 2015, ISSN 0264-2751, http://dx.doi.org/10.1016/j.cities.2015.10.016.
2014 Hicks, Kathryn and Katherine Lambert-Pennington. Evaluating the South Memphis Farmers Market as a strategy to improve access to healthy foods: Lessons from 2011. Journal of Agriculture, Food Systems, and Community Development, 4(2): 424-439.
Selected Awards
2012 Tennessee Medical Association's Community Service Award for the South Memphis Revitalization Plan

2012 College of Arts and Sciences Professional Development Assignment
Courses
Peoples and Cultures of the World (ANTH 3200)

Anthropology and Education (ANTH 4015)
Additional Resources