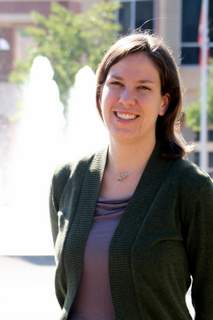 Dr. Micah M. Trapp
Assistant Professor
Email
mmtrapp@memphis.edu
Office Hours
Call for Appointment
About Dr. Trapp
Dr. Micah Trapp received her Ph.D. in anthropology from American University in 2011.
Her dissertation research focused on transnational household economies, status, and the migratory experiences of Liberian refugees in light of the enduring impact of the American Colonization Society's settlement of Liberia. This research was conducted at the Buduburam Liberian refugee camp in Ghana and addressed the complex processes associated with the shifts from formal to informal aid in a long-term camp and the eventual UNHCR cessation clause of refugee status for Liberians. Her more recent work has focused on taste and the politics of necessity in food assistance programming. As an applied anthropologist, Dr. Trapp has worked for two refugee resettlement agencies in the US and has also worked on a USAID evaluation team.
In 2013, Dr. Trapp began conducting ethnographic research at grocery auctions in Southern Maryland and in the Mid-South region. Situated at the crux of the industrialized food system and alternative food movements, this work explores the tension between conformity and resistance in the value of food at the grocery auction. Drawing upon Nancy Munn's transformational theory of value (and attendant notions of communal, positive, negative, and subversive value) and David Graeber's ethnographic theory of value, I argue that the communal value of the deal at the grocery auction becomes political through the production of refurbished commodities that do not simply reproduce the capitalist, industrialized food system, but render its exploits and inequalities visible.
Expertise and Interests:
Refugees, migration, humanitarianism, development, political economy of food, industrialized food system, taste, and household food economies.
Research Projects:
Most recently, Dr. Trapp began research on school lunch in Memphis, TN. In collaboration with students enrolled in her Food, Culture, Power course, Dr. Trapp conducted an exploratory study of student food choices and preferences in a charter elementary school. Dr. Trapp presented the preliminary findings on meal typologies and food preferences to the Memphis and Shelby County Food Advisory Council and is designing a larger school lunch study that will explore food supply chains, food labor, and the meaning and practice of lunch. In collaboration with GrowMemphis and students in Ethnographic Methods, Dr. Trapp is also conducting research on how food assistance programs (Double Greens) influence access to fresh fruits and vegetables at farmer's markets.
Selected Conference Presentations and Publications:
2016 Trapp, Micah M. "You-Will-Kill-Me-Beans: Taste and the Politics of Necessity in Humanitarian Aid." Cultural Anthropology 31(3): 412–437; https://culanth.org/articles/824-you-will-kill-me-beans-taste-and-the-politics-of.
2015 Trapp, Micah. Already in America: Transnational Homemaking among Liberian Refugees. Refuge. 31(1).
2013 Trapp, Micah. Remittances as Informal Aid: livelihoods and migration in a Liberian refugee camp
United Nations High Commission for Refugees, Policy and Evaluation Unit, New Issues in Refugee Research Working Paper Series.
2010 Trapp, Micah. What's on the Table: Nutrition Programming for Refugees in the United States North American Association for the Practice of Anthropology Bulletin, Special Theme Issue: Anthropological Perspectives on Migration and Health, Vol. 34.
Selected Awards:
2015 Engaged Learning Fellowship (University of Memphis)
2014 Learn and Serve Award (University of Memphis)
2009 National Science Foundation Doctoral Dissertation Improvement Grant
2008 American University College of Arts and Sciences Dissertation Research Fellowship
Courses:
Cultural Anthropology (ANTH 1200)

Anthropology and Human Rights (ANTH 4415/6415)

Food, Culture, and Power (ANTH 4417/6417)

Ethnographic Methods (ANTH 4010)
Courses Taught Previously:
Development Anthropology (George Washington University)

Contemporary Problems in Anthropological Perspective (University of Maryland Baltimore County)

Anthropology of Food (UMBC)
Additional Resources