U of M Will Share $3M DHS/FEMA Cyber Security Grant
Posted on 2016-09-30
The National Cybersecurity Preparedness Consortium (NCPC), of which the U of M's Center for Information Assurance (CfIA) is a core member, has been awarded a $3M grant from DHS/FEMA to develop and deliver cyber security training as part of the Continuing Training Grants (CTG) program.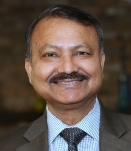 For this collaborative project, CfIA will receive a sub award of $500K for 3 years to develop research-based best practices for cyber identity and authentication. The project will deliver a unique and innovative approach with "tabletop" scenarios supplementing the online training to demonstrate participants' knowledge and skillsets to protect and defend systems with different authentication tools and techniques. The online training will assist state and federal jurisdictions with coordination and management of response efforts between emergency response organizations and critical infrastructure IT personnel necessary to prevent cyber incidents.
The NCPC core members are the U of M, University of Texas at San Antonio, Texas A&M University, University of Arkansas, and Norwich University. Under the leadership of Prof. Dipankar Dasgupta, the U of M's CfIA has been at the forefront of cyber security research in the Mid-South region.