Undergraduate Student Success in Cyber Security Research
Posted on 2016-03-29
The Center for Information Assurance (CfIA) at the University of Memphis, under the leadership of Prof. Dipankar Dasgupta, is at the forefront of cyber security research, education, and outreach in the state of Tennessee and the Mid-South region.
Among its various research projects and initiatives, the CfIA has established a successful student-centered research environment involving both undergraduate and graduate students. Most remarkably, this initiative has allowed for the interaction and collaboration of students across different disciplines. Undergraduate students from the Engineering, Communications, Business, and History departments, in addition to those from within the Computer Science department, have been working side-by-side with Ph.D. students and faculty. These students are involved in a number of diverse projects, including cutting-edge research in authentication for educational game-based puzzle exercises and research-driven training material for cybersecurity outreach activities.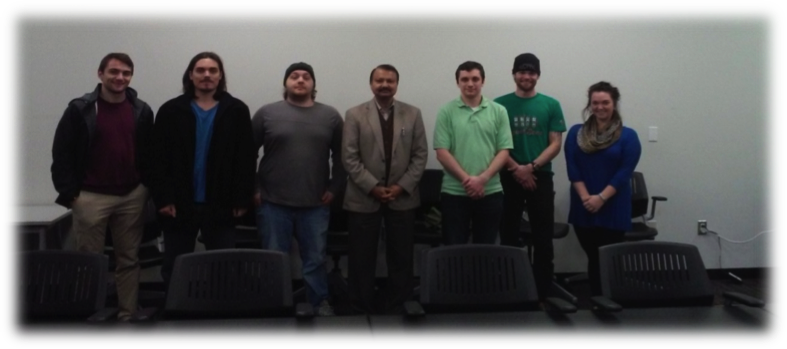 (In order from left to right: Mathew Jackowski from Rhodes College, Berkeley Willis, Aaron Marshall, Dr. Dasgupta, McKittrick Swindle, Robert Edstrom, Rachel Brandon)
Dr. Dasgupta not only leads the students on this road towards breakthroughs in academic research, but also challenges them to advance their grasp on the cyber security discipline, to which they so passionately dedicate themselves. Among several achievements, it is worth mentioning that two graduate students (Kul Subedi and Sujit Shrestha) and two undergraduate students (Robert Edstrom and Nick Gordon) won 2nd place in the prestigious CANSec Cyber Defense Competition in Little Rock, Arkansas on October 24th, 2015. This team also participated and performed exceptionally well in the CyberSEED national cyber security competition held at the University of Connecticut on October 29th, 2015.
Such research and outreach activities at the center are attracting more bright minds than ever before to the University of Memphis. For several years now, students who acquired research experience while working at the center have been offered high-valued positions and are in great demand in the job market. With its successful goal-oriented structure, the Center for Information Assurance truly embodies the University of Memphis' slogan of "Driven by Doing," making a difference in ways beyond comparison.