Announcements
EAP provider Optum offers wellness and management of work/life balance sessions
Wednesday, September 9 / EAP: Managing Remote Workers / 10:00-11:00 a.m.
Wednesday, October 7 / EAP: Living in Uncertain Times During COVID-19 / 2:00-3:00 p.m.
Wednesday, November 4 / EAP: Mindfulness (preparing for the upcoming holiday season) / 10:00 – 11:00 a.m.
Employees can sign up via Learning Curve and receive a Zoom link for access to the training. For this series, participants must register 24 hours prior to the start of the session.
The Annual Enrollment period for 2021 benefits starts Oct. 1!
Networks and benefits may change and impact you. It's a good idea to review your enrollment selections each year. If you don't make changes during the Annual Enrollment period, your current medical, disability, dental, vision and life insurance choices will stay the same. For complete information, visit the Partners in Health website.
Email received from Provost Office
Privacy Laws and COVID-19 Reporting
Release of student information between University personnel in regard to COVID-19 reporting
Sept 2 - All University employees are charged, under FERPA (Family Education Rights and Privacy Act), with safeguarding the privacy of student education records. There have been questions raised recently about FERPA, HIPAA and the release of student information between University personnel in regard to COVID-19 reporting.
As part of FERPA, personally identifiable information from student education records may be disclosed to other University officials who have been determined to have a legitimate educational interest in the information. Faculty or staff who become aware of a student who has tested positive or has been potentially exposed to COVID-19 should disclose that information to the dean of students (901.678.2187 or deanofstudents@memphis.edu). Faculty or staff who know of a student who is violating quarantine/isolation protocol should disclose that information to the dean of students using this form. Both the Health Center and dean of students have an educational interest by virtue of their respective roles to ensure the health of the University community and compliance with University directives.
In addition to the FERPA implications, questions have also been asked about the application of the Health Insurance Portability and Accountability Act (HIPAA). HIPAA is not applicable in the situations described above and, therefore, does not prohibit the disclosure of information.
More information concerning FERPA can be found at https://www.memphis.edu/registrar/faculty/ferpa.php.
---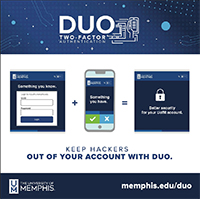 Do you have two-factor authentication set up for your UofM accounts? ‪Protect your accounts today from unauthorized access with DUO!‬ The UofM Single Sign-On System (SSO) now includes Multi-factor Authentication (MFA) capabilities. This means that users can protect their accounts by requiring a second means to authenticate in addition to their password.
Passwords alone have become increasingly easy to hack and MFA substantially reduces the threat of unauthorized access to accounts. ‪Check out memphis.edu/duo for set up instructions. ‬‪#TigerStrong 💙🐯‬ (copied from the facebook.com/uofmemphis)
---
Email received from President David Rudd
Aug 31 - Today is our official enrollment census day (14th day of semester), with total headcount enrollment at 22,385, up 1.7% year-over-year, and total credit hour change is up .9%. As mentioned in previous communications, our academic year budget projected flat enrollment, and we fully anticipated and had plans to adjust to an enrollment decline, consistent with other institutions across Tennessee and nationally. Although enrollment is up 1.7%, this year's unusual and challenging circumstances required us to make innovative investments in order to help our students continue their educational journeys.
Our Board of Trustees supported creation of a COVID-19 scholarship and loan program, one that has allowed over 1,000 students to continue at the UofM that might not have been able to do so without this additional support. Student access and success is at the heart of our mission. Being able to continue their journey is critical for not only our students, their families and the UofM, but also the broader Memphis community. I want to thank all those involved in this effort, and in particular, highlight the work of Dr. Rob Kniss, Dr. Darla Keel, Lofton Wilborn, George Ninan, Dr. Tom Nenon, Dr. Karen Weddle-West and Raaj Kurapati, along with all those in their offices for going well beyond the expected in supporting our students.
I will update you within the next two weeks as our budget numbers stabilize for the year. We anticipate our budget shortfall to be within the range originally projected, around $17M or slightly more, and are well positioned to address it with the plans shared previously at memphis.edu/presweb/communications/budgettaskforce.php.
Thank you for supporting our students at this critical challenging moment in our history. I have never been more confident we will emerge from this crisis stronger and well positioned for the future.
Regards,
M. David Rudd, Ph.D., ABPP
President, Distinguished University Professor of Psychology
---
Email received from Robert Jackson, CIO
Aug 19 - Information Technology Services (ITS) welcomes you to the University of Memphis. The start of a new academic year is an exciting time for us all. Please take a moment to read these important reminders:
Forward any suspicious email to abuse@memphis.edu for analysis. Be especially vigilant for financial, gift card or employment scams. Do not click suspicious links, open attachments in suspicious emails, or text personal information to suspicious phone numbers.
Review tips/policies for protecting your personal information at the ITS security website.
Students are encouraged to enroll in multi-factor authentication (Duo) to obtain additional security protections. Information about enrolling in multi-factor authentication is provided on the Duo information page located at [memphis.edu/duo]memphis.edu/duo.
For technical assistance, please contact the ITS Service Desk at umhelpdesk.memphis.edu, call 901.678.8888 or email umtech@memphis.edu.
Regards,
Robert Jackson, EdD
Chief Information Officer
---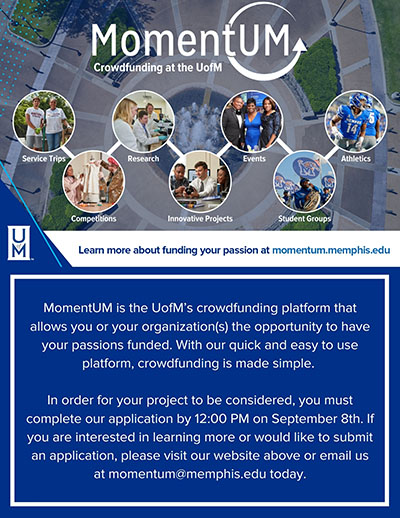 MomentUM is the University of Memphis' official crowdfunding platform. Crowdfunding is a peer-to-peer style of fundraising that is much more successful than traditional fundraising tactics. This means that whether you are a student, faculty/staff member, alumni, or a UofM organization/department we can help you stay Driven by Doing by assisting you in funding your passions. Some examples of types of projects we have hosted on MomentUM are: competitions, volunteer trips, group research, conferences, scholarships, academic trips, events, emergency funds, resources, preservation funds and more!
MomentUM is accepting application submissions through September 8, 2020.
Visit the website for more information on MomentUM.
---
Microsoft Teams Now Available
(From This Week August 10) - Microsoft Teams is now available to all faculty, staff and students. Teams is the hub for group collaboration in Microsoft 365 that integrates the people, content and applications to be more engaged. Teams brings simplicity to teamwork by collaborating, sharing and communicating while doing it all under one platform.
Microsoft Teams incorporates several applications into one. Here are a few functions offered: The Chat function is instant messaging between groups and individuals. Add GIFs, stickers or emojis to inject some personality into your conversation. Calls allow you to make audio and video calls over the network to students and colleagues. Channels are conversations you have with your teammates. Each channel is dedicated to a specific topic or project and can be found within Teams. Files are documents that can be downloaded, edited and shared with teammates. Files also offers quick access to your OneDrive storage. The Activity feed is a summary of everything that has happened in the channels that are in your teams list. Apps provide you with seamless integration with Microsoft applications in your team workspace. Calendar integrates with your Outlook calendar to make time management more efficient than ever. Think about the tools, files and dashboards that would be helpful to your group collaborations. Many of them can be added right into Teams.
Microsoft Teams is a persistent chat-based collaboration platform complete with document sharing, online meetings and many more features for group communications. Having a team space is key to being able to make creative decisions and communicate effectively with one another.
Introductory training for Teams can be found in Linkedin Learning, Microsoft and Learning Curve. More detailed information about Microsoft Teams can be found here.
---
Zoom Security
(From This Week August 10) - As of July 31, the setting to require passwords for Zoom meetings has been toggled on and locked. Making this setting mandatory aligns with Zoom's plans to enforce the rule for all future meetings, and it assures a greater level of security from unwanted visitors. When a new meeting is scheduled, a password will be automatically generated which will be located in the Security field.
---
UUID Password Expiration Guidelines Have Changed
(From This Week August 10) - University password expiration guidelines for Universal User ID (UUID) accounts have changed. UUID password expiration is no longer required for individuals who utilize multi-factor authentication (Duo). Additional information related to password security and guidelines is located at memphis.edu/its/security/password.php.
Students are encouraged to enroll in multi-factor authentication to obtain additional security protections and take advantage of this change. Information about enrolling in multi-factor authentication is provided on the Duo information page at memphis.edu/its/security/duo.php.
To assist with a smooth transition toward the fall semester, all UUID password expirations are temporarily paused. UUID password expirations will resume on Sept. 1 for any individuals who are not utilizing Duo multi-factor authentication.
For assistance, contact the Service Desk by calling 901.678.8888, emailing umtech@memphis.edu or visiting umhelpdesk.memphis.edu.