Ancient Egypt Family Day with the IEAA
Saturday, April 18, 2020
Ancient Egypt Family Day with the Institute of Egyptian Art & Archaeology, will be held on Saturday, April 18, 2020 from 10:00 a.m. to 2:00 p.m.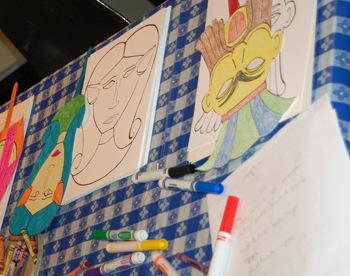 This fun-filled day will be held at the Art Museum of the University of Memphis, in the lobby of the Communication and Fine Arts Building.
Travel back in time for a day and explore the wonders of ancient Egypt right here in Memphis, Tennessee! Write your name in hieroglyphs, color a mask while learning about ancient Egyptian gods, make your own copy of an ancient Egyptian amulet, and much more.
See real ancient Egyptian artifacts in the Egyptian Gallery and meet students and Egyptologists of the IEAA. Guided tours of the Egyptian collection will be offered.
There will be lots of fun and interesting activities for all!

Sign up for our School for Scribes, an intensive, hour-long session where you will learn more about ancient Egyptian hieroglyphs. Class size in the "School for Scribes" is limited, so please call 901.678.2649 to reserve your place.
Scribes must be 10 years of age or older. Adults are welcome.

IEAA Family Day is FREE and Open to the public.
For information or to make group reservations, call 901.678.2649.
This Family Day is dedicated to the memory of Doris Layne (standing center), friend, supporter and colleague.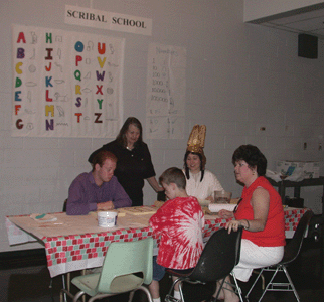 Graduate students Eric McCann (left) and Sarah Pitt Kaplan (right), along with the late Doris Layne, show kids and their parents how to "Write Your Name in Hieroglyphs".