Virtual Ancient Egypt Family Day with the IEAA
Available Online beginning TBD
Ancient Egypt Family Day with the Institute of Egyptian Art & Archaeology, will be held online this year.
Travel back in time for a day and explore the wonders of ancient Egypt right here in Memphis, Tennessee! Write your name in hieroglyphs, color a mask while learning about ancient Egyptian gods, and much more.
There are lots of fun and interesting activities for all!
Content will be available on DATE at TIME.
IEAA Family Day is FREE and Open to the public.
Activities
We have several downloadable activities for you to enjoy from home. Click on the picture of the activity you're interested to go to a new page for more information.
Resources for Families and Teachers
We have links to useful web sites and another downloadable resources for you to enjoy from home or in school. Click on one of the pictures below to acces these resources.
This Family Day is dedicated to the memory of Doris Layne (standing center), friend, loyal supporter and colleague.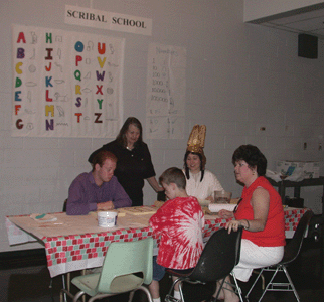 Graduate students Eric McCann (left) and Sarah Pitt Kaplan (right), along with the late Doris Layne, show kids and their parents how to "Write Your Name in Hieroglyphs".