The Curriculum & Schedule
The GSIS program provides a rigorous introduction to the field of International Studies. The curriculum provides intensive instruction and research experiences in the political, economic and social systems of the world. Formal courses; including three credit hours of college coursework; supervised individual and group projects, and experiential learning are part of the program. Seminars and lectures offered by prominent international, national, and local scholars, statesmen, and business executives allow GSIS students to gain extensive insight into international relations, international business, governance, and global issues. An in-depth study of languages, customs, lifestyles, and cultures of various nationalities are also an integral part of the learning experience.
Through the curriculum, GSIS students will:
Develop problem solving skills related to global events





Develop an appreciation and understanding of other cultures





Develop critical thinking skills with an international perspective
The typical summer curriculum is similar to the program described below, but each year the course and languages offered are subject to change.
All students will be enrolled in "An Introduction to International Studies" (INTL 1100, Section 161), a three hour college credit course which provides an introduction to the foundation of international studies. International Studies is a broad, interdisciplinary field of study encompassing the social, political, economic, and cultural workings of the international community. Course content will cover issues of culture, meaning and identity, social and political organization, inequality and power within a changing global context. The course features several guest lecturers from a range of academic disciplines to expose students to historic and ongoing processes of globalization from perspectives of culture, economics, environment and politics. The core instructor is an anthropologist providing students with the opportunity to explore the anthropological relevance to global concerns. What does it mean to live anthropologically and how do anthropological theories and methods contribute to addressing the issues and challenges that face the globe?
One of the requirements for the class is to be able to recognize and name the countries of the world. During the course students will be given a geography quiz asking them to identify all the countries in the world. In order to successfully pass the course, students must earn at least a 90% on this quiz. Accepted students who wish to begin studying in advance may find these links helpful:
http://lizardpoint.com/geography/
http://www.sheppardsoftware.com/African_Geography.htm
Other sites that take a fun and interactive look at world geography and mapping include entitled "Take A Seat: Road Trip Geography," at http://www.shearcomfort.com/take-seat-road-trip-geography.asp and " A Kid's Glossary of Maps and GPS Terms " found at https://www.teletracnavman.com/gps-fleet-tracking-education/a-kids-glossary-of-map-and-gps-terms%20.
The above are just examples of the many free online programs – just "Google" "world geography quiz" for other helpful links.
The Academic Director and lead instructor for Introduction to International Studies is Dr. Keri Brondo. As the GSIS Academic Director, Dr. Brondo oversees the academic content and activities of the program.She is Chair and Professor of Anthropology with research and teaching expertise in international development, environment and conservation studies, and gender and social justice. Dr. Brondo received her PhD in Sociocultural Anthropology at Michigan State University with a Concentration in Culture, Resources, and Power, a Graduate Certificate in Latin America and Caribbean Studies, and Graduate Specialization in International Development. She has nearly two decades of leadership experience within her discipline's largest professional association, the American Anthropological Association (AAA), having served as Chair of the AAA Committee on the Status of Women in Anthropology (COSWA), Chair of the AAA Committee on Practicing, Applied and Public Interest Anthropology (CoPAPIA), member of the Executive Board, and is currently Co-Chairs its Members Programmatic Advisory and Advocacy Committee. She is a former Fulbright scholar and Title VI FLAS recipient for the study of Spanish and Garifuna languages, and is regularly called upon to provide expert testimony on behalf of the afroindigenous Garifuna community for amnesty cases and as amicus curie for the Interamerican Commission on Human Rights. Dr. Brondo is the recipient of the Presidential Award from the American Anthropological Association, the Sierra Club's Dick Mochow Environmental Justice Award, and she currently holds a Dunavant Faculty Professorship at the University of Memphis and for excellence in teaching, research, and service. She is the author and editor of 4 books and over 60 journal articles, book chapters, agency reports, reviews and commentaries.
In addition to INTL 1100, GSIS students meet daily to discuss issues and participate in enrichment activities dealing with a specific area of the world. Students will be divided into four regional areas with each area group being introduced to a language spoken in that area.
Students in the AFRICA group will focus on the AKAN language and will concentrate on Africa's cultures, traditions and problems. Akan (/ə ˈkæn/) is the principal native language of the Akan people who make up over 50% of the population of southern Ghana. Akan is also spoken by over a third of the population of Ivory Coast.
The LATIN AMERICA group will learn PORTUGESE and will concentrate on Latin American politics, history and culture. With 190 – 230 million native speakers, Portuguese is ranked sixth on the list of the world's most-spoken languages. It is spoken by half of South America, and is the official language of nine countries, including Portugal, Brazil, Angola, Mozambique, East Timor and the administrative region of Macau.
Students in the MIDDLE EAST region will study ARABIC and concentrate on Middle Eastern politics, history and culture. Arabic is the largest member of the Semitic language family, spoken by more than 280 million people as a first language, and by 250 million more as a second language. Modern Standard Arabic is widely taught in schools, universities, and used in workplaces, government and the media. It is the language of the Qur'an and occupies a position similar to Latin (in Europe) throughout the Islamic world.
Students in the EAST ASIA region will study Chinese and will concentrate on the East Asian nations, especially China, and issues of development. Over 1 billion people (approximately 20% of the world's population) speak some form of Chinese. Chinese is spoken by the Han majority in Chani and many other Chinese ethnic groups in China.
Other academic activities include international dinners; developing a "global village;" lectures on world history, world cultures, international relations and politics; and a model United Nations session. While the schedule changes from year to year, GSIS students can get an idea of the daily GSIS schedule by clicking here.
Nonprofit Service Learning Day
GSIS students also spend one day working with Memphis nonprofit agencies that provide services and outreach to international communities and causes.
Operation Broken Silence is one such organization, their founder and executive Director, Mark Hackett (a Univeristy of Memphis International Studies Student),provided this blog post (https://www.operationbrokensilence.org/blog/working-towards-a-new-storytelling-experience/) about the 2016 GSIS Nonprofit Service Learning Day and the GSIS students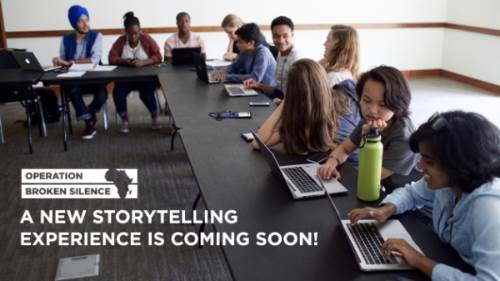 Operation Broken Silence worked with:
Posted by OBS Team on June 24th, 2016Operation Broken Silence
The University of Memphis serves as the host of the Governor's School for International Studies which takes place on the U of M Campus each year during the month of June. This year featured a presentation and workshop led by Operation Broken Silence's Executive Director Mark Hackett on June 24.Operation Broken Silence
Following a brief presentation about Sudan and our work, we presented the students with the task of laying the ground work for our first photo exhibit about Sudan, which we hope to have ready to tour locally here in Memphis in the Fall and possibly nationally in the Spring. The students then worked together for several hours to come up with a list of potential places that would host the exhibit, identified several grants we could apply for to help fund the project, and designed a marketing strategy to help promote the project when it is ready to open to the public.
We would like to thank the University of Memphis International Studies program for this opportunity, as well as the students who participated and exhibited a high degree of professionalism throughout the day. We were very impressed with your intellect, organizational skills, and passion for international issues!Operation Broken Silence.