The Curriculum & Schedule
The GSIS program provides a rigorous introduction and foundation to the field of International Studies. All 2022 GSIS students will receive six credit-hours and be enrolled in a special section of "An Introduction to International Studies" (INTL 1100) and "Introduction to Cultural Anthropology (ANTH 1200)."
What is the field of international studies?
International Studies is a broad, interdisciplinary field of study encompassing the international community's social, political, economic, and cultural workings. Course content will cover culture, meaning and identity, social and political organization, inequality, and power within a changing global context. The course features several guest lecturers from various academic disciplines to expose students to historic and ongoing globalization processes from perspectives of culture, economics, environment, and politics. The Cultural Anthropology course covers culture, meaning and identity, social and political organization, inequality and power within a changing global context.The core instructor is an anthropologist providing students with the opportunity to explore the anthropological relevance to global concerns. What does it mean to live anthropologically, and how do anthropological theories and methods contribute to addressing the issues and challenges that face the globe?
Through the curriculum, GSIS students will:
Develop problem-solving skills related to global events
Develop an appreciation and understanding of other cultures
Develop critical thinking skills with an international perspective
What else will students study?
In addition to INTL 1100 and ANTH 1200, GSIS students meet daily to discuss issues and participate in enrichment activities dealing with a specific area of the world. Students will be divided into four regional areas, with each area group being introduced to a language spoken in that area by native speakers. Students will study these areas' culture, customs, and lifestyles and curate a cultural dinner with ethnic food, traditional dances, foreign songs, culturally-appropriate skits, and more.
Is geography included in the curriculum?
One of the class requirements is to be able to recognize and locate all of the countries of the world. Students will be given a map test in the third week of the program, asking them to identify a randomized list of sovereign nations. To successfully pass the course, students must score at least 90% or greater. Chances to retake the exam will be allowed. Due to the program's intensive nature, students may wish to study well in advance as class time will not prepare for this exam. For a list of study resources, check out Parts Geek here.
What will students do during the late afternoons, evenings, and weekends?
Other co-curricular activities include developing a 'global village,' seminars from various guest speakers, participating in a model United Nations simulation, field trips to the National Civil Rights Museum, the world-renowned Memphis Zoo, and the famous Beale Street entertainment district. Students will also have free time to spend at the recreation center, nap, practice instruments, study, and enjoy the UofM campus. While the schedule changes from year to year, GSIS students can get an idea of the daily GSIS schedule by clicking here.
How was the 2020 virtual program structured?
Students met virtually every day over four weeks for the 2020 virtual program for the INTL 1100 core course in the mornings with small breakout instruction and discussion led by instructors and teaching assistants. Students chose one of four elective regional studies courses that met three days weekly in the afternoon. Arabic (the Middle East and North Africa), Akan (Ghana and West Africa), Mandarin Chinese (Mainland China), and Portuguese (Brazil). Students also participated in various academically focused afternoon and evening community engagement events and film discussions.
Are there any project-based learning aspects of the program?
GSIS students also spend one day working with a Memphis nonprofit agency with a global focus. For the past couple of years, Operation Broken Silence has worked on project-based learning assignments with advocacy and campaign designs with GSIS students. An excerpt from the 2016 program work is provided below from OBS.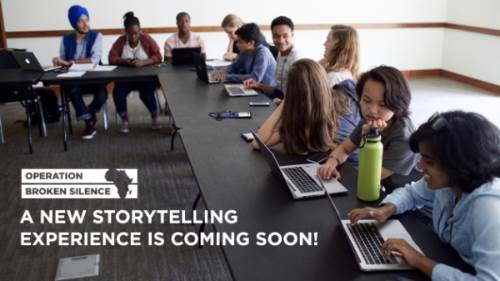 Following a brief presentation about Sudan and our work, we presented the students with laying the groundwork for our first photo exhibit about Sudan. We hope to have ready to tour locally here in Memphis in the Fall and possibly nationally in the Spring. The students then worked together for several hours to come up with a list of potential places that would host the exhibit, identified several grants we could apply for to help fund the project, and designed a marketing strategy to help promote the project when it is ready to open to the public.
We want to thank the University of Memphis International Studies program for this opportunity, and the students who participated and exhibited a high degree of professionalism throughout the day. We were very impressed with your intellect, organizational skills, and passion for international issues! -Operation Broken Silence.