GSIS Summer 2021
FAQ and Operational Plans
Will participants be required to take a COVID test before arrival on campus?
Students will be required to present a negative COVID-19 PCR test taken 1-3 days before the program start date. Rapid antigen tests will not be accepted. A copy of the test results will need to be submitted at check-in to the residence hall, either printed on paper or electronically.
Can a vaccination card be submitted in place of a negative Covid-PCR test?
Yes, vaccination cards can be submitted in place of a negative Covid test result. Currently, the Pfizer-BioNTech and Moderna vaccines are the only approved vaccine for people ages 12 and older in the USA. The date of the second inoculation must be two weeks before the program start date for this exception (June 5).
Will participants be allowed to switch their virtual or on-campus status before the program start date?
Students may change their virtual or in-person program decision up until 15 days before the program start date. The last day to request a change is June 4, 2021. After this date, students are locked into their decision.
What devices are required for students who select the virtual option?
Materials needed for virtual programming include a computer (laptop recommended), Wi-Fi connectivity, a functioning web camera, and a microphone. Students who do not have access to these should e-mail us at gsis@memphis.edu
What is the schedule for the virtual option?
Obligatory attendance at all classes, events, and plenaries ready to participate with video camera turned on and ready to go. Students who elect the virtual option must block their entire day from 8:30 a.m. to 10 p.m; during the week. Weekend schedules are TBD, but generally, the following times should be reserved Saturdays 10 a.m.-8 p.m. and Sundays Noon-10 p.m.
Will students be tested for COVID-19 while at GSIS?
GSIS students exhibiting symptoms for COVID-19 or have been in close contact with someone who later tested positive for COVID-19 will be tested at Poplar Healthcare for everyone's health and safety.
Will vaccinated individuals also have to be tested for COVID-19?
No. Only those showing symptoms of COVID-19 or in close contact with a positive case.
What happens if a student is exposed to Covid-19?
Students who test positive for COVID-19 or are exposed or symptomatic will be required to leave their conference housing space within 12 hours. Parents and guardians will be promptly notified by e-mail and or phone so arrangements can be made to pick up their student.
How will contact tracing be conducted?
GSIS staff will notify the Office of the Dean of Students if a student on the program tests positive for COVID-19. Student Health Center staff will initiate contact tracing, guide the student through University protocols and provide any available resources.
How will students who have been exposed to Covid-19 transition to online programming?
The 2021 GSIS is offered as a hybrid model. Students who return home due to exposure to COVID will be provided information on how to log in and participate virtually.
How do you define exposure to COVID-19 and what guidelines are you using to determine this?
Per CDC guidelines, someone who has been in direct contact within 6 feet of an infected person (laboratory-confirmed or a clinically compatible illness) for a cumulative total of 15 minutes or more over a 24-hour period.
How will COVID-related information be shared with parents/guardians?
We will communicate with parents and guardians by e-mail and or phone. Please provide your most current contact information to assist us with this effort.
What is the anticipated class size for in-person learning?
We expect to have 55 students participating in GSIS and 12 instructors and staff. The core class will be taught in an auditorium that seats 395 to allow for the necessary social distancing. Language and Issues classes will be no more than 15 in-person students per class.
Will students be required to wear a mask?
All GSIS participants, students, staff, and instructors must abide by the University of Memphis policy GE2040, "COVID-19 Health and Safety," which requires all individuals, including students, faculty, and staff, to wear a mask that covers the mouth and nose while inside all University of Memphis facilities, classrooms, shared office spaces, public spaces, and campuses. Face masks must fit properly and fully cover the mouth and nose. Neck gaiters, open-chin triangle bandanas, and costume masks are not acceptable per this policy.
When will students not be required to wear a mask?
There are specific instances when a face mask isn't required to be worn:
In a campus dining location while sitting stationary and eating.
In the individual's residence hall bedroom, including the bathroom facility while attending to one's own hygiene (students will still need to wear a mask from their individual bedroom to a communal bathroom).
In an outdoor setting on campus grounds.
Will participants have roommates?
Participants will not have roommates. They will be placed individually in double-occupancy rooms with communal bathroom facilities.
Are participants allowed to have guests while in the program? What is the visitation policy?
Participants are not allowed to have guests in the residence halls or on-campus under any circumstances during the duration of the GSIS program. There should be no interaction with outside guests who are not a part of GSIS. This is to minimize risk and exposure to COVID-19.
Are there laundry rooms in the residence hall and what guidelines have been established to reduce risk of the spread of the virus?

There are laundry room facilities in the residence hall at no additional cost. There will be a monitored sign-in and sign-out procedure to visit the laundry room facility to ensure maximum capacity is not reached at one time and to maintain social distancing.
What cleaning protocols are in place for the residence halls?
The residence hall common space and communal bathrooms will be cleaned every weekday by UofM Conference Housing staff following CDC guidelines. Hand sanitizer stations will be placed in common areas. Students should plan to bring personal cleaning supplies to clean and sanitize their individual rooms and before usage of restrooms.
Is there a limit to the number of hallmates I can host in my room at a time?
Residence halls will be limited only to the residents assigned to each hall and University staff supporting the building. Residents will have access to their floor and are not permitted to visit each other's rooms. Common spaces in the residence hall will have a posted maximum capacity that reflects how many students or staff may congregate in those spaces while masked and maintaining social distance.
How is physical distancing facilitated in residence hall communal bathrooms?
Each residence hall room is equipped with a sink and mirror to allow for personal hygiene activities to be completed in an isolated environment. Capacity limitations to maintain social distancing for bathrooms and showers will be set. Floor stickers may be placed in the hallway to allow for students to queue safely as they await their turn. Shower time limits or schedules may be implemented if necessary.
How are elevators in the residence hall managed to ensure physical distancing?

Only one person is allowed in the elevator at a time. Individuals not requiring the use of an elevator are encouraged to take stairs whenever possible to ensure that those members of our community requiring the elevator for mobility have access.
What will the dining arrangement be for GSIS participants?
When the weather permits, students will be encouraged to eat outside. In the dining hall, students will be able to remove their masks to eat once they are seated. Students should still maintain appropriate distance, and the arrangement of the dining chairs and tables will be fixed to reinforce these rules.
How will COVID protocols be monitored at off-campus events?
Students will be required to wear masks and maintain social distancing guidelines when traveling off-campus for field trips. CDC and TN DOE guidance on buses suggest skipping every other row with two rows skipped behind the bus driver. Weather permitting, all windows on the bus will be down. GSIS staff will be present to enforce these guidelines.
Other Resources Regarding COVID-19 and the steps the University is taking to ensure the safety and health of its students and campus visitors can be found at: https://www.memphis.edu/coronavirusupdates/
Previous Program Pictures - GSIS Students In Action
GSIS students meet with U.S. Diplomat in Residence, Vallera Gibson. Diplomat Gibson currently serves as the Diplomat in Residence in Atlanta. Diplomat Gibson shared stories of her assignments in Haiti, Guinea, and Congo and opportunities for students at the U.S. State Department.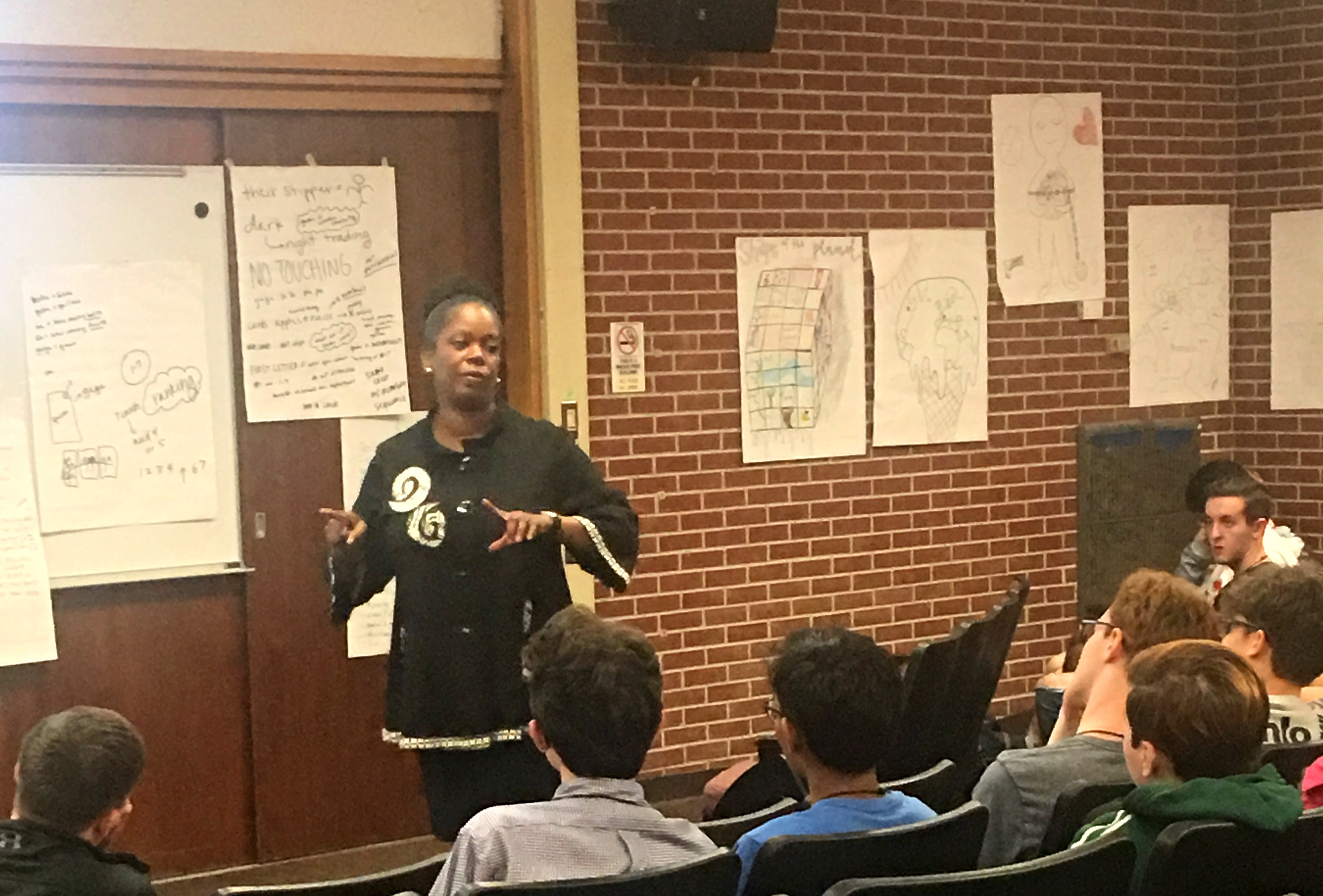 Culture Day - students participate in games and activities from other cultures - "death" mask making, henna body art, and international board games.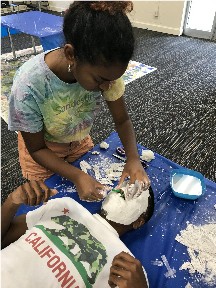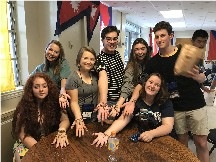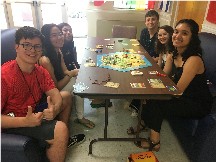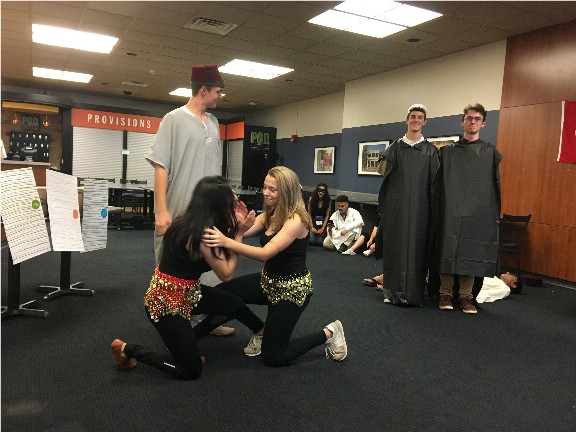 Above: Arabic language dinner cultural dinner
Buddist Monks lead a mindfulness activity.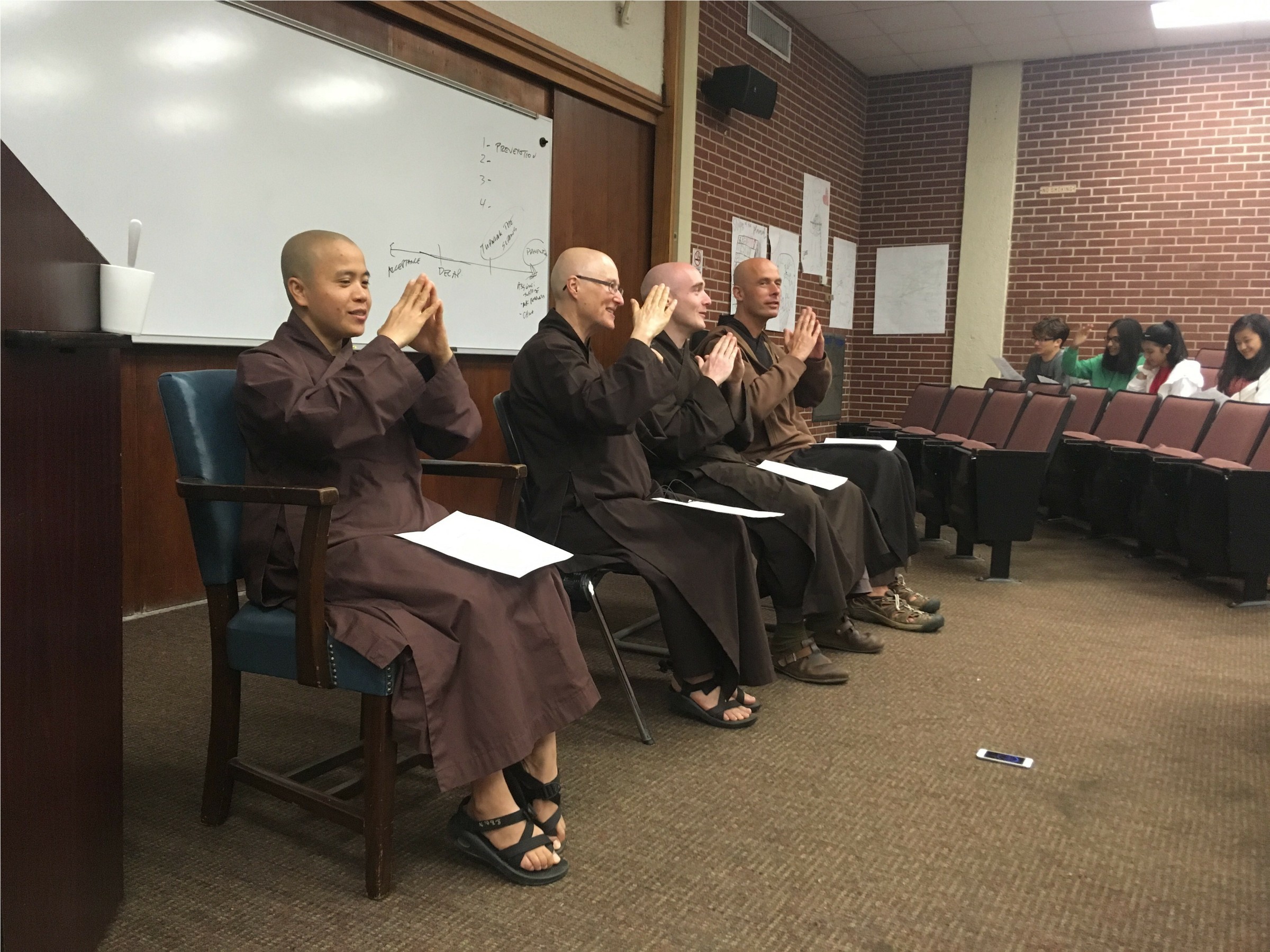 Limbo Dancing at the Portuguese language cultural dinner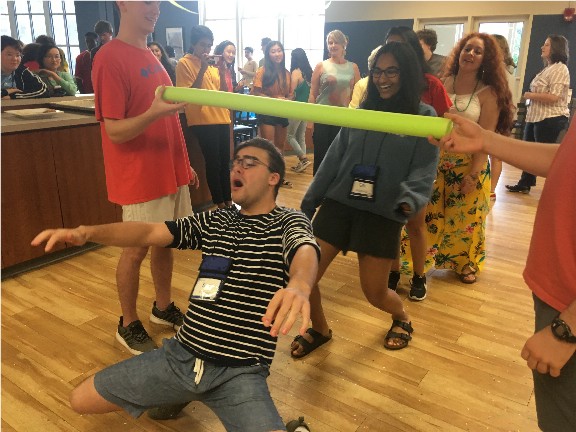 Instructor Clay Francis leads a State of the World activity.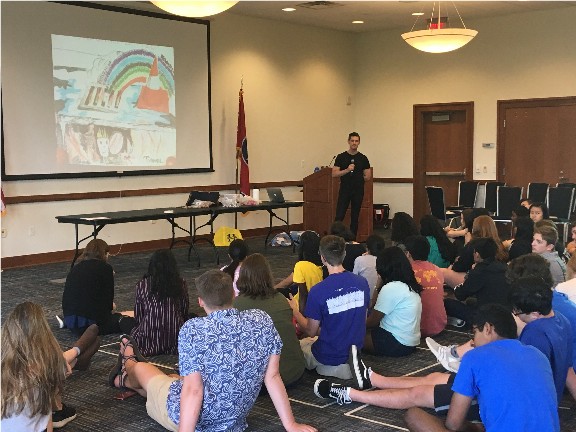 Working With Operation Broken Silence
For the past few years, GSIS students have worked with the nonprofit, nongovernmental organization, Operation Broken Silence (OBS). OBS is headquartered in Memphis and founded by University of Memphis International Studies alumnus Mark Hackett. The people of Sudan are overcoming two of the greatest challenges facing humanity today: war and genocide. Operation Broken Silence is working to accelerate their ability to generate lasting change through storytelling and movement-building, education and emergency relief, and grassroots advocacy programs.
This year, our staff spent an evening with the students having an open discussion about Sudan's crisis and how they could be involved. The next day, students brought their newfound passion for the Sudanese people and their creativity into the campaign design process.
This year, the students split into two groups and focused on the following campaigns for our organization:
1. Refreshing the Heart of Nuba fundraising campaign, which supports the Mother of Mercy Hospital in the oppressed Nuba Mountains of Sudan.
2. Creating two statewide advocacy campaigns for a House resolution and Senate resolution, both of which focus on the ongoing and most recent Sudan crisis that began in December 2018.
Below are a few pictures of the day's activities. For more information about the 2019 GSIS class's involvement with Operation Broken Silence, check out the Movement Spotlight on their website here.