Dennis Laumann
Professor
Email
dlaumann@memphis.edu
Office Hours
Email for Hours
Education
Ph.D., History, University of California-Los Angeles, 1999
Fields of interest
Dr. Laumann is a specialist in West African history, especially the history of Ghana; colonialism; oral history; links between Cuba and Africa; and Marxist theory and history.
He is a United States Fulbright Scholar and Research Affiliate of the University of Ghana. Dr. Laumann serves on the Advisory Board of the Ghana Studies Association and as co-editor of the Transactions of the Historical Society of Ghana.
Dr. Laumann's current projects include a monograph on historic links between Africa and Cuba.
Courses taught
Dr. Laumann teaches the following courses: History of Africa to 1500; History of Africa since 1500; History of West Africa and the African Atlantic Diaspora; History of South Africa; African Women's History; and Afro-Cuban History and Culture. He also offers graduate seminars in African history as well as undergraduate honors courses on various topics related to Africa, the African Diaspora, and Marxism. In addition, Dr. Laumann has directed study abroad programs in Ghana and Cuba.
He has received numerous teaching honors, including the Most Energetic Teacher Award from the Student Government Association of The University of Memphis; the Thomas W. Briggs Foundation's Excellence in Teaching Award; the Award for Excellence in Teaching from the College of Arts and Sciences; the Excellence in Teaching Award from the University Honors Program; and the Advisor of the Year Award from The University of Memphis.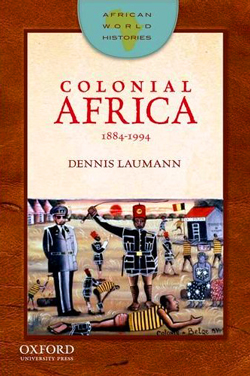 Representative publications
Books
Colonial Africa, 1884-1994, Second Edition (Oxford University Press, 2019)
Remembering the Germans in Ghana (Peter Lang Publishers, 2018)
Colonial Africa, 1884-1994, Arabic translation by Belabbes Ali Abdelhafid (Dar El Adib Editions, 2016)
Colonial Africa, 1884-1994 (Oxford University Press, 2013)
Journal articles and book chapters
"Narratives of a 'Model Colony': German Togoland in Written and Oral Histories," German Colonialism and National Identity, edited by Michael Perraudin and Jürgen Zimmerer (Routledge, 2011), 278-291
"Identity, Memory, and Oral History: German Colonialism and Ewe Ethnicity in Ghana," Africa and the West, 8 (April 2010), 129-161
"Domination and Resistance: Epidemic and Exile in the German Togoland Colony," Afrika Zamani, No. 17 (2009), 1-16
"Che Guevara's Visit to Ghana," Transactions of the Historical Society of Ghana, New Series No. 9 (2005), 61-74
"The History of the Ewe of Togo and Benin from Pre-Colonial Times," in The Ewe of Togo and Benin, edited by Benjamin Lawrence (Woeli Publishing, 2005), 14-28
"Togo: Colonial Period: German Rule" and "Aja-Speaking Peoples: Aja, Fon, and Ewe, 17th & 18th Centuries," Encyclopedia of African History, edited by Kevin Shillington (Fitzroy Dearborn Publishers, 2005)
"A Historiography of German Togoland, or the Rise and Fall of a 'Model Colony,'" History in Africa 30 (2003), 195-211
"Boniface I. Obichere, Pan-Africanism, and African History," Ufahamu 29, no. 1 (Winter 2001), 11-18
"Compradores-in-arms: the Fante Confederation Project, 1868-1871," Ufahamu 21:1-2 (Winter/Spring 1993), 120-36
Book reviews
Hindu Gods in West Africa: Ghanaian Devotees of Shiva and Krishna by Albert Kafui Wuaku (Brill, 2013), Ghana Studies, Vol. 17 (2014), 247-249.
The Hot 'Cold War': the USSR in Southern Africa by Vladimir Shubin (Pluto Press, 2008), Journal of African History, Vol. 52, Number 3 (2011), 414-416.
Alabama in Africa: Booker T. Washington, the German Empire, and the Globalization of the New South by Andrew Zimmerman (Princeton University Press, 2010), Journal of African History, Vol. 51, Number 3 (2010), 412-414.
Colonial Conscripts: The Tirailleurs Sénégalais in French West Africa by Myron Echenberg (Heinemann, 1991), Ufahamu 21:3 (Fall 1993), 80-2.