Duo Universal Prompt
Duo Security is updating its multi-factor authentication service to provide a more streamlined user experience and intuitive device management. The UofM will implement these changes for all users on May 5, 2023. Users will log in and authenticate as they always have; no new action is required. However, as the design and experience of the process will be different, users are encouraged to review the information below. A full description of the update, including walkthroughs and screenshots, can be found at Duo's Universal Prompt Guide.
Authentication
With the traditional prompt, users are shown a list of options for authentication and must select their preferred method with each login. With the Universal Prompt, Duo automatically selects the authentication method. The first time you use the Universal Prompt, Duo will automatically choose the method of login considered to be the most secure. (For most users, this will be a mobile push, if available.)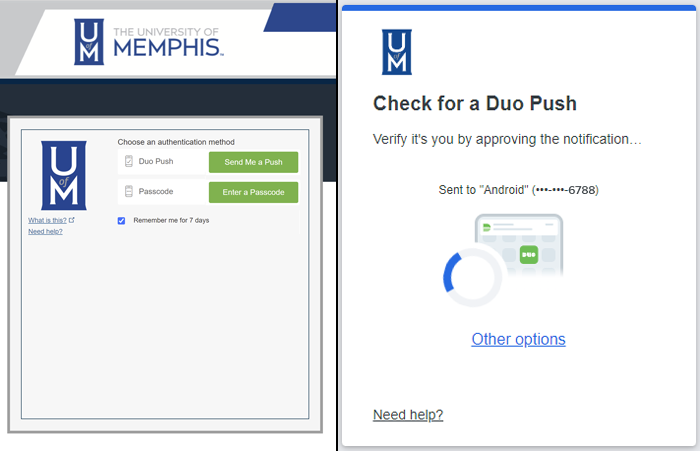 Left: Traditional Duo prompt; Right: Duo Universal Prompt mobile push
Users can select the "Other options" link to choose a different method or device. After the initial login, Duo will default to the most recently used authentication method. Users may always select a different method or manage their registered devices via the "Other options" link.
Another change to note is the URL of the new Duo prompt. The traditional prompt is embedded within the UofM SSO page. Therefore, users remain within the memphis.edu domain throughout login. With the Universal Prompt, users will be redirected to a Duo webpage to complete authentication. The URL of this page begins with api-feb3be2c.duosecurity.com. This redirection happens seamlessly within the same browser window. After verification, users will be returned to the service they logged into. For full information about the new Universal Prompt authentication experience, visit Duo's Universal Prompt guide.
Device Management
For existing users, the Universal Prompt provides a clear and intuitive device management experience. To view and edit your registered devices, initiate the Duo prompt by logging in to any UofM SSO service. (If you have authenticated via Duo recently in your current browser, you can force a Duo prompt by opening a private/incognito window or via a new window in a different browser.) Select the "Other options" link, then select the "Manage devices" option.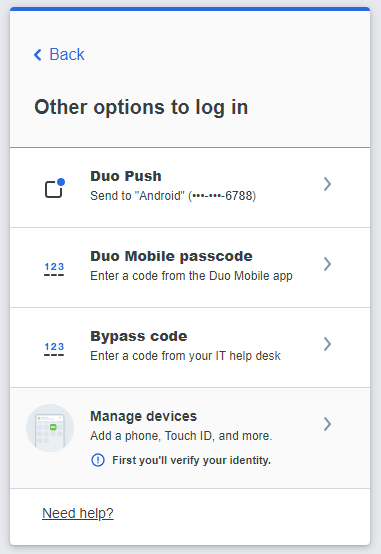 Duo Universal Prompt options menu
To rename or delete a device, select the "Edit" option for that device. To register a new device or authentication method, select the "Add a device" option and follow the instructions provided. A complete walkthrough of the steps to manage or add devices can be found on Duo's Universal Prompt guide. Note: All the methods listed by Duo might not be currently available to UofM users.
New Users
Though most current users won't ever need to reinitialize Duo, new users will see an updated account setup experience.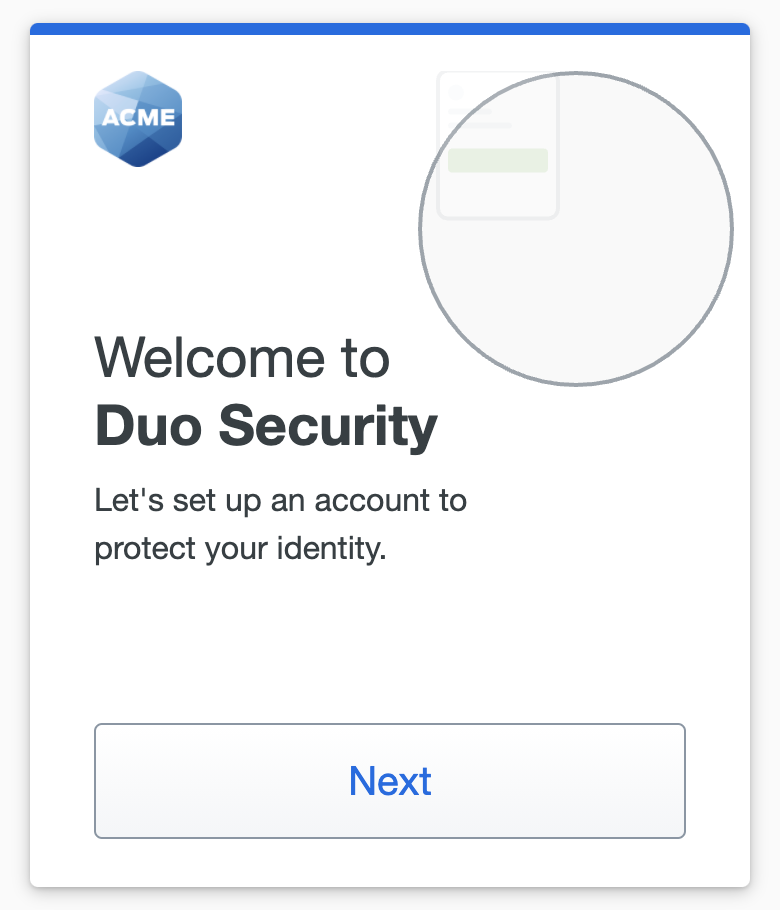 Duo Universal Prompt new user enrollment
The Duo Universal Prompt walks users through account setup step-by-step with clear instructions for enrolling and adding a device. To see a full walkthrough, visit Duo's Universal Prompt guide.
Q&A
Why is the UofM switching to the Universal Prompt?
Duo is updating its authentication method for all users. By 2024, the traditional prompt will no longer be available for any organization.
Do I need to reenroll in Duo or register any of my devices again?
No. Users will automatically begin seeing the Universal Prompt beginning May 5, 2023. All of your registered devices will continue to work as expected.
Is support for phone call and text messaging ending with the Universal Prompt?
The UofM is ending support for phone call authentication on July 5, 2023. This is a separate change from the Universal Prompt. Text message authentication support will continue for the present time. The most secure authentication option is to use mobile push through the Duo app, available for iOS and Android devices.