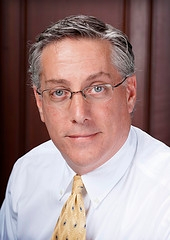 David S. Romantz
Associate Professor of Law
Email
dromantz@memphis.edu
Office
Law School, Office 269
About Professor Romantz
Professor Romantz has served on the faculty at Memphis Law since 1999. He has served as the Associate Dean for Academic Affairs since 2010. He is the faculty advisor for the Student Bar Association and the Hispanic Law Students Association.
Education
B.A., 1987 University of Michigan; J.D. (with honors), 1995, Suffolk University Law School
Admitted
Massachusetts (1995); New York (1997).
Experience
1995-1996, Assistant District Attorney (Special), Essex County Massachusetts; 1996-1998, Instructor of Law, Legal Practice Skills Program, Suffolk University Law School
Teaching Interests
Legal Method, Legal Argument, Advocacy, Drafting, and Legislation
Publications
Professor Romantz recently published, "You Have the Right to Remain Silent": A Case for the Use of Silence as Substantive Proof of the Criminal Defendant's Guilt, 38 Ind. L. Rev. 1 (2005 (lead article), and The Truth About Cats & Dogs: Legal Writing Courses and the Law School Curriculum, 52 Kan. L. Rev. 105 (2003). He has also published in the Stetson Law Review, Perspectives: Teaching Legal Research and Writing, and the Suffolk University Law Review. He co-authored a book titled, Legal Analysis: The Fundamental Skill (1998, Carolina Academic Press) and formerly served as editor of Martindale-Hubbell's Massachusetts Law Digest. Professor Romantz has spoken at a variety of regional and national conferences, including the Legal Writing Institute Conference, New England Legal Writing Consortium, the Rocky Mountain LRW Conference, and the Central Regional LRW Conference. Professor Romantz serves on the Board of Directors for the Association of Legal Writing Directors and the Community Legal Center.