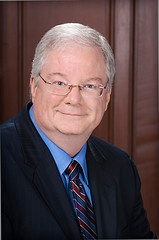 Kevin H. Smith
Thomas B. Preston Professor of Law
Office
Law School, Office 370
About Professor Smith
Professor Smith has served on the Memphis Law faculty since 1993. He served as Dean of the law school from 2007-2012, overseeing the law school's move downtown to the historic building at 1 North Front Street in the former U.S. Custom House/Federal Courthouse/U.S. Post Office.
Education
B.A., 1977, Drake University; M.A., 1981, J.D., 1983, Ph.D., 1994, The University of Iowa.
Admitted
Iowa and Maryland (on inactive status).
Experience
Visiting Associate Professor, Notre Dame Law School, August 2000 to May 2001, Visiting Assistant Professor, Chicago-Kent College of Law, 1990-93; Visiting Assistant Professor, Department of Political Science, Northern Illinois University, Spring 1991; Associate Attorney, Cook, Howard, Downes & Tracy, Towson, Maryland, 1984-88; joined The University of Memphis School of Law faculty in 1993.
Research Interests
Secured Transactions, Commercial Paper, Jurisprudence, Business Organizations, Social Science and Statistics in the Law, and Law, Science, and Technology.
Publications
Professor Smith has published on topics such as disability law, Supreme Court certiorari decision making, secured transactions, law school pedagogy, and legal reasoning in the Akron Law Review, the Albany Law Review, the Denver Law Review, the Hofstra Law Review, the Law Review of Michigan State University--Detroit College of Law, the Loyola University Chicago Law Journal, the Oklahoma Law Review, the Seton Hall Law Review, the University of Kansas Law Review, the University of Memphis Law Review, and the Wayne Law Review.