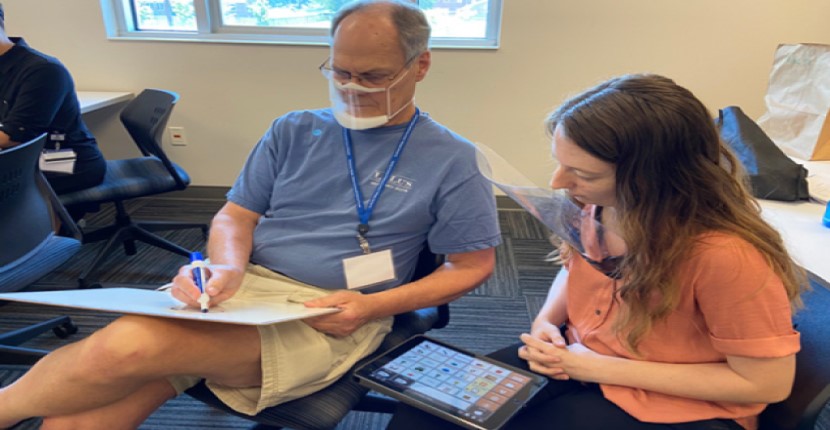 Aphasia Programs
At the Memphis Speech & Hearing Center, our goal is to help individuals with aphasia maximize their communication potential and enhance life participation in a fun and supportive environment. Licensed speech-language pathologists lead evidence-based therapies with the assistance of masters-level graduate student clinicians in our state-of-the-art clinic.
Spring/Summer 2022 Program Options
Mini Winter Boot Camp – Jan. 18 – Mar. 24 |Tuesdays & Thursdays | 9 AM - Noon
Clients will participate in individual and group therapy sessions designed specifically to meet their communication goals. This program is optimal for individuals who have recently received the diagnosis and are relatively new to the therapy process. A commitment to attend is needed by January 3, 2022.
Aphasia Program – Jan. 19 – Mar. 30 | Wednesdays | 1 PM – 3 PM / 2 PM – 4 PM
This weekly program consists of an hour of individual and an hour of group therapy, which provides an individualized therapeutic plan and an opportunity to practice in a supportive social environment.
Individual Therapy Services One of these organized programs may not fill the needs of the individual or the family. MSHC operates year-round and provides individual sessions to improve communication skills of those with neurogenic speech and language disorders. Contact MSHC for an evaluation or consultation.
Summer Aphasia Boot Camp – June 6 – 30 | Monday through Friday | 9 AM - Noon
The Aphasia Boot Camp is a four-week intensive program that helps individuals maximize their communication potential by focusing on goals that enhance day-to-day interactions and life participation. (More information can be found here)
Care Partner Support Group – 4:30 PM – 5:30 PM | 2nd Tuesday of every month
Support for the care partner is an essential piece of the rehabilitative process. This free program provides an opportunity to find community and support from others who have similar experiences. Your loved one does not need to be a client of the MSHC.
Cost
Insurance billing and fee assistance are available for those who qualify
A physician's referral is required if billing insurance
Location
Memphis Speech and Hearing Center

4055 North Park Loop, Memphis, TN 38152 (Community Health Building, 1st floor)
What else do you need to know?
If you are new to the program, an evaluation or brief interview with a clinician will give us an idea of your communication skills and your personal goals
Those needing evaluations may be assessed prior to start dates
If you use an assistive device to communicate, it is essential to bring it to the sessions
It is always helpful to know if our clients need special accommodations
When you register, please indicate a first and second choice of group
Aphasia is the loss of tlanguage, not a loss of intelligence
Registration for Spring is Open
Call the Memphis Speech & Hearing Center | 901.678.2009
Or contact:
Tawni Ballinger, MA, CCC-SLP | tcbllngr@memphis.edu | 901.457.0500
Kelli Owens, MA, CCC-SLP | kellijowens@aol.com | 901.283.5789