People
Some of the Fayette County People Who Participated...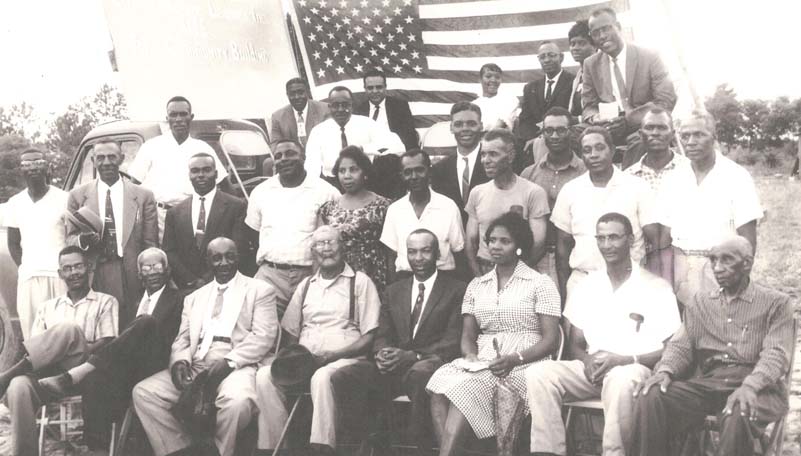 Photograph Caption
Photograph: ©Dr. Ernest Withers, Sr. courtesy of the Withers Family Trust​. From McFerren family collection. The Original Fayette County Civic and Welfare League Board at Community Center Groundbreaking with guest speaker Benjamin L. Hooks.
Seated left to right and top to bottom: Reverend V.L. Smith, Benjamin Hooks, Shirley Hobson, Reverend Massey, Earline Dowdy, Reverend June Dowdy, Houston Malone, J.A. Carpenter, Harpman Jameson, Levearn Towles, E.B. Parrott, B.T. Rosser, Joe Baskerville, Robert Scott, Square Morman, Minnie Jameson, Richard Waddell, Elijah Cleaves, unknown, Isaiah Harris, E.V. Braswell, E.Z. Shaw, Reverend Boston Bledsoe, John Lewis, John McFerren, Viola McFerren, Shephard Towles Sr.
The movement participants ranged from elderly African Americans voting for the first time in their lives to 8th-grade children integrating hostile, previously all-white, schools. The movement forged local leaders and also included civil rights workers from across the U.S. and Europe. It included not only painful relocations but also empowering journeys, as local activists traveled to meet with leaders in the federal government and to explore new forms of political action.
To read about the activists who participated in the movement, please click on the alphabetical submenu.
Ms. Minnie Jameson Advises on Participating in Civil Rights, c. 2000
Source: Benjamin L. Hooks Institute, Special Collections.
---
—Adapted from "The Fayette County, Tennessee Civil Rights Movement" by D. McFerren. Benjamin L. Hooks Institute for Social Change, 2006.