Certifications & Training

BLS Certification Course
Campus Recreation is pleased to offer a series of FREE American Heart Association Basic Life Support Certification classes throughout the year, thanks to a grant provided by BlueCross BlueShield of TN Foundation.
The goal of the Basic Life Support Course is to train participants to save lives of victims in cardiac arrest through high-quality cardiopulmonary resuscitation (CPR). The American Heart Association designed the BLS course to teach healthcare professionals how to perform high-quality CPR individually or as part of a team. BLS skills are applicable to any healthcare setting. BLS students will learn rescue techniques for adults, children and infants.
This course will include a combination of videos, skills practice and testing. A written test will be administered at the end of the course. The BLS for Healthcare Providers covers core materials, including:
adult, child, and infant CPR, including one and two-rescuer scenarios and use of the bag-valve mask and other breathing barriers.
foreign-body airway obstruction (Heimlich maneuver) for adult, child, and infant (conscious and unconscious).
AED (Automated external defibrillation) on both adult and child.
special resuscitation situations and cardiopulmonary emergencies.
Limited spaces are available. Once you register for this class, you MUST attend. Participants who register for a class and fail to show up, arrive late or leave before the class ends will not be able to register for future courses. Courses are held in the Student Recreation and Sports Complex (Former Rec Center) Fitness Studio.
---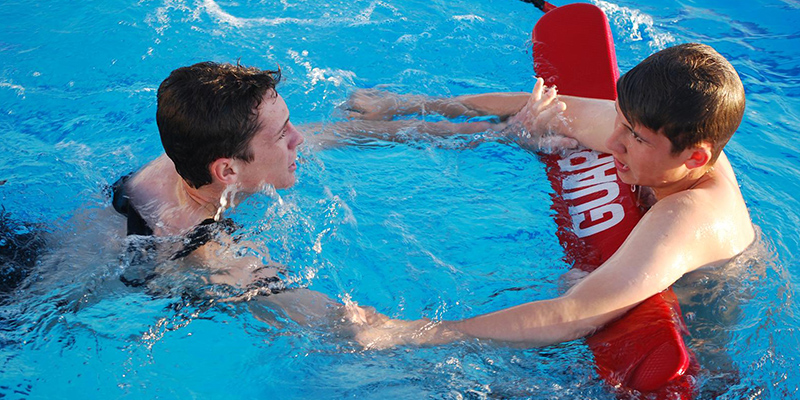 We offer free lifeguard training for those interested in becoming a Campus Recreation Lifeguard ($250 value). The training is a 2-year American Red Cross Lifeguard Certification, taught in blended learning style (seven hours of online work and about 17-23 hours of classroom/pool time).
To qualify for the training, you must be able to do the following:
Lifeguard Prerequisite Skills Test
Prerequisite 1: 300 yard swim- participants must swim 300 yards continuously using either front, crawl, breast stroke or a combination of both.
Prerequisite 2: Tread water, legs only - participants must tread water for two minutes without support and without stopping, hand should be placed under the armpits.
Prerequisite 3: Timed event - participants must perform the following skills within one min. 50 seconds:
Starting in the water, swim 20 yards. The face may be in or out of the water. Swim goggles are not allowed.
Surface dive, feet first or head first, to a depth 7-10 feet to retrieve a 10 pound object.
Return to the surface and swim 20 yards on the back to the return to the starting point with both hands holding the object and keeping the face at or near the surface so you are able to get a breath. Candidates should not swim the distance under water.
Exit the water without using a ladder or steps.