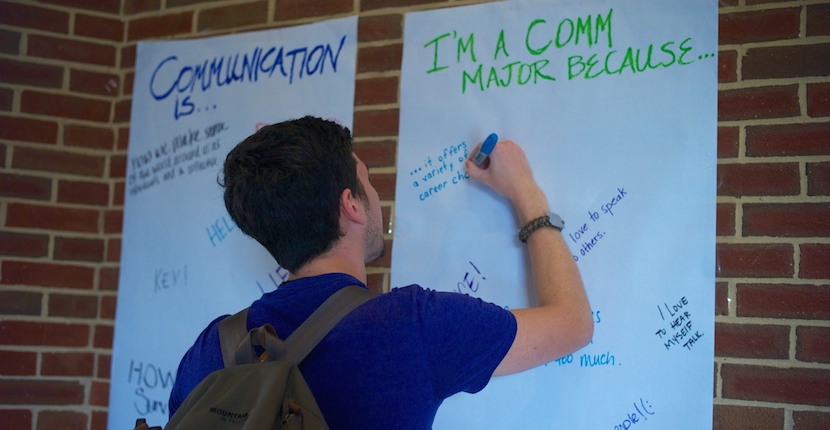 Communication Studies
Communication Studies offers students a broad education spanning interpersonal, public, and mediated communication practices, preparing students for a range of careers. Students in our major know that words matter. You'll immerse yourself in thinking about how humans communicate and you'll prepare to bring people together in powerful, effective, and meaningful ways.
Our focus areas allow you to explore your interests in communication in depth. Whether you want to learn how people form relationships and work in groups (Professional & Relational Communication), how citizens and politicians argue and advocate to solve problems and advance causes (Rhetoric & Public Advocacy), or how film, television, and new media shape our identities and society (Media & Society), we have a course of study just for you!
Undergraduate Studies
Become a COMM Major
If you are looking to get started in the COMM Major, please fill out the following form.
Course Offering
The Department of Communication & Fims offers an large array of courses at the undergraduate graduate level.
Advising
Looking for someone in the Department of Communication & Film for help with advising?
Graduate Studies
Masters Program
Graduates choose the MA in COMM Studies or Film & Video Production because they're looking for an advanced degree that sets them apart from the competition, blends theory and practice, and prepares them to advance in a wide range of careers.
Doctoral Program
The PhD program trains students mainly for careers in higher education, though some COMM PhDs have also gone on to work in positions outside of academia.
---