Announcements
News from ITS
Data Loss Prevention
The University has deployed new technology to assist with protecting personally identifiable and payment information, such as Social Security and credit card numbers (i.e, "restricted data"). One of the best ways to keep restricted data safe is to store and transmit it using approved methods.
As of May 17, Data Loss Prevention (DLP) email alerts for Outlook 365 have been implemented for all students, faculty and staff. For more information, please visit the Data Loss Prevention web page.
Farewell to BlueJeans on July 30
BlueJeans will be deprecated on July 30. Currently, there are a limited number of active licenses.
University faculty or staff who have active licenses and have videos housed in their BlueJeans account will need to download their videos from BlueJeans by July 30. BlueJeans has been our primary conference tool for faculty and staff since Nov. 2015. While BlueJeans has served the University community well, it fell short in providing a cost-effective method that would include access for our 20K students.
Skype for Business ending July 31
Skype for Business will no longer work after July 31. Microsoft Teams is the official replacement product. The same functionality and abilities available in Skype for Business are available in Teams. For documentation on how to utilize this product, follow this link. For assistance with this transition or general questions about Teams, please contact the ITS Service Desk online, by email or by phone at 901.678.8888. Your local support provider is also available for on-hand assistance.
ITS and CTL offer training
Information Technology Services and the CTL (Center for Teaching and Learning) offer a wide range of training for faculty and staff in various software. The sessions are free. Upcoming offerings include: eCourseware: Essentials; eCourseware: Quizzes; & Teams (Introduction). Click here for a complete schedule or to register.
DUO Two Factor Security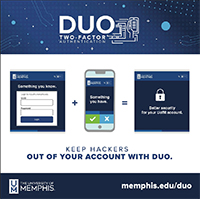 Do you have two-factor authentication set up for your UofM accounts? 📲 Protect your accounts today from unauthorized access with DUO! The UofM Single Sign-On System (SSO) now includes Multi-factor Authentication (MFA) capabilities. This means that users can protect their accounts by requiring a second means to authenticate in addition to their password. Passwords alone have become increasingly easy to hack and MFA substantially reduces the threat of unauthorized access to accounts.
The ITS Security team has implemented MFA using a product from Duo Security, which allows users to use their phones as a second factor for authentication. Users can use the Duo Mobile app to enroll their smartphone or tablet to receive online push notifications, or generate a one-time passcode. Other methods of second factor authentication are available with Duo.
Check out memphis.edu/duo for set up instructions ✅