International Student FAQs
1. If I get denied by one program can my application be considered for another program?
If you are denied by one program, you must apply to another program in order to be considered for admission. Apply Here: https://apply.memphis.edu/portal/graduate_application You will not be charged an additional application fee. Answer "yes" to the application question "Have you applied to the University of Memphis before" and we will verify and remove the application fee requirement.

2. Do I need to have my official transcripts sent in order for a decision to be made on my application?
Admission decisions are made on the basis of unofficial transcripts. If you have uploaded a copy of your transcript that show all of the relevant coursework and indicates a cumulative GPA, this is all that is required to review your application for admission. However, students are required to have an official, final transcript sent from their institution to the University of Memphis after enrollment. A final transcript shows the dates on which your degree was conferred. A transcript is official if it comes directly from your institution. If we do not have a final official transcript on file by the end of the 14th day of your first semester a hold will be placed on your account and you will not be able to register for future semesters.
Have your institution send a final, official transcript to:
The University of Memphis
Graduate Admissions
365 Innovation Drive, Room 201
Memphis, TN 38152
If your institution can send official transcripts electronically, they can be emailed from the institution to graduatetranscripts@memphis.edu
3. What is the status of my application?
If you have questions regarding your status, please contact your program coordinator. Your graduate coordinator contact information is in your Graduate Status Portal on the right side of the page once you login in.

4. How do I defer my semester start date?
To update your start term for Summer/Fall 2023 please use your True-Blue Tiger portal to Change your semester for Summer/Fall 2023 >
If you need to create a True Blue Tiger account, register your account with the personal email address from your previous application here. In the green box on the right side of the screen you will select " "Change Starting Term.":
5. How do I withdraw my application?
Please navigate to your Graduate Status Portal to Withdraw your application. Please select the request as shown below.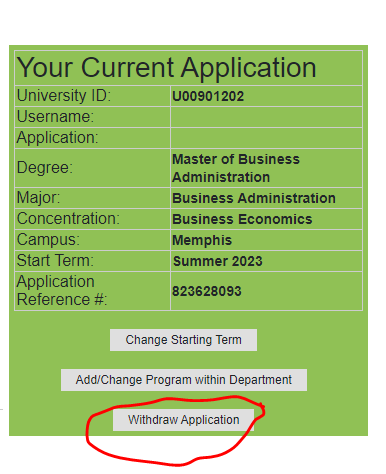 6. How do I apply for an I-20?
Please go to: https://www.memphis.edu/iss/new_international_students/i20_process.php