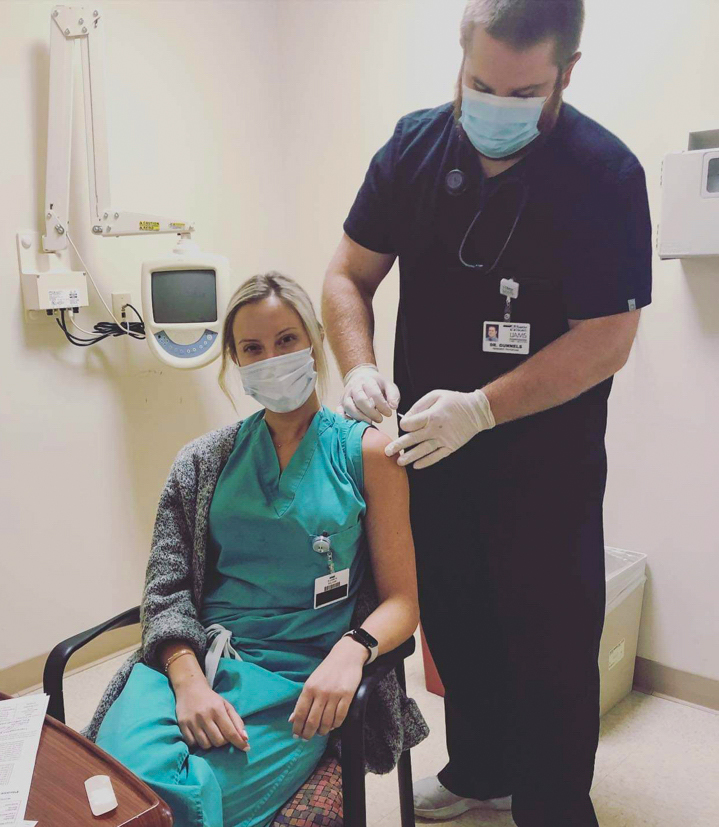 Trint Gunnels, MD
2nd year family medicine resident (AKA PGY-2) - Baptist Health
MS - Health and Sport Sciences '14
Dr. Gunnels went to medical school following his graduation in 2014. After finishing and earning his MD, he matched into Family Medicine Residency (3-years) in North Little Rock at Baptist. He is now in his second year and was voted as one of the Chief Residents during his 3rd and final year.
Why did you choose the University of Memphis?
I needed to improve on my undergraduate GPA after playing running back at Baylor University and majoring in pre-med. Being a student-athlete at a major division 1 college took up a considerable amount of time and dedication. The University of Memphis gave me an opportunity to bolster my resume by earning my MS and ultimately gain acceptance into medical school. When I first visited the UofM, I loved the campus and the people. After learning that I would have the opportunity to work in various laboratories and participate in research as well as co-author several publications, I knew that the UofM would afford me the opportunities to achieve my long-term goals. Dr. Bloomer was instrumental in my education and in becoming the physician that I am today.
Why did you choose your major?
I had always wanted to go to medical school and become a physician and I love sports. I received my undergraduate degree in Health Science Studies at Baylor University. It was an easy decision after talking with Dr. Bloomer about the program and the chance to work in the lab and participate in research while being a full-time graduate student earning my MS.
What was your experience like in the College of Health Sciences?
The experience I gained over two years at the UofM was invaluable in my road to becoming a physician. I worked as a phlebotomist, conducted cardiac tests such as stress tests, EKG's, etc. and participated in research in the molecular biology lab. In addition, from a performance aspect, I studied joint mechanics, clinical nutrition and carried out nutraceutical research. I also got to teach cellular metabolism and free weight lifting to the undergraduate students. Having a weight room to use at the Fieldhouse in my free time was an added bonus!
Was there any particular faculty or staff member from our college that made an impact on you and how/why?
Dr. Bloomer afforded me the opportunity of a lifetime and I am forever grateful. He is a great role model, mentor and leader in the Memphis community. I hope to someday have the impact on others that he has had on my life.
What were your favorite classes and/or activities?

Clinical nutrition, cellular metabolism and physiology. Favorite activity was having the opportunity to help build the laboratory and relocate and install new flooring to the weight room.
How did our college prepare you for your career?
At the University of Memphis, I was involved in a lot of clinical research and learned valuable skills such as phlebotomy, how to accurately check vital signs and administer an EKG. I often draw blood for patient's in the clinic I currently work in when other health care personnel are unable to do so. The extensive knowledge on nutrition I obtained during my two years at the UofM have been extremely valuable to me in my career. Very minimal nutrition is taught during the medical school curriculum and I use this knowledge daily with my patients.
What is a day in the life of your career like?
Long (ha ha!). It varies month to month. In residency, each month we switch from one specialty to another. For instance, one month I may be working 80-hour weeks in the inpatient hospital setting, while other months I may be delivering newborns, administering joint injections, suturing lacerations, managing ventilator settings, working in the clinic, talking with patients about their mental health, among many others. It is both a very rewarding and challenging career.
What's your favorite memory from the UofM and/or the College of Health Sciences?
There are many. Playing football at the Fieldhouse, helping with/picking vegetables at the community garden outside of Elma Roane Fieldhouse, the night walks on campus and running through the fountain to name a few.
What advice would you give current or incoming students?
Work hard to earn the opportunity to achieve your goals. Never forget those who helped you on your path. Don't forget to have fun along the way because it goes by faster than you think, and keep looking up!
Why would you recommend the College of Health Sciences?
The people - from the faculty to the University staff. The experience of the administration. The opportunity to participate and be involved in high-level research projects.

If you could go back, what would you do differently?
I would have worried less and enjoyed the little moments.