Alumni Spotlight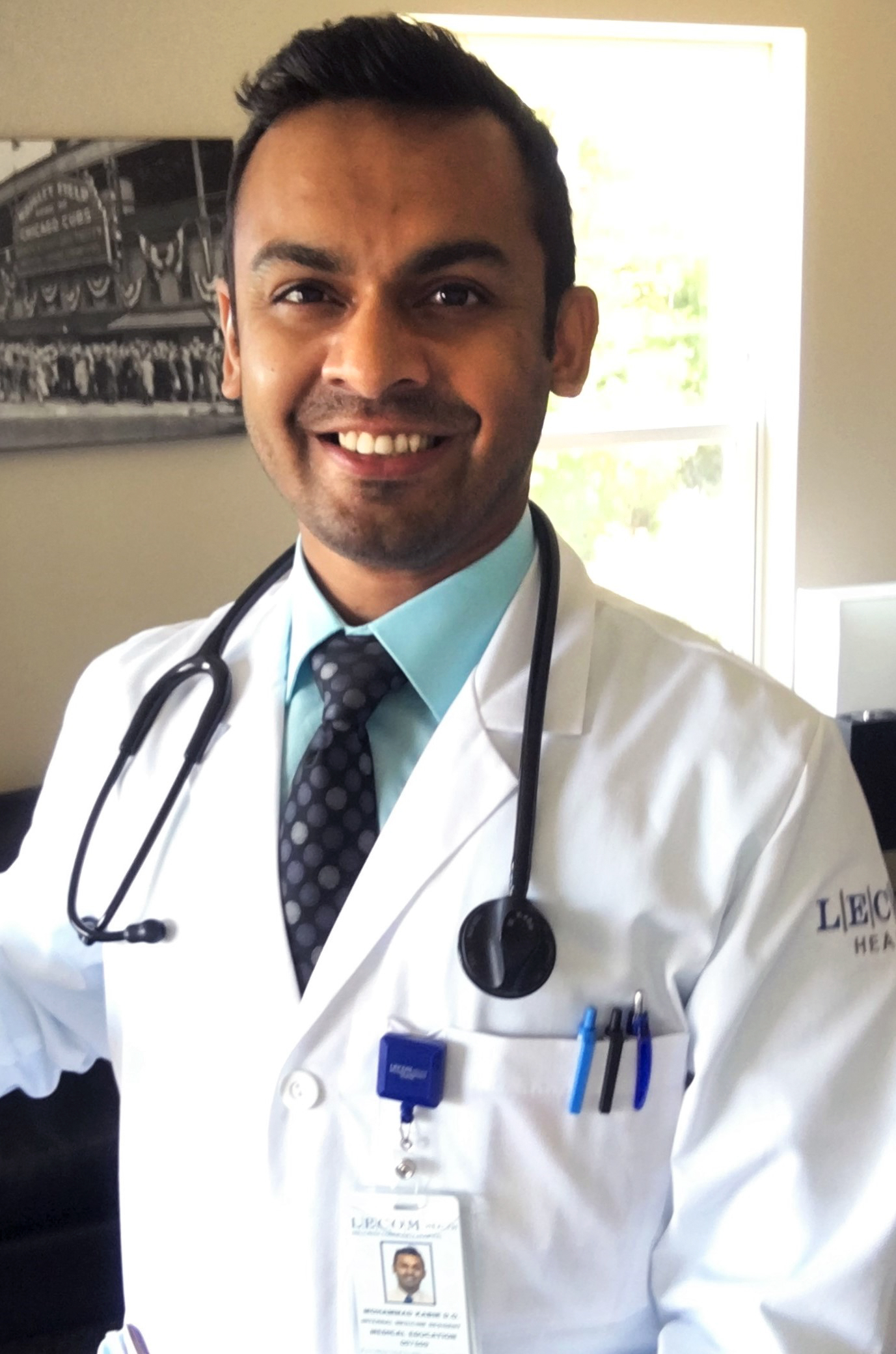 Mohammad Kabir, MD
Resident Physician - Lake Erie College of Osteopathic Medicine (LECOM)
BS - Biochemistry '09 | MS - Sports and Health Sciences '12
Why did you choose the University of Memphis?
I came to Memphis on a college visit during my senior year in high school and absolutely fell in love with the campus. Even though the campus is located in the heart of a major city, there is a sense of community within the campus and you see all of your friends just about everywhere you go. I was also very fortunate to have received the Dean's Scholarship which covered my tuition, and the fact that Memphis was only 3 hours from home, solidified my decision to attend the University of Memphis.
Why did you choose your major?
I was undecided during my freshman year and eventually chose Biochemistry as I found it very challenging and figured it would help me with a possible career in Marine Biology or Zoology. After some soul searching, I decided on a career in medicine during the end of my junior year. I soon found out that I was competing against thousands of applicants all over the country for admission into medical school. I needed an experience that would make me a better candidate and prepare me for medical school. At that point I decided to obtain my master's in Sports and Health Sciences as it would lay the foundation for my journey into medical school and beyond.
What was your experience like in the College of Health Sciences?
I had a great experience in the College of Health Sciences. My classes were interactive, interesting and enjoyable. I would also see most of my friends during classes as we all had very similar schedules. The front office staff was always very helpful whenever I needed their help.
Was there any particular faculty or staff member from our college that made an impact on you and how/why?
I was very fortunate to have Dr. Bloomer as one of my mentors. Dr. Bloomer always challenged me and my colleagues and always brought out the best of us, while still being one of the most caring mentors you could ask for.
What were your favorite classes and/or activities?

I would say Biomechanics was probably my favorite class, it was very interesting and definitely applicable to me as a former athlete. As far as my favorite activity, I would say intramural soccer or just about any intramural sports. I usually formed a team in the independent league with all of my friends on it and somehow we would win the championship every year.
How did our college prepare you for your career?
I feel like the College of Health Sciences helped me lay the foundation for a career in medicine. All of the activities including being a teaching assistant, graduate assistant and research assistant helped me gain much needed experience for my journey towards becoming a physician. The skills and knowledge that I have gained will remain with me forever and will make me a better physician.
What is a day in the life of your career like?
Very busy, but extremely fulfilling! As a senior resident physician on medicine service, I am responsible for taking care of approximately 16-20 patients a day in the inpatient hospital ward, supervising junior residents and interns, teaching medical students, and managing the healthcare team for my attending physician. My typical hours are from 6 a.m. to 6 p.m. The first place I go to in the morning is the Intensive Care Unit where we keep the sickest patients to make sure everyone is doing well. I start reviewing all the charts and labs to see how all the patients are doing and then meet with the team to delegate tasks and address any immediate life-threatening issues. We do formal rounds with the whole team where we see every patient on our list and make any changes to their medical therapy. During my 12 hour shift, my team and I are also responsible for any admissions from the emergency room as well as any emergencies that may occur within the hospital, such as a code blue. Overall, it's a busy schedule and can be chaotic at times, but there is never a lack of excitement!
What's your favorite memory from the UofM and/or the College of Health Sciences?
My favorite memory is from my first year as a graduate student when I put together a College of Health Sciences softball team consisting of undergrads, grads and staff members for a tournament. We didn't have any softball players on our team and some of our colleagues had never even held a bat before. We expected to be out of the tournament after our first game, but somehow we won several nail-biter games and made it all the way to the championship as the underdogs.
What advice would you give current or incoming students?
Go after your dreams and never settle. I truly believe anything can be achieved if we put our minds to it. Work hard, stay focused, lean on your family/friends when you need them, take care of yourself and always stay humble.
Why would you recommend the College of Health Sciences?
The College of Health Sciences offers many options for advancing your career and future goals. There are so many options all the way from Dietetics to Healthcare Leadership, it offers a diverse range of options. To give an example, some of my classmates are currently working as dieticians, physical therapists, coaches, professors and doctors. We all trained under the same roof.

If you could go back, what would you do differently?
Probably study harder my freshman year. It may seem easier to make the transition from high school to college especially with less hours spent in the classroom, but the content and pace is definitely a lot faster. It requires a lot of studying on your own and a lot of discipline.