What is a Spin Coater?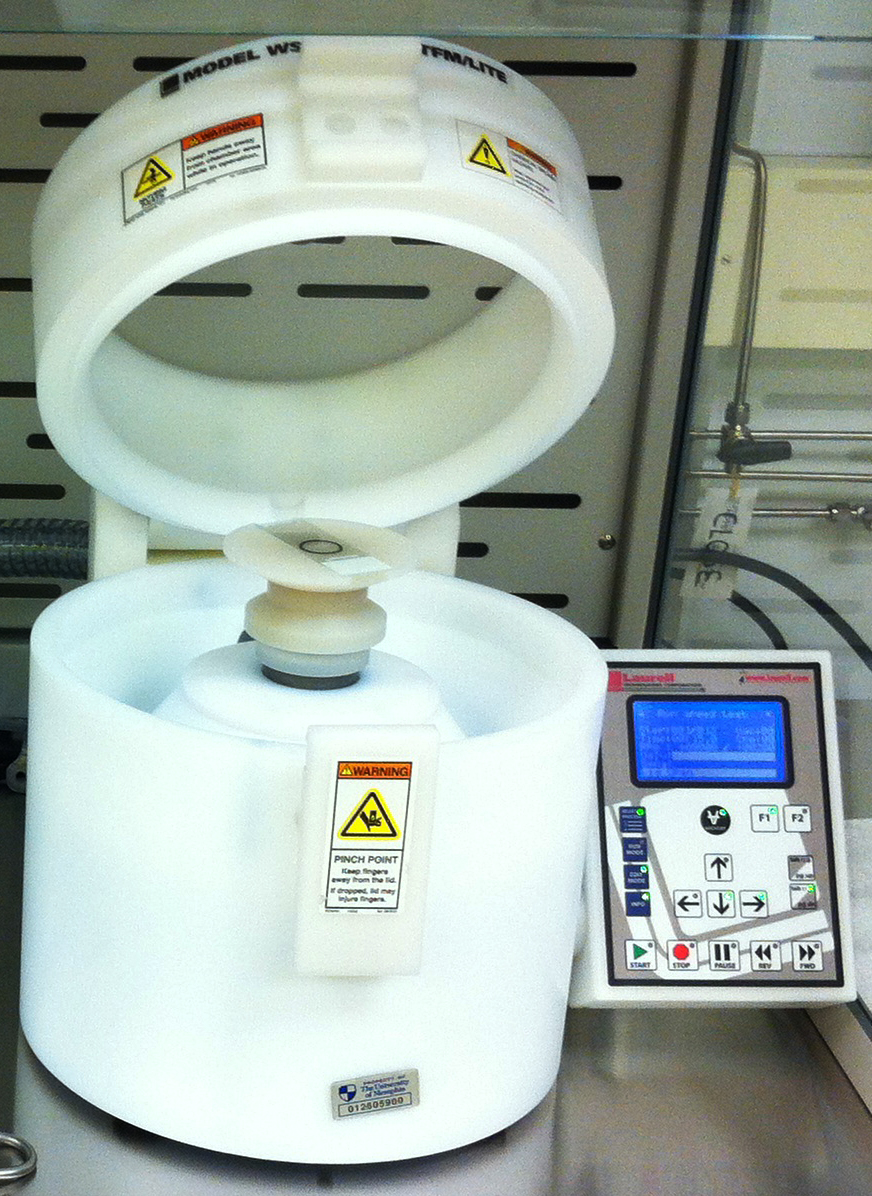 A spin coater deposits a thin (~1 mm) film of uniform thickness onto a flat substrate. The first steps of this operation are to place the substrate into the spin coater and to apply a small volume of coating material onto the center of the substrate. The spin coater then rotates the substrate at high speed, which results in the uniform spreading of the coating material on the substrate surface due to the centrifugal force. This operation is carried out under a fume hood because the coating material is usually volatile.
Spin coating is widely used to deposit a photoresist layer onto a substrate for photolithography using a mask aligner such at the Tamarak 512 at the IMC. Spin coaters are also used in the microfabrication of oxide layers of uniform thickness for electronic components.
Major Features and Specifications of the Laurell WS 650 Spin Coater
The unit is located in a 3' protector XVS ventilation station which also contains two substrate bake hotplates for dry-baking before coating and for soft and hard baking after coating.
Maximum spin speed: 12k RPM
Ramp: up to 13,000 RPM/s in 1 RPM increments
Time: 1s to 99 minutes 59.9 s in 0.1s increments
Maximum substrate size that will fit in bowl: 6² (~150 mm) wafer in diameter or 5² (~125 mm) square substrate
Recipe storage: twenty 51-step programs
Vacuum chuck: 1.75² (~45 mm) in diameter for 2² (~50 mm) through 6²(~150 mm) in diameter substrates
Fragment chuck adapter: for holding ~3 mm through 15 mm pieces
Fragment chuck adapter: for holding ~5 mm through 25 mm pieces
Fragment chuck adapter: for holding 10 mm through ~50 mm pieces
Microscope slide adapter: for holding 1² x 3² or 25 mm x 75 mm
Users interested in using the Materials Science Lab or equipment should contact: