Lambuth Student Profile: Brittany T. Jones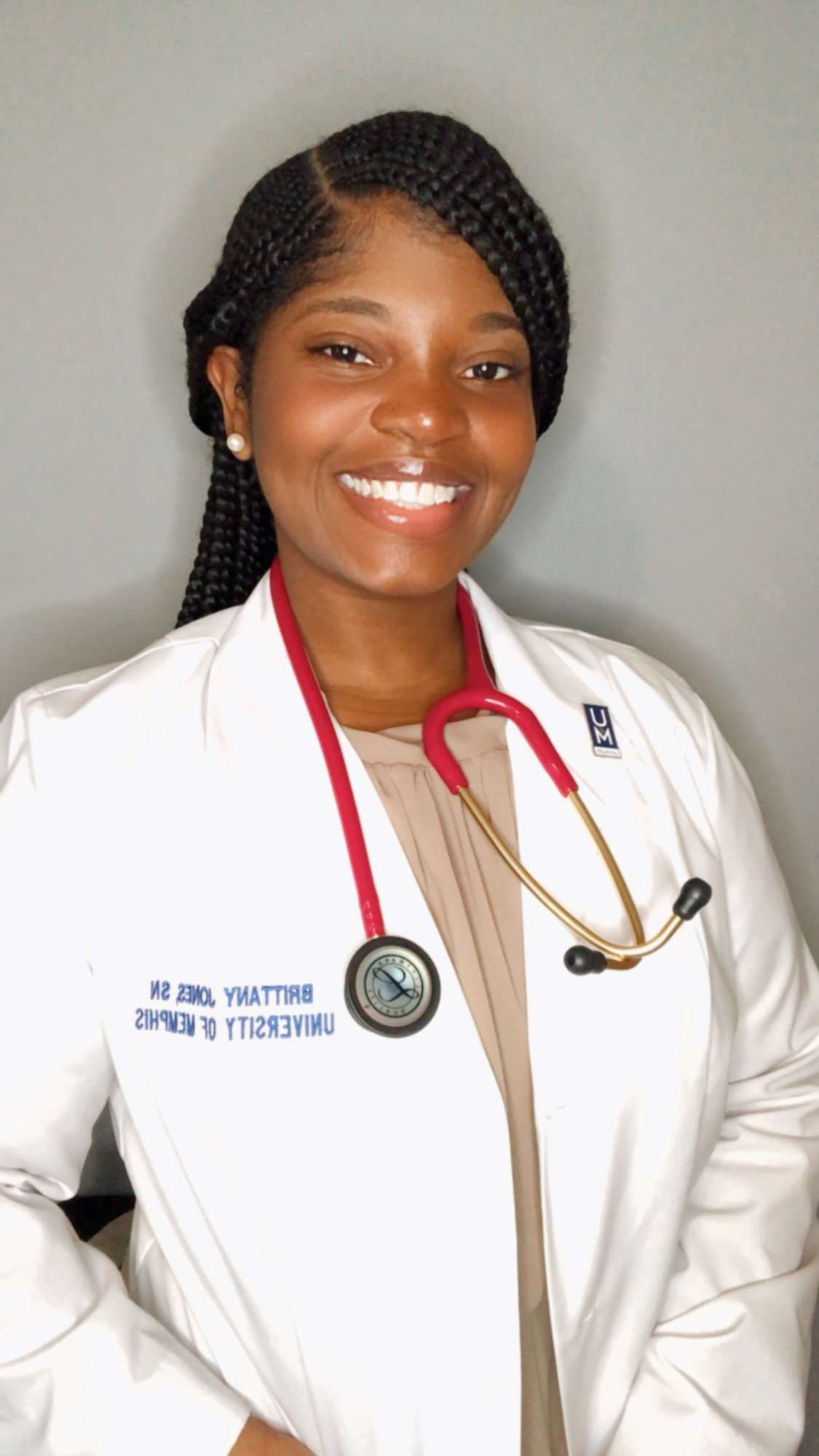 Nursing was not the original plan. A 2011 graduate of Dyersburg State Community College and 2013 graduate of the University of Tennessee at Martin, Brittany T. Jones spent 12 years working at a bank in Dyersburg, Tenn. She is now on track to graduate from the Loewenberg College of Nursing at the University of Memphis Lambuth campus with a Bachelor of Science in Nursing degree on Dec. 12, 2021.
"I got accepted into nursing school at age 29, and I am now finishing up at 31," said Jones, who spent the latter part of her stint in banking in the mortgage lending division, which is nothing like what she wants for the future.
"I chose nursing because I have always had a passion for helping those who are incapacitated, ill, or unable to properly care for themselves," she said. "I contemplated being a nurse for about five years before I even took the first step to becoming one."
She made the decision after a phone inquiry with a nursing recruiter on Oct. 9, 2017, which lead to her coming to campus to meet her the same day.
"Her name was Dr. Linda Brice, and she was an absolutely amazing ambassador for LCON. She guided me on exactly what I needed to do get into the program," Jones said. Impressed by how much Dr. Brice wanted her to succeed, she thought, "if the faculty and staff at LCON are a quarter of what Dr. Brice is, I want in!"
It would take Jones two more years to get into the program.
"It takes patience, and you must trust God's timing. You have to trust that you are in the right field and profession. I always said, Lord if it's not for me, don't let me pass these tests and not be able to stay afloat. I really prayed a lot, and I had a great support system."
When she got into the program, she continued to lean upon her faith and family for guidance and strength.
"My church prays for me. They pray for my cohort. And my family has been so supportive. My mom, she let me move back home and doesn't require me to pay bills. I give her money when I get paid, but she doesn't require it. I actually lived there for free when I was 31 years old!"
A native of Dyersburg, Tenn., Jones is one of three children. Her older sister, Amber, and her younger brother, Marko, were raised by their mother, Bobbie, and grandmother, Irene B. Sanders. Her siblings are also college graduates of UT-Martin with Jones being the first. She said that although her father, J.C. Jones, was not in the picture as much while she was growing up, he began to develop a relationship with her in her 20s, showing his support with money to help by her first car.
"But Bobbie, she was the one that took up the slack. She was the one that made the difference. She was mom and dad. I am very thankful for my mother, who has been in my corner through the entire process. God blessed me with an awesome support system."
Her faith and belief in God are also important parts of her support system.
"I am a God-fearing woman and I enjoy serving in my local church, Faith Deliverance Apostolic Church Inc.," Jones said. "My church, my pastor, they all support me. I have walked into church and people have put money into my hand to help with gas because they knew I was traveling travelling up and down the road to campus. Everybody has been so supportive. I am very thankful to God for that. I feel like if I had gone (to college) when I was trying to go (at first) that all these doors would not have opened for me. I'm just having to walk through them. I definitely keep God at the forefront of what I'm doing."
When she began the BSN program, she was paying for her education out of pocket through student loans. Her final year of college has been paid in full thanks to scholarship opportunities, including STRONG-RNs, a program to help support and retain nursing students from economically challenged or disadvantaged backgrounds, and the Jackson-Madison County General Hospital Nursing Scholarship.
The efforts it took to go back to school and work toward becoming a nurse has not been easy, but it has been worthwhile. Although student nursing can be stressful at times, she appreciates the journey, which has been enjoyable because of the people at LCON.
"That same energy and passion that Dr. Brice displayed to me that day is the same energy that I have received throughout the nursing program at LCON from the faculty and staff," Jones said.
Her first introduction to LCON was through Corey Moore, College academic advisor II for LCON-Lambuth. Since then, she has been blessed to be surrounded by supportive faculty and staff throughout her time in the program.
"They are very helpful. They really want you to succeed. I feel like they have an open-door policy. I don't know if they really do or not," she laughed, "but I can walk into any office there and if I need them, they are there. Especially Corey Moore…his door is always open. He's awesome!"
She said nursing school is a marathon and students must pace themselves while running it. It is full of emotions. Students feel a high when they get that acceptance letter and anxiously await the first day of class. Then you click submit on your first pharmacology test and feel inadequate. You hit a low.
"When I feel discouraged, I always thank God for letting me get into the nursing program and for bringing me to the point I am now. Then I tell myself that He brough me this far, he'll take me all the way!" Jones said. No matter what highs or lows she has experienced, "All in all…it's been worth it."
With graduation on the horizon, she is now focused on her desired career of becoming a registered nurse first assistant in the operating room. She has already been offered a nurse resident position in the Adult Peri-operative Services-Adult Operating Room department at Vanderbilt University Medical Center. Her goal is to obtain a few certifications along to way so she can become more marketable, versatile and help add value to the profession.
Jones said she hopes that others are inspired by her journey to become a nurse no matter what stage of life they find themselves. Her advice to others is to go for it. They will not go through the program alone because there are people and resources in place to help them succeed as a nursing student.
"I hope my journey inspires someone to go after what they want in life and never let their age put limits on achieving their dreams, goals or aspirations. I'm very excited to see what God has in store for me as I embark on my new journey."