Success Stories!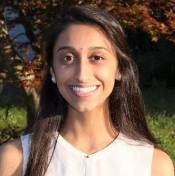 Shivani Patel
BBA in Business Information & Technology, 2022
The services offered through the Professional Development Center really helped me feel more confident in the business environment. The staff worked with me to enhance my resume and encouraged me to participate in The Complete Professional Program. The CPP provided opportunities for me to improve my networking and public speaking skills, which ultimately helped me land an internship!
Jonathan Whistler
BBA in Accountancy, 2023
The Complete Professional Program has been incredibly instrumental during my first years at the UofM. Completing each module taught me a valuable skill and helped me make new connections. No matter your classification or major, I highly recommend you take advantage of the CPP!
Sarah Carabajal
BBA in Human Resource Management, 2021
With the help of the Professional Development Center, I was pushed to step out of my comfort zone to earn my Complete Professional Program Certificate ... I am proud of this accomplishment because I truly grew as a professional.
Connor Campbell
BBA in Marketing Management, 2020
Until I met Dr. Tuberville while studying abroad, I'd given up on any chance of a bright future. I was unmotivated and certainly didn't think I could turn things around on my own, but Dr. T saw something in me that family, friends, nor I could. She believed I was worth something, so I decided to start trying. I took advantage of every opportunity the PDC offered, and I'm now an independent contractor with True North Medical (my own company), selling medical devices for Integra Life Sciences and Microport Orthopedics!
Savanna McArthur
BBA in Business Management with HR Concentration, 2021
The Professional Development Center has been a huge asset in helping me develop my career goals. From the Complete Professional Program to the multitude of additional workshops offered, to the support provided by the staff, the PDC boosted my confidence, both as a student and as a professional. I can truly say I feel more polished and prepared to continue down my career path, and I'm very excited to be starting a new position with Baptist Memorial Hospital as a Human Resource Specialist!
Edith Grayson
BBA in Supply Chain Management, 2022
The PDC has been such a wonderful resource for me. Last fall, I earned my CPP Certificate and completed Supply Chain Academy. Since then, I've attended several other professional development workshops. All these experiences strengthened my resume and helped me feel more comfortable networking and interviewing with professionals. As result, I landed internships with CH Robinson and International Paper during my sophomore year! Thanks, PDC, for getting me started on my career path!
Jerome Lindsey
BBA in Accountancy & Finance, 2020
I took advantage of many opportunities offered through the PDC, which provided me with valuable skills and a newfound confidence in myself. I began to feel more at ease when meeting potential employers in networking situations. I'm certain the tips and feedback I received during my mock interviews helped me land three internships, all with different companies! I graduated last August, and am now working full-time as a Securities Trader at Telarray, LLC.