Research in the School of Social Work
The University of Memphis is the largest research university in the Mid-South, bringing leading-edge technology and practices to the region.
Faculty in the School of Social Work focus on exploring regional impacts of health and wealth disparities, developing innovative clinical interventions with individuals and families, and implementing effective community solutions to urgent social issues. The School engages knowledgeable community agencies and stakeholders, develops new partnerships, and provides unique opportunities for students to conduct research.
Research Highlights
Dr. Robin Lennon-Dearing, in partnership with Friends for Life, has used a Strengthening Communities grant to engage social work students in the development of the Women's Empowerment Group, a project that highlights the experiences of women living with HIV. Click here to learn more.
Dr. Elena Delavega is a recipient of the College of Arts and Sciences' 2016 Early Career Research Award. Click here to read more about this honor.
Works in Progress Symposium (WIPS)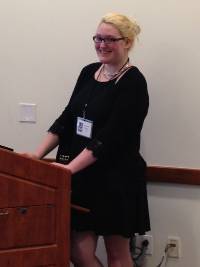 BA social work candidate Jacqueline Murray presented her research titled "Transgender Healthcare Disparities" at the Works in Progress Symposium (WIPS) held at the University of Memphis on October 31, 2016. Jacqueline discussed challenges and other inequalities that promote healthcare disparities among transgender individuals, and offered preliminary findings from conducting her research. Her thesis advisor, Dr. Lamont Simmons, said it was an honor to assist Jackie with her research, and stated that "her work is an initial step toward pursuing her goal of earning a Ph.D."
Congratulations Jacqueline!
2016 Council on Social Work Education (CSWE) Annual Program Meeting (APM) Presentations
Addressing New Paradigms: Social work Professional Identity and Interprofessional Teams
Advancing Collaborative Practice through Social Work Education
Comparative Experience of First Generation and Continuing Generation Social Work Students
2016 Hawaii International Conference on Education Presentations
Insights into Persistence among African American Males at a Predominantly White Institution
2016 Applied Behavior Analysis International Conference Presentations
Investigating The Symptoms of Post Traumatic Stress in Fathers of Children Diagnosed with Autism
2016 Society for Social Work and Research Presentations
Assessing Student Outcomes of a Behavioral Health Training Program in Social Work
Social Work and the Earned income Tax Credit: Increasing Participation Rates
2015 Council on Social Work Education (CSWE) Annual Program Meeting (APM) Presentations
Teaching SW Students as Advocates in Special Education
Strategies for Promoting Academic Success Among First-Generation Social Work Students
Can You See the Bootstraps? Changing Social Work Students' Perceptions of Poverty
Reaching In to Reach Out: Therapy Box for Escape-Maintained Aggression
Mentoring from the Masters: Students Helping Students
2015 ACSSW National School Social Work Institute on School Mental Health Presentations
The Teacher Risk Screening Survey
2014 Council on Social Work Education (CSWE) Annual Program Meeting (APM) Presentations
The Benefits and Challenges of Non-Traditional Field Placement in Social Work Education
The Behavior Change Project: A Field Assignment in Empathy Building, Self-Awareness, and Direct Clinical Practice
2013 ACSSW National School Social Work Institute on School Mental Health Presentations
Social Media and Professional Conduct: Ethical Considerations