Weeks of Welcome 2020
Thank you to everyone who participated in Weeks of Welcome 2019 and Winter Welcome 2020! We hope you had a blast! Check back during Summer 2019 for information on our upcoming Weeks of Welcome schedule to welcome new Tigers for the Fall semester!
In the meantime, make sure to check out TigerZone for ongoing events at the University of Memphis!
Make sure to download your event pass to make check-in at UofM events a breeze!
The University of Memphis is closely monitoring the progression of COVID-19. The number one priority is keeping our students safe and healthy. All events are subject to change per CDC guidelines and local, state, and national regulations. Should you have any questions, please contact studentinvolvement@memphis.edu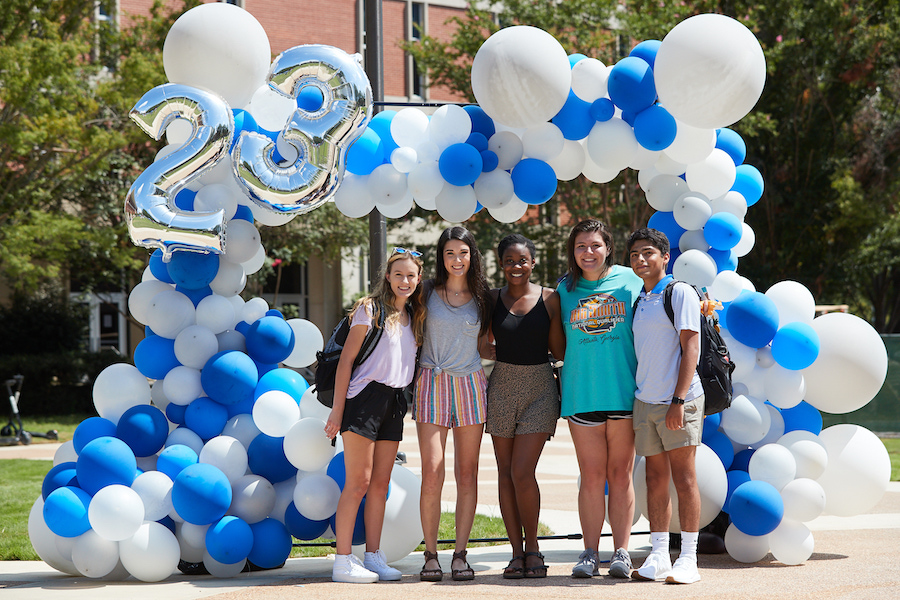 August 10

Early Move In
Presented By: Housing and Residence Life
All Day
Various Locations


---

August 11

Move In
Presented By: Housing and Residence Life
All Day
Various Locations

PlayFair
Presented by: Student Activities Council
6:45 PM
Centennial Place Lawn

Dinner with your Class
Presented by Student Activities Council
7:30 PM
Centennial Place Lawn

---

August 12

Move In
Presented By: Housing and Residence Life
All Day
Various Locations


Dinner with your Class
Presented by: Student Activities Council
7:30 PM
Centennial Place Lawn

Movie on the Lawn
Presented by Student Activities Council
7:30 PM
Centennial Place Lawn

---

August 13

Coffee with the Colleges
Presented by: Student Leadership & Involvement
9:30 AM
UC Atrium

Convocation
Presented by: UofM Commecement Office
10:45 AM
Rose Theatre

First Year Student Picnic
Presented by Stuent Leadership & Involvement
11:30 AM
UC Fountain

Faith Fair
Presented by: Religious Life
2:00 PM
UC Lawn

UC Takeover
Presented by: Student Activities Council
5:00 PM
University Center

---

August 14

Out of State Mixer

Presented by: Student Leadership & Involvement
2:00 PM
UC Atrium

Frosh Frenzy
Presented by: Atheletics, Blue Crew, Student Activities Council
5:00 PM
Liberty Bowl Memorial Stadium

---

August 15

Paint U Paint Party
Presented by: Student Activities Council
7:00 PM
Rec Center

---

August 17

First Day of School Pictures
Presented by: Student Activities Council
11:00 AM
UC Atrium

Involvement Fair
Presented by: Student Leadership & Involvement
12:00 PM
UC Lawn

MEMPops with SAC
Presented by: Student Activities Council
12:00 PM
UC Lawn

NPHC Stroll Off
Presented by: National Pan-Hellenic Council
7:00 PM
Rose Theatre

---

August 18

Tag Tuesday: Make your own backpack tag
Presented by: Student Activities Council
12:00 PM
UC Atrium

Meet the Greeks
Presented by: All Greek Programming Board
5:00 PM
UC Lawn

Skate Back to Class with SAC
Presented by: Student Activities Council
7:00 PM
UC Ballrooms

---

August 19

Make your Own Leather Bracelets
Presented by: Student Activities Council
12:00 PM
UC Atrium

Multicultural Mixer
Presented by: Multicultral Affairs
5:30 PM
Rose Theatre

Coffee House & Poetry Slam
Presented by: Student Activities Council
8:00 PM
Beale Room

---

August 20

A Magical Evening with Student Activies Council
Presented by: Student Activities Council
7:00 PM
Rose Theatre

---

August 21

Welcome Week Day of Services
Presented by: Center for Service Learning & Volunteerism
8:30 AM
Various Locations

Spirit Swap & Fountain Party
Presented by: Blue Crew
12:00 PM
UC Fountain