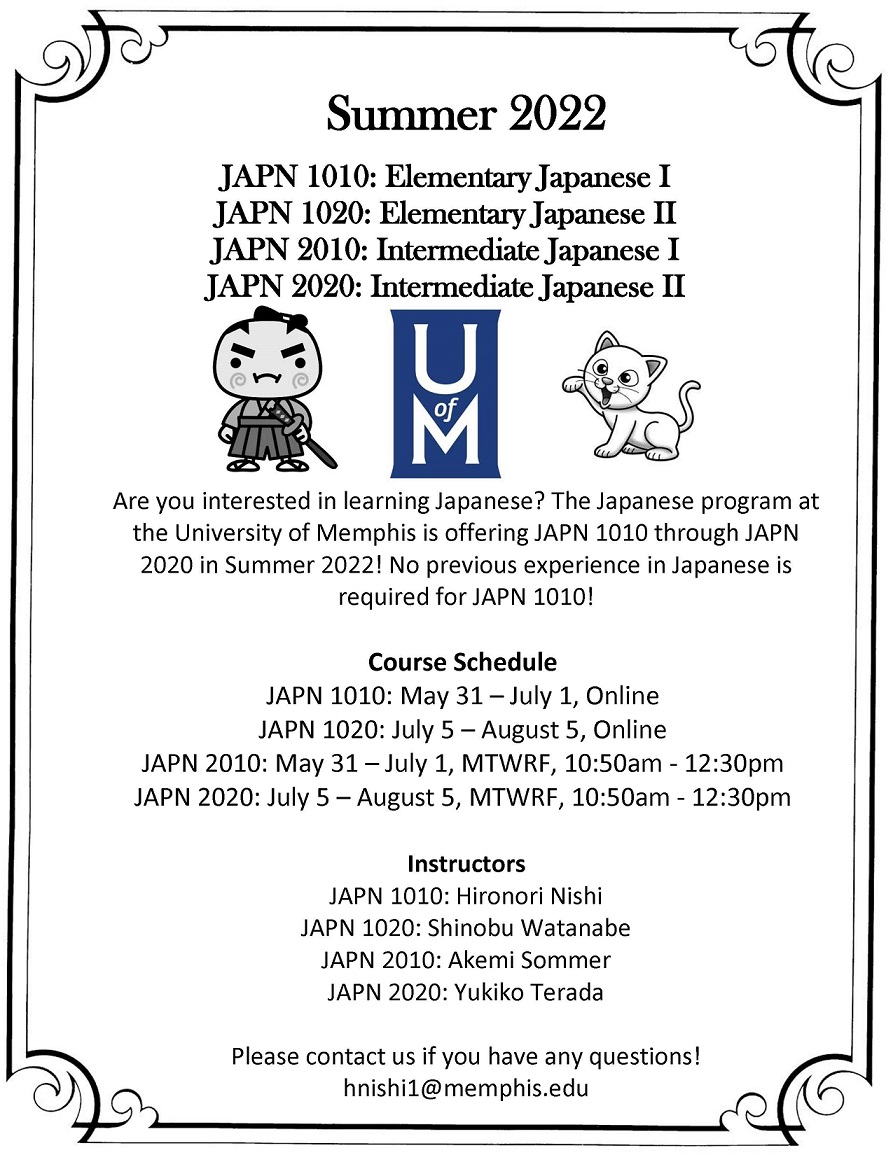 The Japanese Program
こんにちは!Welcome to the 2021-2022 Academic Year!
You've reached the homepage of the University of Memphis Japanese program. Please explore the tabs listed in the left-side menu for more information regarding the various Japanese language courses offered at the University of Memphis as well as upcoming events and programs.
The Japanese Section of the Department of World Languages and Literatures at the University of Memphis offers a major in Japanese as well as Japanese minor. For more information about all of the offered major, minor, and graduate level courses, please see the menu tabs to the left.
Why Learn Japanese?
Studying Japanese brings career opportunities for international business. Indeed there is tremendous opportunity for someone who is fluent in Japanese in the state of Tennessee. There are 151 Japanese-owned companies in Tennessee, employing more than 38,000 Tennesseans and accounting for cumulative capital investments of more than $9 billion. Also, Japanese culture, both traditional and pop culture, has become part of international culture. Studying Japanese will give you direct access to Japanese traditional art forms such as tea ceremony, calligraphy, Zen garden, architecture, film, fashion, cuisine, animations, and literature. It not only enriches your life but also greatly expands your future career! The University of Memphis is the only institution in the mid-south region to offer the Japanese major.
Activities in the Japanese Program
Weekly Japanese Language Table
The Japanese Language Table is an informal gathering where all students are invited to practice their Japanese every week and become friends with exchange students from Japan. Please contact Dr. Matsuda for the current semester's schedule.
Japanese Culture Club (JCC)
The Japanese Culture Club is a student organization, which provides many opportunities for the students to deepen their understanding of Japanese language and culture.