PLEASE NOTE — Due to the COVID-19 (coronavirus) pandemic, all of our Department's courses for Spring 2020 have been moved online, and all in-person meetings have been canceled or moved online as indicated. Any updates will be posted here as information becomes available. For more information about the university's response, please visit these pages: Coronavirus updates, Campus Communications, and UM Tech's Keep Learning page for students.
Welcome to World Languages and Literatures!
Students and faculty members from the Japanese Program visited Peabody Elementary on November 15, demonstrating the Bon Odori dance (traditional Japanese festival dance), Japanese calligraphy and origami (paper folding).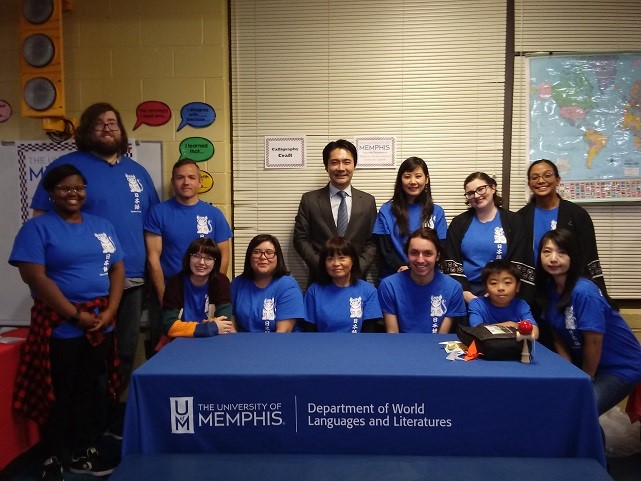 ---
Job Opening (Spanish Instructor Position)
The Department of World Languages at The University of Memphis invites applicants for a Spanish one-year, non-tenure track instructor starting August 2020.
Required:
a) M.A. degree in Spanish in hand by August 2020;
b) Native or near-native proficiency in Spanish and English;
c) Extensive teaching experience in lower-division courses using communicative approach and technology in the classroom;
d) Ability to teach Spanish language courses both in the classroom and online;
e) Willingness to do some service is expected;
f) Recent student-evaluations from calendar year 2019;
g) Unofficial transcript;
h) Curriculum vitae;
i) Application letter describing teaching skills and teaching experience at the college level;
j) Three recent letters of recommendation (Email addresses must be submitted for three reference providers. Workforum system will send an email to the reference provider giving them instructions to submit the letter).
The successful candidate will teach a maximum of five courses per semester. Applicants must upload requirements f through i and the email addresses for three reference providers whom you have contacted to submit letters of reference at https://workforum.memphis.edu. Deadline for submission of all documents: March 27, 2020. If you require additional information, contact Dr. Vania Barraza (vbarraza@memphis.edu).
The University of Memphis, an Equal Opportunity/Affirmative Action employer that strongly encourages applications from women and minorities, is a metropolitan research institution that offers competitive pay and benefits.