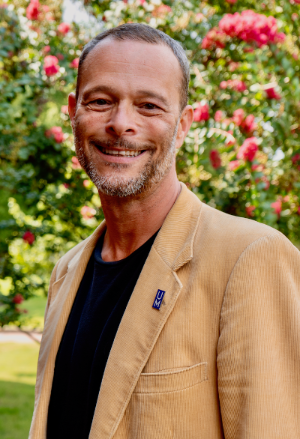 Antonio de Velasco
ASSOCIATE PROFESSOR (COMMUNICATION STUDIES)
Email
adevelsc@memphis.edu
Office
Art & Communication Bldg 245J
Office Hours
Contact for office hours and appointments.
About
A teacher of rhetoric, Tony de Velasco works within an essentially-contested and evolving scholarly tradition more than 2,000 years in the making. His books include Centrist Rhetoric: The Production of Political Transcendence in the Clinton Presidency (2010), Rhetoric: Concord and Controversy (2012, co-edited) and Rethinking Rhetorical Theory, Criticism, and Pedagogy: The Living Art of Michael C. Leff (2016, co-edited). His work appears in venues such as Rhetoric Society Quarterly, Rhetoric & Public Affairs, Journal of Contemporary Rhetoric, Southern Communication Journal, the Commercial Appeal, and MLK50: Justice Through Journalism. He has received numerous honors, including the Alumni Association Distinguished Teaching Award (2011), the College of Communication and Fine Arts Dean's Outstanding Research Award (2013), the Alumni Association "Eye of the Tiger" Award (2019), the Faudree University Professorship (2019) and the Benjamin W. Rawlins, Jr. Meritorious Professorship (2020). Prof. de Velasco has directed ten doctoral dissertations and six MA projects to completion. He has served on more than twenty-five successful PhD and MA committees. Tony served as Director of Graduate Studies from 2013 to 2019.
Education
Ph.D., Emory University
B.A., Guilford College
Sample Publications
"Redemptive Exclusion: A Case Study of Nikki Haley's Rhetoric on Syrian Refugees." Rhetoric & Public Affairs 23.4 (2020), 735-760. (second author, with Noor Ghazal Aswad).
"A Cautionary Note on Context, Memory, and the Regulation of Black Womanhood." The Conceit of Context. Charles Morris III and Kendall Phillips, eds. (New York: Peter Lang, 2020), 263-269.
"I'm a Southerner, too': Black Southern Counterpublics and Confederate Monuments in Memphis, Tennessee." Southern Communication Journal 84.4, (2019), 233-245.
"Rethinking Rhetorical Theory, Criticism, and Pedagogy: The Living Art of Michael C. Leff " (with John Angus Campbell and David Henry) (Lansing, MI: Michigan State University Press, 2016)