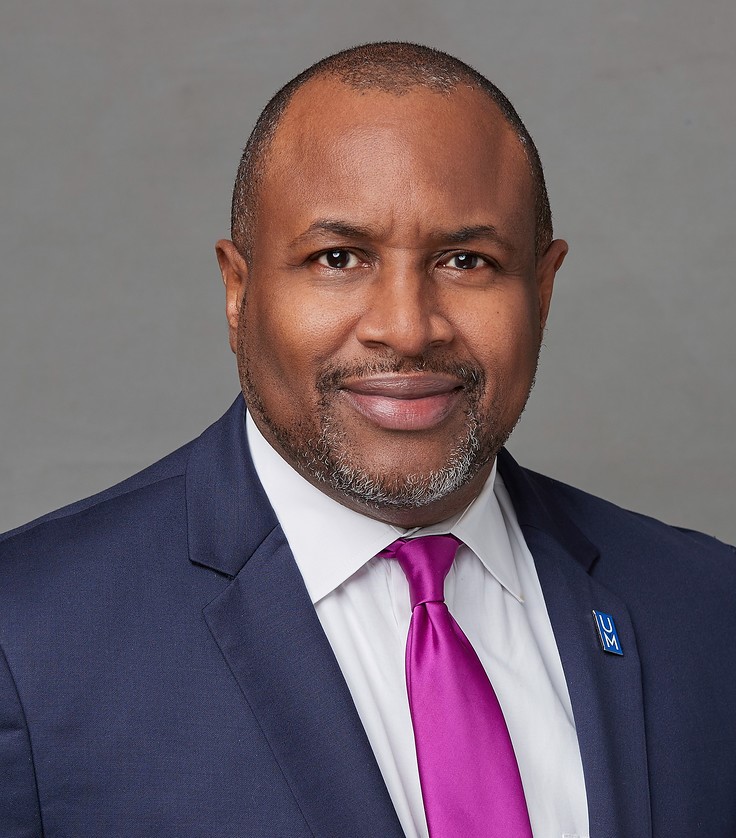 Andre E. Johnson
PROFESSOR (COMMUNICATION STUDIES)
Email
ajohnsn6@memphis.edu
Office
229 Art & Communication Bldg
Office Hours
Contact for office hours and appointments.
ABOUT
Andre E. Johnson, Ph.D. is a Professor of Rhetoric and Media Studies in the Department of Communication and Film and holds a University Research Professorship at the University of Memphis. He is also the Andrew Mellon Just Transformation Fellow at the Center for Black Digital Research at Penn State University, National Research Fellow for the Center for the Study of Religion & American Culture, and Visiting Scholar at Memphis Theological Seminary. Grounded in an interdisciplinary understanding of scholarship, Dr. Johnson studies the intersection of rhetoric, race, and religion. He teaches classes in African American public address, rhetorical criticism, religious communication, prophetic rhetoric, homiletics, and the rhetoric of social movements.
Dr. Johnson is the author of three national award-winning books, The Forgotten Prophet: Bishop Henry McNeal Turner and the African American Prophetic Tradition (2012), The Struggle Over Black Lives Matter and All Lives Matter (with Amanda Nell Edgar, Ph.D., 2018), and No Future in this Country: The Prophetic Pessimism of Bishop Henry McNeal Turner (2020). He is also the editor of the forthcoming The Speeches of Bishop Henry McNeal Turner: The Press, the Platform, and the Pulpit (2023) and Preaching During a Pandemic: The Rhetoric of the Black Preaching Tradition (with Kimberly P. Johnson, Ph.D. and Wallis C. Baxter IV, Ph.D., 2023)
In addition to what many consider groundbreaking work on Bishop Turner, Dr. Johnson maintains an eclectic research agenda. Ongoing research projects explore the nexus between rhetoric and theology, religion and politics, and the Colored Convention Movement.
EDUCATION
Ph.D., University of Memphis
M.Div., Memphis Theological Seminary
B.S., University of Tennessee at Martin
Sample Publications
Communicating Change in Chaotic Times: Toward a Maatian Understanding of Civility. The Journal of Dialogic Ethics: Interfaith and Interhuman Perspectives Vol. 1, Number 1 (Spring, 2022) 8-18.

Creating Purpose, Power, and Passion: Sister Souljah and the Rhetoric of Hip Hop. Journal of Contemporary Rhetoric. Vol. 12, No. 2, (2022), 45-51. (with Damariye L. Smith)
My Sanctified Imagination: Carter G. Woodson and a Speculative (Rhetorical) History of African American Public Address, 1925-1960. Rhetoric and Public Affairs. Vol. 24, No. 1-2 (Spring-Summer 2021), 15-50
"To Wake Up the Latent Powers": Henry McNeal Turner and the Legacy of the Israel AME Lyceum. Reframing Rhetorical History: Cases, Theories, and Methodologies. University of Alabama Press, Kathleen J. Turner and Jason Edward Black, eds. (2022), 151-171

"Further Silence Upon Our Part Would be an Outrage": Bishop Henry McNeal Turner and the Colored Convention Movement" in, The Colored Conventions Movement: Black Organizing in the Nineteenth Century Gabrielle Foreman, Jim Casey, and Sarah Lynn Patterson (eds). Duke University Press, 2021, 300-314