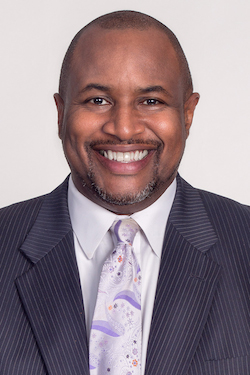 Andre E. Johnson
ASSISTANT PROFESSOR (COMMUNICATION STUDIES)
Email
ajohnsn6@memphis.edu
Office
Art & Communication Bldg
Office Hours
Contact for office hours
About Dr. Johnson
Dr. Andre E. Johnson joined the department of communication at the University of Memphis in 2015. He teaches classes in African American Public Address, Rhetoric Race and Religion, Media Studies, Interracial Communication, Rhetoric and Popular Culture, and Hip Hop Studies. He is currently editing the works of AME Church Bishop Henry McNeal Turner under the title The Literary Archive of Henry McNeal Turner (Edwin Mellen Press). He has already published the first six volumes, and the seventh one is set for publication in 2019.
Dr. Johnson is also the curator and director of the Henry McNeal Turner Project (#HMTproject)—a digital archival project focusing on the collection of writings from Bishop Turner. He is also the author of The Forgotten Prophet: Bishop Henry McNeal Turner and the African American Prophetic Tradition (2012) and the editor of Urban God Talk: Constructing a Hip Hop Spirituality (2013) both with Lexington Books. He also serves as the founder and managing editor of the popular Rhetoric Race and Religion Blog and the general editor of the Rhetoric Race and Religion book series with Lexington Books.
Dr. Johnson has presented academic papers at national, regional, and state conferences winning awards at each level and has published essays in the Howard Journal of Communications, Southern Journal of Communication, Carolina Communication Annual, Black Theology Journal, The New York Times, Journal of Contemporary Rhetoric and The Journal of African American History. He holds membership in several national, regional and state associations in the areas of Communication, History, African American Studies and Religious Studies.
In addition to his work on Bishop Turner, Dr. Johnson maintains an eclectic research agenda. Ongoing research projects explore the nexus between rhetoric and theology, Black Lives Matter, religion and politics, the religious rhetoric of Barack Obama, the rhetoric of Martin Luther King Jr., and more recently, the rhetoric of Donald Trump.
Education
PhD, University of Memphis
MDiv, Memphis Theological Seminary
BS, University of Tennessee at Martin
Areas of Research:
Rhetoric, Race, and Religion, Civil Rights and Social Movements, African American Public Address, African American Communication and Rhetoric, African American Studies, Media Studies, African American Preaching (Homiletics), Henry McNeal Turner, Religious Rhetoric, Religious Studies, Race/Critical Race Theory Studies, Hip Hop Studies, Public Speaking, Black Church
Books:
"No Future in this Country:" The Prophetic Pessimism of Bishop Henry McNeal Turner. University Press of Mississippi, 2019
(with Amanda Nell Edgar) The Struggle Over Black Lives Matter and All Lives Matter. Lexington Books, 2018
An African American Pastor Before and During the American Civil War Vol. 6. Edwin Mellen Press, 2018
Journals Articles:
Dislocations and Shutdowns: MLK, BLM and the Rhetoric of Confrontation. Journal of Contemporary Rhetoric Vol. 8 No. 3, 2018
(with Anthony J. Stone) "The Most Dangerous Negro in America": Rhetoric, Race and the Prophetic Pessimism of Martin Luther King Jr. Journal of Communication and Religion. Vol. 41 No. 1 2018 (p. 8-22)
Editorial Positions
(Guest Editor) "The Rhetoric of Martin Luther King" Journal of Contemporary Rhetoric *Special Issue (2018).
(Guest Editors) House, Christopher. and Andre E. Johnson. "Communication, Religion, and Race in America: Where Do We Go from Here, 50 Years Later?" *Special Issue. Journal of Communication and Religion (2018).
Book Chapters:
"I Had to Pass Through Blood and Fire": Henry McNeal Turner and the Rhetorical Legacy of Reconstruction. "Remembering the Memphis Massacre: An American Story" Susan O'Donovan and Beverly Bond (eds.) University of Georgia Press. (Forthcoming, 2019)
(with Earle J. Fisher) "But, I Forgive You": Mother Emanuel, Black Pain and the Rhetoric of Forgiveness in Was Blind but Now I See: Rhetoric, Race, and Religion in the Charleston Shootings. Sean O'Rourke and Melody Lehn (eds). Lexington Books (Forthcoming, 2019)
"Further Silence Upon Our Part Would be an Outrage": Bishop Henry McNeal Turner and the Colored Convention Movement" in Colored Conventions in the Nineteenth Century and the Digital Age, Gabrielle Foreman (ed). Duke University Press (Forthcoming, 2019)
"Democracy in America is Impossible": The Pessimistic Prophecy of W. E. B. Du Bois in "Why I Won't Vote" No Deed but Memory: Forging American Freedom in W. E. B. Du Bois's Twilight Years. Phillip Luke Sinitiere (ed). University of Mississippi Press. (Forthcoming, 2019)
Fighting the Devil with Fire: The Political Career of Henry McNeal Turner. The Handbook of Research on Black Males: Quantitative, Qualitative, and Multidisciplinary. Theodore S. Ransaw, C. P. Gause, and Richard Majors (eds). Michigan State Press. (2018)
"What in the Hell Do You Have to Lose": Donald Trump and the Appeal to African American Voters" in The Rhetoric of Religious Freedom in the United States. Eric Miller (ed) Lexington Books. (2018)
You can learn more about Dr. Johnson by clicking here.