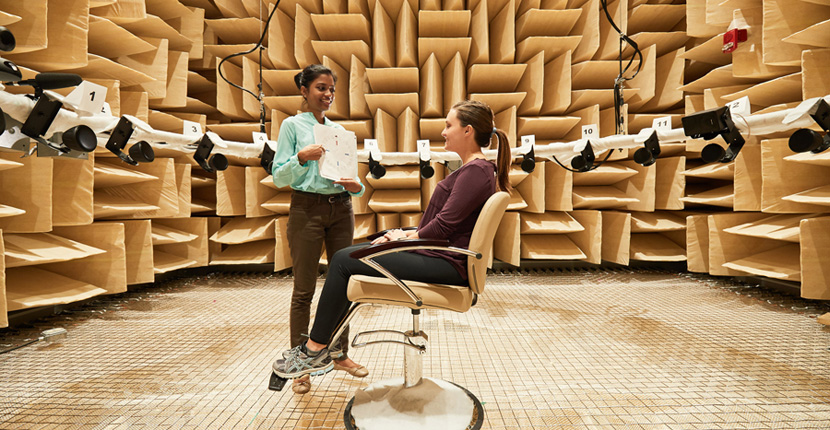 Anechoic Chamber
The anechoic chamber is a state of the art acoustic testing space. This facility is extremely unique and not available anywhere else in southwest Tennessee. In fact, only a handful of these rooms are even available in the entire country. In typical listening environments, sound waves reflect off surrounding surfaces. When this happens, the sound waves cancel each other at various points, causing locations in the environment where sound is different than might be predicted. The acoustic anechoic chamber at the University of Memphis Community Health Building is designed for performing sound measurements under conditions similar to free space, where sound reflections do not occur.
Researchers in the School of Communication Sciences and Disorders focus on varying dimensions of acoustic-related science. For many of these applications, it is necessary to test sound in this extremely quiet and predictable acoustic environment. This specialized, newly-equipped space has augmented this research and stimulated several multidisciplinary projects within the University. It is also of interest to industries outside of the University of Memphis who seek this exclusive acoustic environment in order to verify performance and acquire precise acoustic measurements of their devices. For example, one professor received external funding from the Turtle Beach Corporation to validate the performance of loudspeakers with directional capabilities in this space.
Dr. Jani Johnson, an Assistant Professor of Audiology and Director of the Hearing Aid Research Laboratory is currently conducting research that focuses on hard of hearing listeners' performance with assistive listening technologies such as hearing aids. She uses the anechoic chamber to characterize the performance of specific components and digital signal processing algorithms incorporated into listening technologies. Dr. Johnson also uses the chamber to quantify the listening performance of hard of hearing adults wearing hearing assistive technologies. The gold standard of horizontal sound source localization testing is in an anechoic space. For this type of testing, a research participant is seated in the center of the circular array of loudspeakers. Participants identify the loudspeaker that they perceive sounds to have originated. Since the anechoic space is echo-free, researchers can be certain that participants' responses vary according to the variables of interest and are not a product of reverberation characteristics of the test environment.
The anechoic chamber acts as a shared research space at the University of Memphis and is equipped to allow multiple uses for a large range of studies.