Student Research and Awards
Student Awards
ICL Doctoral Students Win AECT Awards
Two ICL doctoral students (both in the IDT doctoral program) were awarded prestigious awards by the Association for Educational Communications and Technology. Katie Sharpe, recent ICL doctoral graduate, received the Robert M. Gagné Award for Graduate Student Research in Instructional Design for her dissertation entitled "Building self-efficacy and persistence through STEM e-mentor training: A multi-site case study." Dr. Sharpe's dissertation was chaired by Dr. Amanda Rockinson-Szapkiw.
Scott Van was awarded the Outstanding Practice by a Graduate Student in Instructional Design by AECT for his leadership of the Life Prep Academy partnership between UofM and FedEx. Learn more about AECT awards here> and learn more about Scott Van's work with Life Prep Academy here>.
Memphis Leadership Scholars Program at National Principals Conference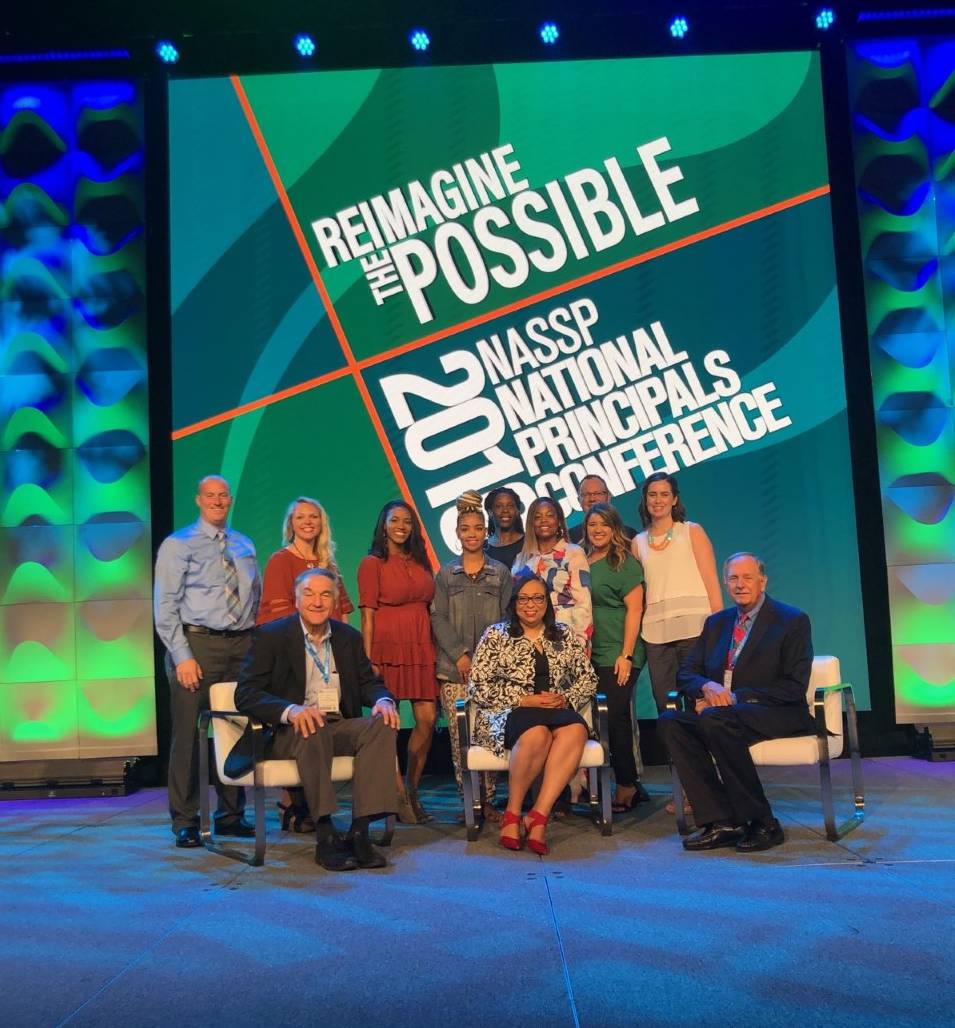 Memphis Leadership Scholars Program cohort members from the Leadership department attended the National Principals Conference in Boston over the summer. Pictured here is the Memphis Leadership Scholars Program cohort led by Dr. Jim Mitchell and Dr. Tim Fite - both retired Leadership faculty members - with the outgoing NASSP President, Christine Handy at the National Principal's Conference in Boston.
CEPR Students Present at APA Convention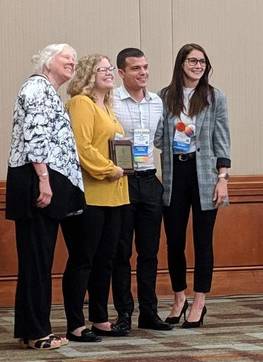 In August 2019, more than a dozen CEPR students traveled to the American Psychological Convention in Chicago to present their research with many students collaborating on research teams and presenting on multiple projects. Several of our students received awards.
Madeline Stenersen (pictured left), currently on internship at Yale University School of Medicine Forensic Addiction Services, won the APA Division Seventeen (Counseling Psychology) Student Affiliate Bridging the Gap Award. This award relates to the projects and opportunities she's had throughout the program to use research and clinical skill to "bridge the gap" between psychology clinical practice and academic research. Specifically she reported on her work (under Dr. Ovrebo's mentorship) with RestoreCorp in the Memphis community and the use of research data to be used in agency grant-funding applications. Madeline is Dr. Ovrebo's advisee.
Madeline also won the APA Division 52 (International Psychology) Student International Research Award. She received the award in relation to research work done in Thailand examining foreigners' attitudes towards individuals who sell sex in the country.
Christina New, currently on internship at Southwest Consortium/NMVAHCS, won the APA Division 44 Committee for Transgender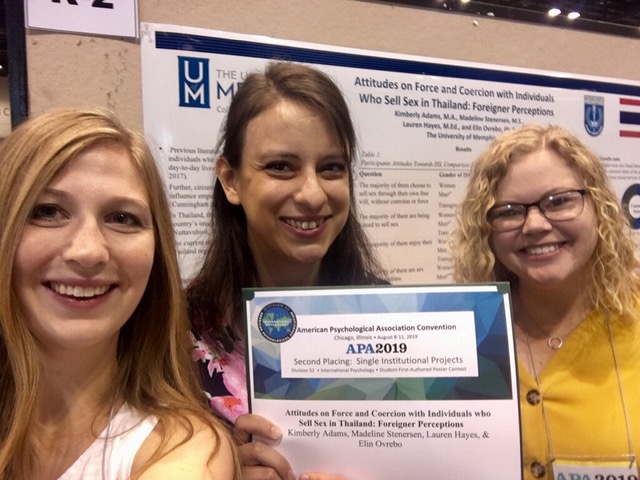 People and Gender Diversity Transgender Research Award for her dissertation work on understanding symptom disclosure related to hormone therapy for transgender people. Christy is Dr. Bridges' advisee.
Finally, a poster presentation by Kimberly Adams, Madeline Stenersen, Lauren Hayes, and Dr. Elin Ovrebo (as part of Dr. Ovrebo's International Research Team) won second place for the APA Division 52 (International Psychology) Poster Award. The students are pictured to the right.
COE Alumna and Rhodes College Accounting Professor Pamela Church Honored for Outstanding Faculty Service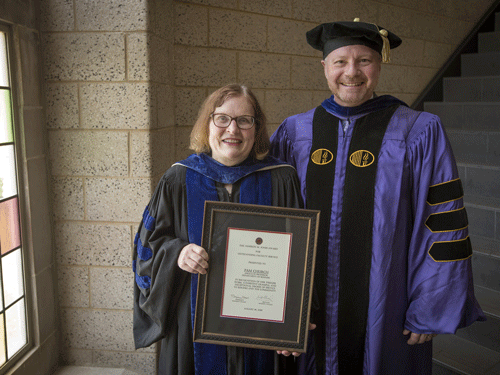 Dr. Pamela Church, associate professor of accounting at Rhodes College, was presented the 2019 Jameson M. Jones Award for Outstanding Faculty Service at the college's Opening Convocation Aug. 16. The Jameson M. Jones Award for Outstanding Faculty Service honors a current faculty member who has established an outstanding record of service to the college. It is named in memory of Dr. Jameson M. Jones '36, who served as the college's chief academic officer for more than 15 years. Dr. Milton Moreland, provost and vice president for academic affairs, presented the award at the Opening Convocation.
Church joined the Rhodes College faculty in 1988 and has served as the chair of the Department of Business, as well as taught undergraduate and graduate accounting courses in the areas of financial, managerial, governmental accounting, and auditing.
The many letters of nominations noted that Church is a skilled and gracious administrator and teacher who is known for her sense of patience and collegiality and willing to forego her own interests for the good of the whole community. One colleague wrote, "She cares about students no matter whether they are excellent performers or students who need a little more help. I know that she is always supportive and encouraging to students. She never gives up on anyone."
In addition, Church has served on many of the college's major committees, and she is the sole academic representative on the Tennessee State Board of Accountancy, which oversees the Certified Public Accountant (CPA) profession in Tennessee. Having been nominated by the governor for this position, she has a unique opportunity to have an impact on the accounting profession more broadly.
A native Memphian, Church is the parent of three Rhodes alumni. She holds a B.S.E. and an M.S. from The University of Memphis and a Ph.D. in accounting from the University of Houston. She also holds a CPA certificate in the state of Tennessee.