Driven by Excellence
The College of Education at the University of Memphis is Driven by Excellence! We strive for excellence and transform innovation into action as we lead, teach, research, and serve. We train teachers, educational leaders, counselors, and researchers who will impact Memphis, the Mid-South, and the world.
Share Your Story
The COE wants to celebrate our alumni, students, faculty and staff who are driven by excellence and demonstrate our values: diversity, inclusion, respect, innovation and service. We want to hear about your awards, accomplishments, promotions, nominations, research, publications and other professional and academic achievements.
COE hiring Clinical Placement and Induction Coordinator
Join our innovative and dynamic faculty and staff as our Clinical Placement and Induction Coordinator in the Office of Teacher Education. The individual selected for this position will work with the Director of Teacher Education & Clinical Practice and Program Coordinators to coordinate clinical and residency experience placements for graduate and undergraduate teacher education candidates. Learn more and apply here>.
UofM Magazine features the COE
The COE's Teacher Preparation Program and River City Partnership were featured in the Spring issue of University of Memphis magazine. Read about how we're changing the narrative here>.
Explore the COE
Career Services on the Go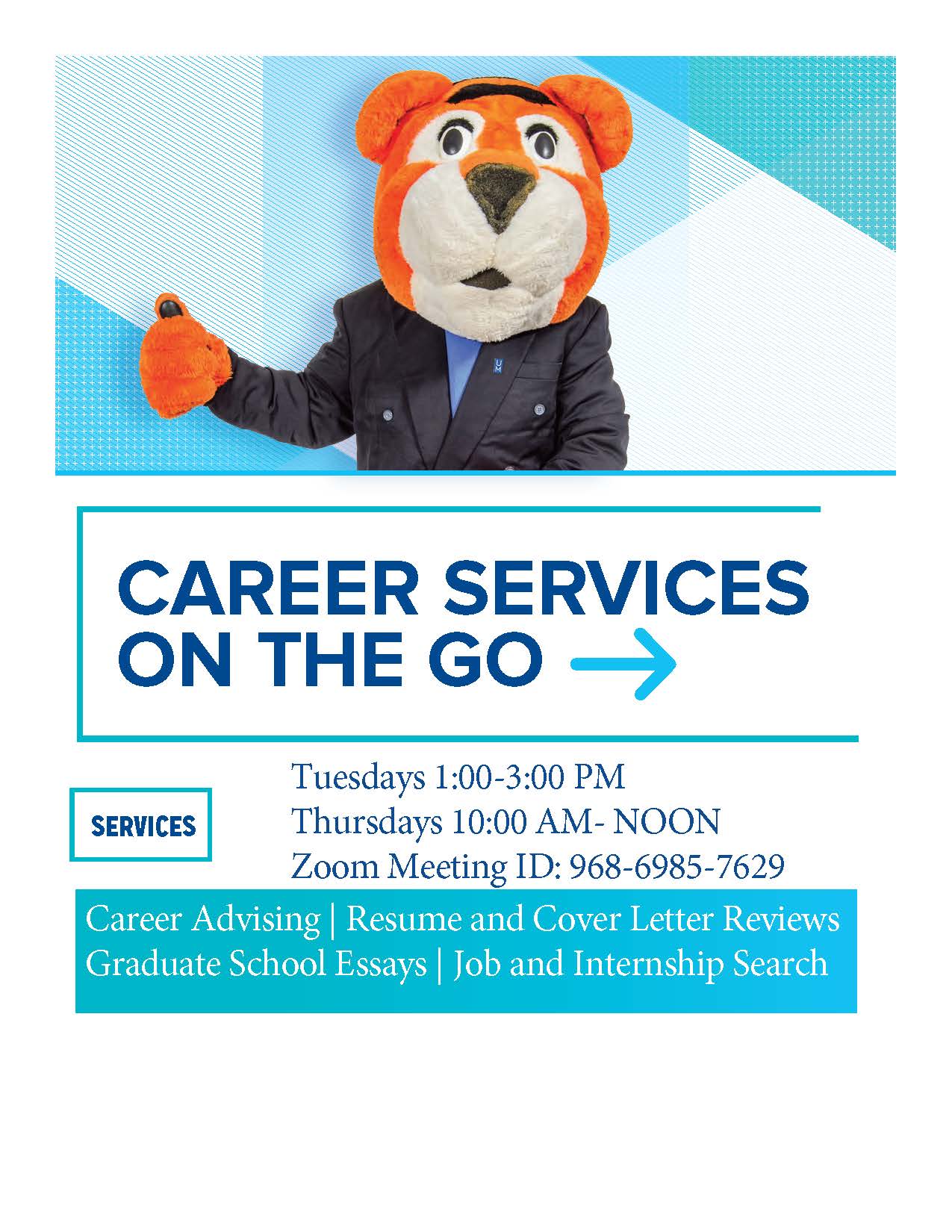 Join COE Career Services Specialist, Ayanna Perkins, and her colleagues for Career Services Drop-In Hours.
Tuesdays 1:00 PM-3:00 PM
Thursdays 10:00 AM- 12:00 PM
Career Specialists will be available to answer questions and give support on Resumes, Cover Letters, Mock Interviews, Graduate School planning, and other career-related questions.
Zoom Meeting ID: 968-6985-7629
Tiger Talent Development Series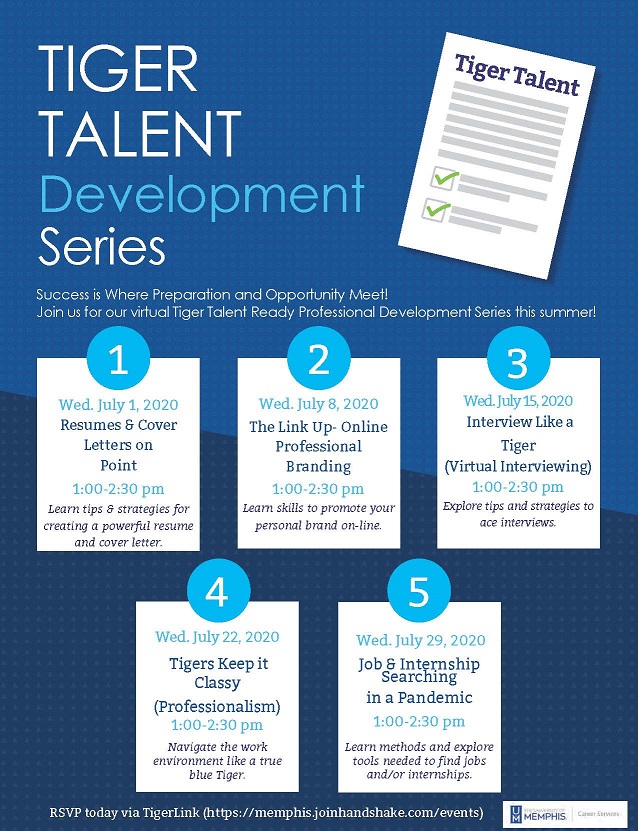 Join us virtually each Wednesday in July from 1-2:30pm for professional development tips. Topics include:



July 1, 2020: Resumes and Cover Letters on Point

July 8, 2020: The Link Up - Online Professional Branding

July 15, 2020: Interview Like a Tiger - Virtual Interviewing

July 22, 2020: Tigers Keep it Classy - Professionalism

July 29, 2020: Job and Internship Searching in a Pandemic

RSVP today via Tiger Link>.





To see more of the great things happening in the College of Education, visit our News and Events page!>
Alison Happel-Parkins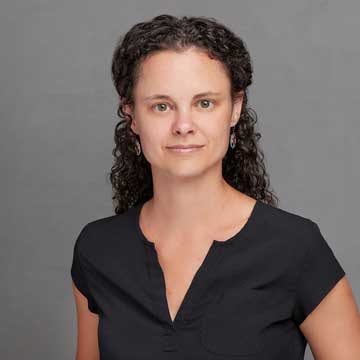 Meet Dr. Alison Happel-Parkins, Associate Professor in CEPR. See her faculty profile here>.
Research Focus: All of my research, theoretical and empirical, is feminist in nature. I am currently focusing on issues related to reproductive justice for women. Specifically, I am exploring the connections between women's informal and formal educative experiences related to sex education, and messages they received about sexuality and their bodies when they were growing up. My co-author and I partnered with a local pelvic floor physical therapist in order to interview women about their cultural contexts (family, religious institutions, etc.) and their experiences of sexuality. We are currently collecting data through a survey in order to be able to make some larger claims about connections and cross-cultural trends.
Teaching Expertise: Dr. Susan Nordstrom and I teach the qualitative research methodology courses in the College of Education. I regularly teach the Introduction to Qualitative Methods (EDPR 8561, face-to-face, hybrid, online) course, the Methods and Analysis course (face-to-face and online), and the Writing Retreat (face-to-face).
Service Highlights: I had the opportunity to co-chair the COE Tenure and Promotion committee this past year. Also, I am co-chair of the university-wide Engaged Scholarship Network committee. This is particularly exciting right now, since we will be bringing back grant opportunities for faculty who want to conduct relevant, impactful research with local organizations and non-profits. It's fun to be able to help direct what that opportunity might look like for faculty.
Why I love the COE: I enjoy the support that I receive from colleagues. There are always opportunities for collaboration, and even if we approach research differently, we all respect one another. I also love witnessing students "find themselves" in both theory and research. Many students have never before been exposed to qualitative research before our courses; they often are surprised and excited to find that there is a space for their unique interests and passions in qualitative research.
Fun Fact: I've been a vegetarian for 14 years, and this is not easy in Memphis! Also related to food—I am currently a board member for the Compost Fairy, which has been amazing. I love connecting with other ecologically-minded folks in Memphis, and helping both individual houses/residences and small businesses to compost their food waste.
Steven Nelson
Meet Dr. Steven Nelson, Assistant Professor in LEAD. View his faculty profile here>.
Research Focus: My research agenda interrogates the intersection of education law and education policy and the educational experiences of Black, urban youth. I consider myself a Critical Race Theorist, and I subscribe to the notions inherent into the framework.
Teaching Expertise: I teach courses in education policy and education law. I also teach the Race, Ethnicity, and Gender course and the Politics and Power course in the Leadership Department. My favorite courses are 1) Educational Law (Masters Level), 2) American Society and Education Policy, and 3) Race, Ethnicity, and Gender in American Education.
Service Highlights: I serve as one of the University of Memphis' Title IX Hearing Officers. I also sit on the editorial board of Urban Education and Educational Researcher.
Why I love the COE: I enjoy the collegiality in the College of Education. In general, I have been able to reach out to colleagues across departments for advice, support, and encouragement. My colleagues have assisted me without hesitation.
Fun Fact: I am a hometown boy! My favorite sports teams are the New Orleans Saints and the New Orleans Pelicans. Moreover, I never trust people who don't cheer for their hometown teams. Those people are suspicious! Be wary of them!
Staff Spotlight: LaRuth Lofties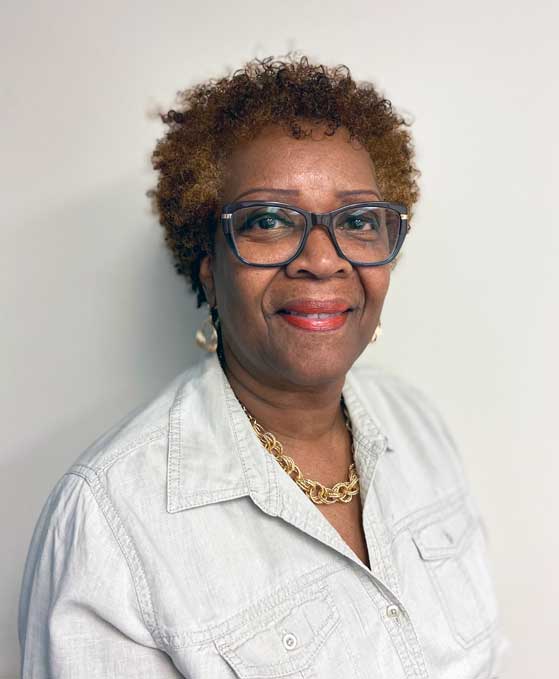 Meet LaRuth Lofties, Office of Teacher Education Graduate Advisor and Teacher Education Program Coordinator. Ms. Lofties has been with the University for 34 years and with the COE for 11 years. She is both a COE staff member and a COE student, working on her doctorate in Instruction, Curriculum & Leadership with a concentration in Urban Education. She says of being both a student and a staff member, " Being a student has helped to keep me grounded and empathic to the needs of our students in COE. Working as a staff member in COE has given me the opportunity to work with some really phenomenally super faculty and staff members whom I have had the pleasure of getting to know." Ms. Lofties says that she loves working in the COE because "I am a people person, so in both instances I love working with the students, faculty and staff of COE. I have learned so much from working in this capacity about myself and who I am both personally and professionally. I have been pushed and challenged with being driven to do above and beyond the norm. " LaRuth loves to play cards (spades, specifically) and thinks she's pretty good.
Join the COE Faculty
Join our innovative and dynamic faculty. The COE is currently searching for the following:
Dr. Helen Perkins Elected to Literacy Board
Dr. J. Helen Perkins, ICL Professor, has been voted as a Board member of the International Literacy Association (ILA) beginning July 1 for a three-year term. The ILA is a global advocacy and membership organization of more than 300,000 literacy educators, researchers, and experts across 146 countries. With more than 60 years of experience, ILA set the standard for how literacy is defined, taught, and evaluated.
This honor certainly reflects Dr. Perkins' impressive career, especially her commitment to literacy, and is another example of the excellence of the faculty in the COE. Read more about her appointment here>.
Dan Strahl (CREP) Receives Grant
Dan Strahl, associate director in the Center for Research in Education Policy, was awarded $46,500 from the Tennessee Alliance for Legal Service for his project "Tennessee Alliance for Legal Services 2020 Evaluation of Case Management Program."
COE Teacher Preparation Program Awarded "Exceeds Expectation" by TN Board of Education
The COE Teacher Preparation Program has been awarded an "Exceeds Expectation" in the TN Teacher Prep Report Card. We are one of only nine teacher prep programs (out of the 39 in the state) to receive this honor. Dean Hill-Clarke says of the distinction, "We are proud of the collective and collaborative efforts of our faculty and staff in the College of Education and the support and engagement of our district partners. It is good to see the hard work taking place in the College of Education being recognized across the state. In the College of Education, we have been taking a more intentional approach to the preparation of teachers with an enhanced focus on meeting the needs of P-12 students which includes: closely analyzing and monitoring our data, aligning our curriculum with state standards, strengthening our relationships with district partners, as well as increasing our level of responsiveness and refining our processes and support to ensure that our candidates are student and classroom ready."
Read more about the award here> and learn about our exceptional teacher prep program here>. And read the UofM press release here>.
US News and World Report Ranks COE Programs
Our Online Education was ranked #96 in the Best Online Education ranking. Not only does this ranking now place our program in the top 100, but we are also now #1 in the state of Tennessee. This ranking is a considerable jump from our 2019 ranking of 139 and our 2018 ranking of 150. Read more about the UofM's online program rankings here>.
The College of Education offers Teaching Certification and so much more! We have three departments that offer over 30 degree programs at the graduate and undergraduate level. To see which degree program will help you pursue excellence, visit our departmental pages.
COE Centers