Driven by Excellence
The College of Education at the University of Memphis is Driven by Excellence! We strive for excellence and transform innovation into action as we lead, teach, research, and serve. We train teachers, educational leaders, counselors, and researchers who will impact Memphis, the Mid-South, and the world.
To see more of the great things happening in the College of Education, visit our News and Events page!>
Upcoming Events
Become a Tiger, Become a Teacher Day 2020
Learn about Become a Tiger, Become a Teacher Day> and join us on March 6!
Walk-In Resume Review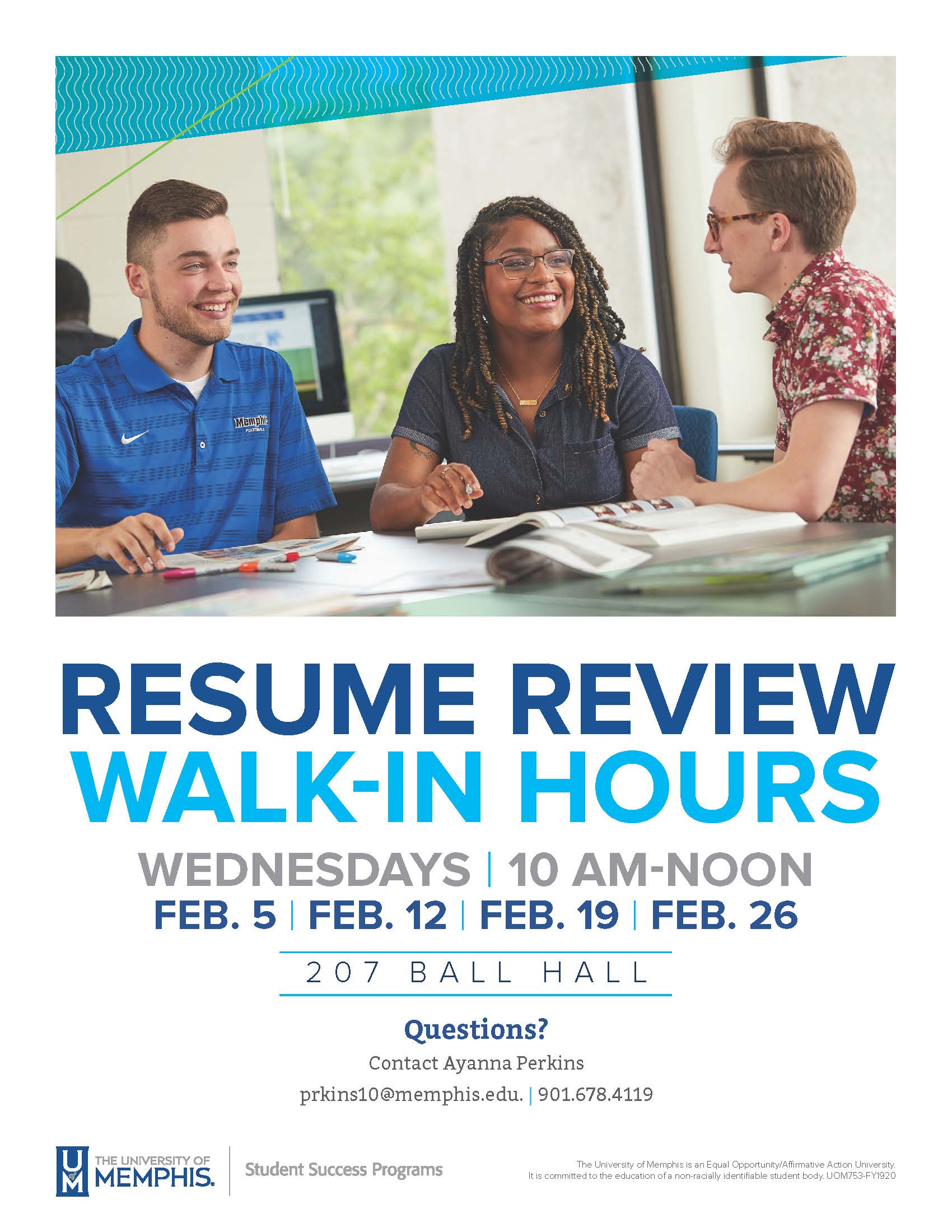 Applying for jobs in education? Need help cleaning up your resume? Drop in to Ball Hall 207 every Wednesday in February from 10am-noon to get expert help. COE Career Specialist, Ayanna Perkins, will be on-hand to answer questions and provide feedback.For questions, email or call Ayanna Perkins at prkins10@memphis.edu or 901.678.4119.



Spring 2020 Dine and Dash
COE faculty and graduate students are invited to join us for the Spring 2020 Dine and Dash series. Join us in Ball Hall 12-1pm for the following learning sessions.
January 29 - Cookies and Collaborations

Fostering collaboration within the COE, the UofM and with investigators at other institutions

February 12 - Opportunities for Research with the University Schools Research Consortium (USRC)
March 18 - Walking the Walk and Talking the Talk

Join a representative from the IRB to discuss compliance and IRB audits

April 1 - Notes from the Reviewers

Learn the "Do's" and "Don'ts" of grant applications from experienced external grant reviewers



Education Career Fair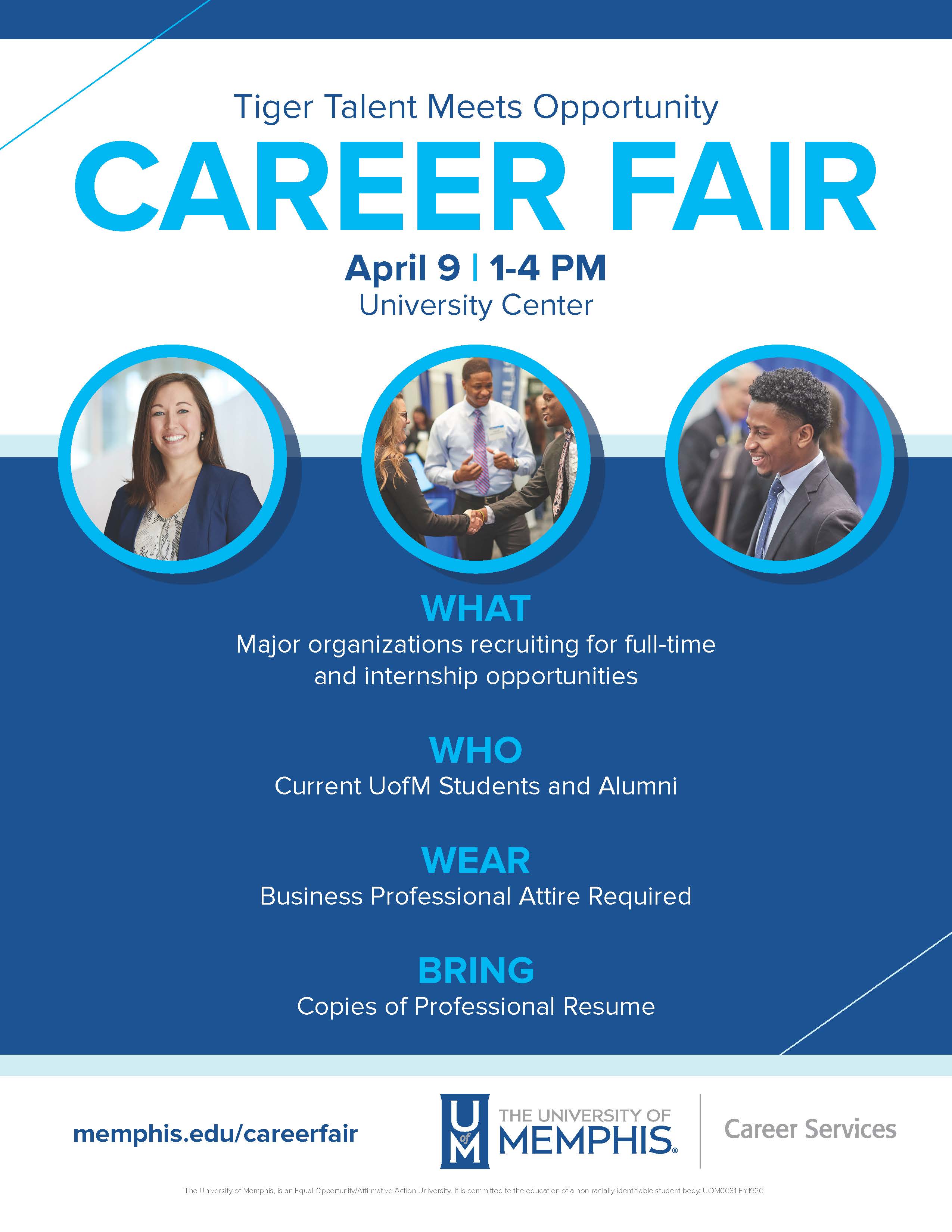 Thursday, April 9 | 1-4 pm
All Majors I UC Ballroom
Education-Only I UC River Room
Tiger Talent Meets Opportunity at UofM's largest career fair! Students from all majors will be ready to connect with recruiters for exciting career and internship opportunities! In the interest of increasing student exposure to opportunities in the field of Education, the River Room will focus on careers in Education!


Join the COE Faculty
Join our innovative and dynamic faculty. The COE is currently searching for the following:
COE Highlights
Dr. Byford interviewed about his book on East Germany and the Cold War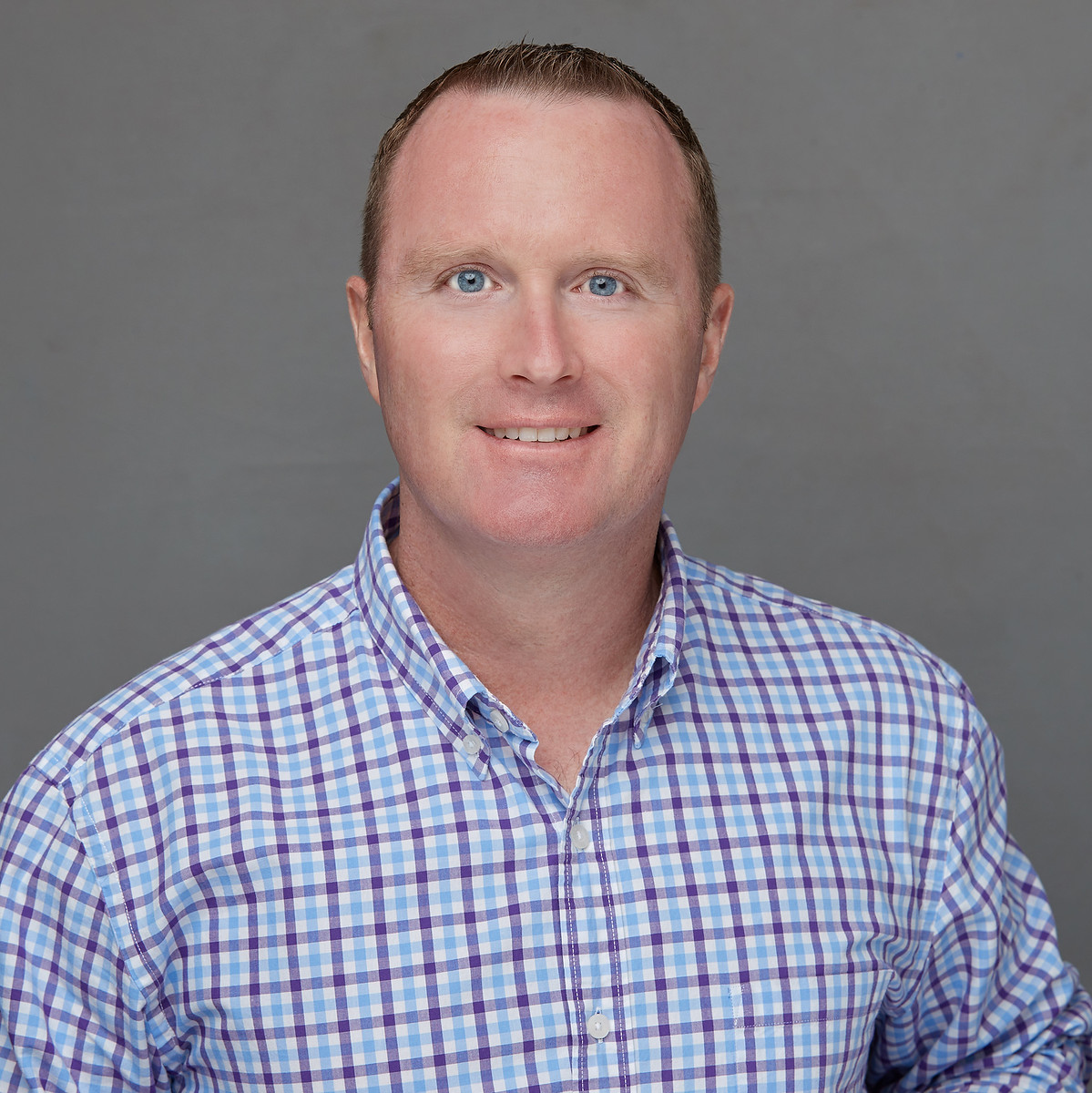 Dr. Jeff Byford, ICL Professor in Secondary Social Studies Education, was recently interviewed on The Radio GDR podcast about his book Behind the Iron Curtain – A Teacher's Guide to East Germany and Cold War Activities. Dr. Byford discussed his fascination with East Germany history, writing the teaching manual and his current research on the Free German Youth, also know as the FDJ, an East German youth movement. Listen to the podcast here> or purchase the teacher's guide here>.
COE Teacher Preparation Program Awarded "Exceeds Expectation" by TN Board of Education
The COE Teacher Preparation Program has been awarded an "Exceeds Expectation" in the TN Teacher Prep Report Card. We are one of only nine teacher prep programs (out of the 39 in the state) to receive this honor. Dean Hill-Clarke says of the distinction, "We are proud of the collective and collaborative efforts of our faculty and staff in the College of Education and the support and engagement of our district partners. It is good to see the hard work taking place in the College of Education being recognized across the state. In the College of Education, we have been taking a more intentional approach to the preparation of teachers with an enhanced focus on meeting the needs of P-12 students which includes: closely analyzing and monitoring our data, aligning our curriculum with state standards, strengthening our relationships with district partners, as well as increasing our level of responsiveness and refining our processes and support to ensure that our candidates are student and classroom ready."
Read more about the award here> and learn about our exceptional teacher prep program here>. And read the UofM press release here>.
US News and World Report Ranks COE Programs
Our Online Education was ranked #96 in the Best Online Education ranking. Not only does this ranking now place our program in the top 100, but we are also now #1 in the state of Tennessee. This ranking is a considerable jump from our 2019 ranking of 139 and our 2018 ranking of 150. Read more about the UofM's online program rankings here>.
2020 Teacher Candidate Scholarship Recipients
Congratulations to our 2020 Teacher Candidate Scholarship Recipients. These students are undergraduate teacher candidates in the Residency II semester. The awards are made possible by the hard work of our Office of Teacher Education, the dedication of our Director of Development, Venita Doggett, and, most importantly, our generous donors who are willing to give back and support our students.
| | | |
| --- | --- | --- |
| | | |
| Melissa Gray, recipient of the Theodora Jackson Cummings Educational Scholarship (pictured with Associate Dean Dr. Hall, the Cummings family and Venita Doggett) | Allison Cobb, recipient of the Beverly Hope Presley Scholarship (pictured with Venita Doggett and Dr. Hall) | Rachel Gibbons (L) and Alison Harrison (R), recipients of the Turetzky Family Teacher Candidate Scholarship (pictured with Dr. Hall and Venita Doggett) |
Dr. Andrew Tawfik and UofM team receive NSF grant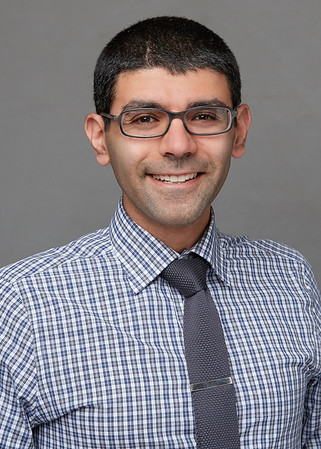 The National Science Foundation awarded a team from the UofM a $3.4 million grant to train individuals in the field of data science and fund research into programs that make data science easy for the public to use. Andrew Tawfik (ICL) worked on the grant as well as Dale Bowman (Math Sciences) and Vasile Rus and Scott Fleming (both from Computer Science). Andrew Olney (Psychology) serves as PI. Data science combines computer science, software design and statistics to analyze and increase access to data. The grant will allow the UofM to develop a data science program that will be accessible to those with and without computer science knowledge. To learn more about this project, read about in the Daily Helmsman here> and also read about Congressman Steve Cohen's support of the project here>.
Dr. Eraina Schauss, CEPR, featured in a Daily Memphian follow-up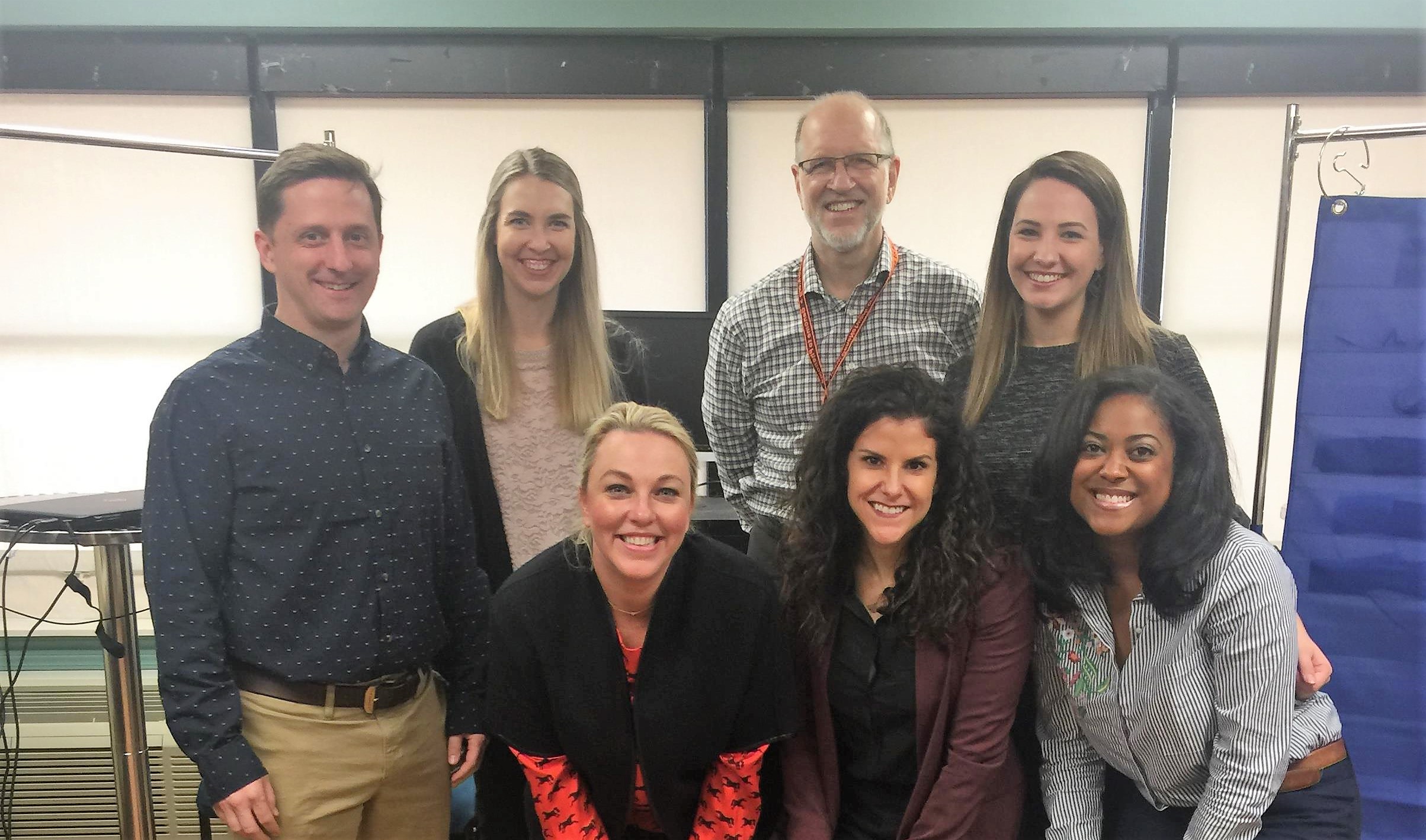 In a follow-up to the September article in the Daily Memphian, Dr. Eraina Schauss and her collaborative team at the BRAIN CENTER focused on their initial findings in their attempt to help teenagers who have been affected by childhood trauma and adverse childhood events to retrain their brain through neurofeedback training. Dr. Schauss reported that children and teens who received the treatment showed a greater improvement in self-control and emotional regulation than those who did not receive the treatment. As a result, the team has begun a second clinical trial. The research was funded, in large part, by a 2018 $1 million grant from the Memphis Research Consortium. Last fall, the team - which includes Dr. Khyobeni Mozhui of the Department of Preventive Medicine at UTHSC - received a $100,000 CORNET Award in Adverse Childhood Experiences (ACEs) Research. Read the initial story about Dr. Schauss's research, this fascinating project, and its implications for the city in the September issue of the Daily Memphian> and the follow-up February 2020 article here>.


Dr. Christine Bertz and CREP partner with Smithsonian Science Education on Grant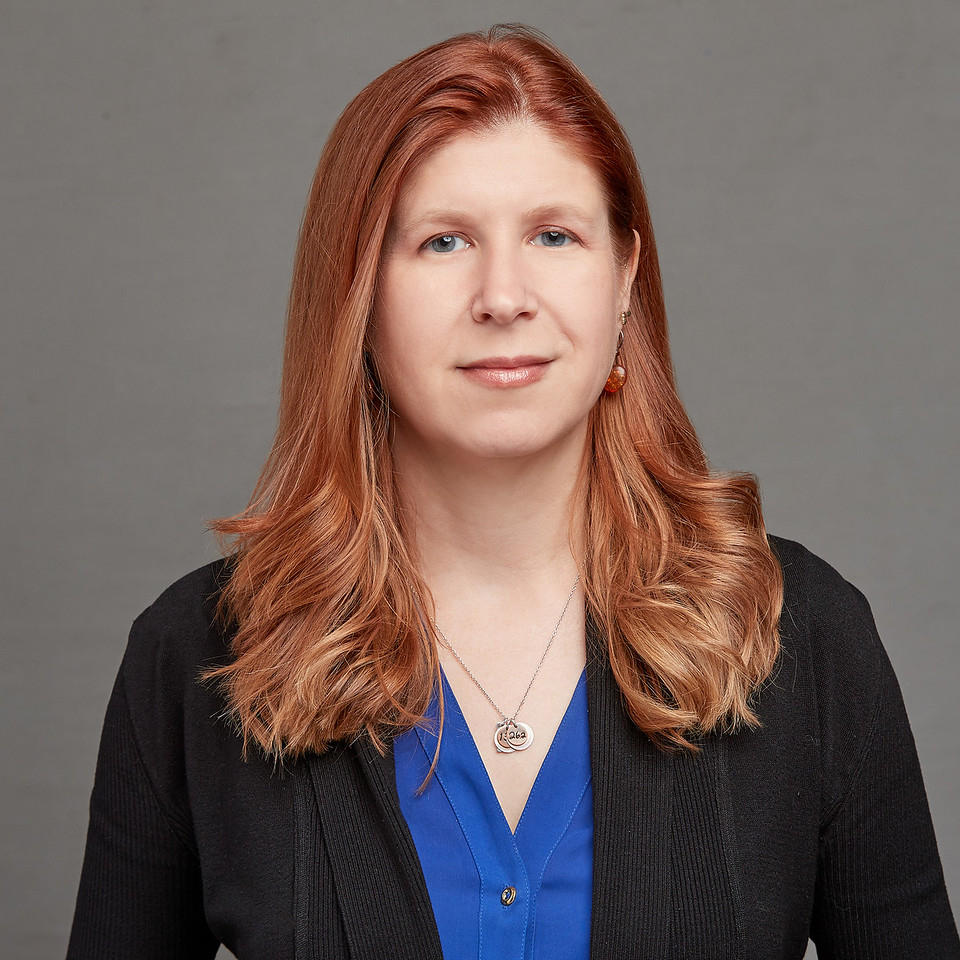 The Center for Research in Educational Policy is partnering with the Smithsonian Science Education Center (SSEC) on a new five-year grant. SSEC was awarded a $4.5 million grant from the US Department of Education's Education Innovation and Research program. The evaluation for the grant will be performed by CREP and will assess the impact on student achievement. Dr. Christine Bertz will serve as Principal Investigator for the evaluation. Dr. Todd Zoblotsky and Dan Strahl, CREP Associate Director, will serve as Co-PI's. Dr. Bertz coordinates all CREP and Smithsonian activities.
SSEC will bring "Smithsonian Science for North and South Carolina Classrooms" to more than 11,250 students in grades 3-5 in rural North Carolina and South Carolina in partnership with two community partners—the North Carolina Science, Math and Technology Center and the South Carolina Coalition for Mathematics & Science. In addition to the curriculum modules, SSEC will develop and implement differentiated science and engineering professional development to support the content and pedagogy within the curriculum modules.

Since 2010, CREP's partnership with the Smithsonian Science Education Center has brought almost $7 million dollars to the University of Memphis through nine grants and contracts. Projects have been conducted in North Carolina, Houston, New Mexico, Denver and surrounding areas in Colorado. Although CREP has frequently collaborated as the third-party evaluator, it was the prime recipient of the ongoing LASER EL OELA grant. Smithsonian Science Education Center serves as a sub-award partner.
Dr. Bertz's work with the Smithsonian Science Education Center was featured in the February 2020 issue of the UofM Research and Innovation newsletter. Read it here>.

COE Departments
The College of Education offers Teaching Certification and so much more! We have three departments that offer over 30 degree programs at the graduate and undergraduate level. To see which degree program will help you pursue excellence, visit our departmental pages.
Interested in counseling (clinical mental health, rehabilitation, school, or counselor education), counseling psychology, or educational psychology and research? Learn more about the Counseling, Educational Psychology and Research (CEPR) department>.
Interested in teaching at the preK-12 level or using instructional design in business, art, or education? Learn more about the Instruction and Curriculum Leadership (ICL) department>.
Interested in being a K-12 administrator or researching or administrating in higher and adult education? Learn more about the Leadership (LEAD) department>.


COE Centers