Spring 2022 Oustanding Biomedical Engineering Design Project Awards
Three student teams were selected by the Biomedical Engineering Advisory Board to receive the Spring 2022 Outstanding Biomedical Engineering Design Project Award. Details on the projects are below.
First Place Team:
Modular Environment Research System (MERS)
Student team members: Lucas Hines, Graeme McCord, John-David Ross, Samarth Vedante, Andrew Williams
Team advisors: Dr. Joel Bumgardner, UofM; Dr. Gary Bowlin, UofM; Ms Kaitlynn Jones, Smith & Nephew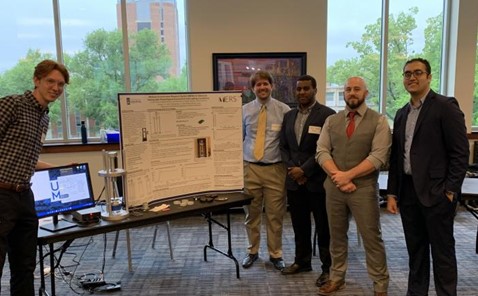 Problem statement
A device is needed for researchers to perform biomaterial mechanical testing in spatially limited and simulated physiological environments.
A brief description of your design
Our design involved the implementation of a size-adjustable circular frame made with 6061 Aluminum and three upright support rods. An Ultra Motion Smart Actuator was used to apply static compressive loads to our samples with a 5 kg Load Cell being used to record real-time loading data. Our system was validated by comparing relevant loading data gathered in an open-air benchtop environment to data in a CO2 incubator environment. The future of this design provides a broad range of functionality including cyclic loading, loading control based on load cell read out, and tensile testing of materials.
Statement of project impact
This project can perform relevant mechanical testing in an incubator environment. This supports hydration of the biological specimens and allows researchers to control important environmental factors generally not obtainable in current marketed designs. This product allows an inexpensive testing system for researchers in academia that operate with specific budgeting, creating access to material testing for many more, especially those with a focus in biomaterials.
Brief comment about design experience and what you learned and or acknowledgement
This design experience was unique in providing insights in overlap between different biomedical areas. Adapting to this unique problem, we met with experts in many fields to receive critical feedback allowing our design to achieve the functionality it addresses today. We learned how crucial having a clear and comprehensive design plan as well as a communication protocol can be to creating a successful design.
The MERS team would like to extend our thanks to Dr. Bumgardner, Dr. Bowlin, Kaitlynn Jones, Andrew Blass Watson, Lydia Ross, Dr. Donahue, and Professor Kohn for making this project a success.
Second Place Team:
Thinking Critically
Student team members: Kyra Brady, Michael Diep, Jehad Esmail, Madison Higgins, Julia Strecker
Team advisor: Dr. John Williams