CTIER Truck Parking in Tennessee Research Completed
The Center for Transportation Innovations in Education and Research (CTIER) in the University of Memphis Herff College of Engineering completed its research project on the demand and supply of truck parking facilities in the state of Tennessee. Sponsored by the Tennessee Department of Transportation and the Freight Mobility Research Institute, the research found that the state of Tennessee does not exhibit a significant issue with truck parking capacity with a majority of its interstate network categorized as having "adequate capacity."
Principal investigator Dr. Mihalis Golias, Civil Engineering professor, headed the research team consisting of co-principal investigators Dr. Sabya Mishra, Civil Engineering associate professor; Dr. Christopher R. Cherry, associate department head of Undergraduate Studies and Civil and Environmental Engineering professor at the University of Tennessee (UT); Airton Kohls, research associate III at the UT Center for Transportation Research; and Daniel Murray, vice president of the American Transportation Research Institute. Dimitrios Giampouranis in the UofM Department of Civil Engineering was research assistant.
The importance of this type of research is widespread. In the United States, the freight transportation system makes one of the most valuable contributions to the nation's economy and growth. Currently, truck traffic moves more than 70 percent by tonnage and 79.8 percent by value. By 2040, that is expected to increase by 45 percent. Long-term economic growth and the nation's dramatic shift to e-commerce is expected to result in even greater demand for truck traffic transportation, a critical component of supply chain operations. However, there is a gap between the demand and supply of truck parking facilities in many states.
When inadequate parking exists, drivers are forced to park in unauthorized and/or dangerous locations, creating new hazards for both the driver and other road users. Truck drivers can be excessively ticketed, or travel fatigued in violation of federal law. For these and other reasons, parking has been indicated by drivers as the most influential factor in route selection for trucking.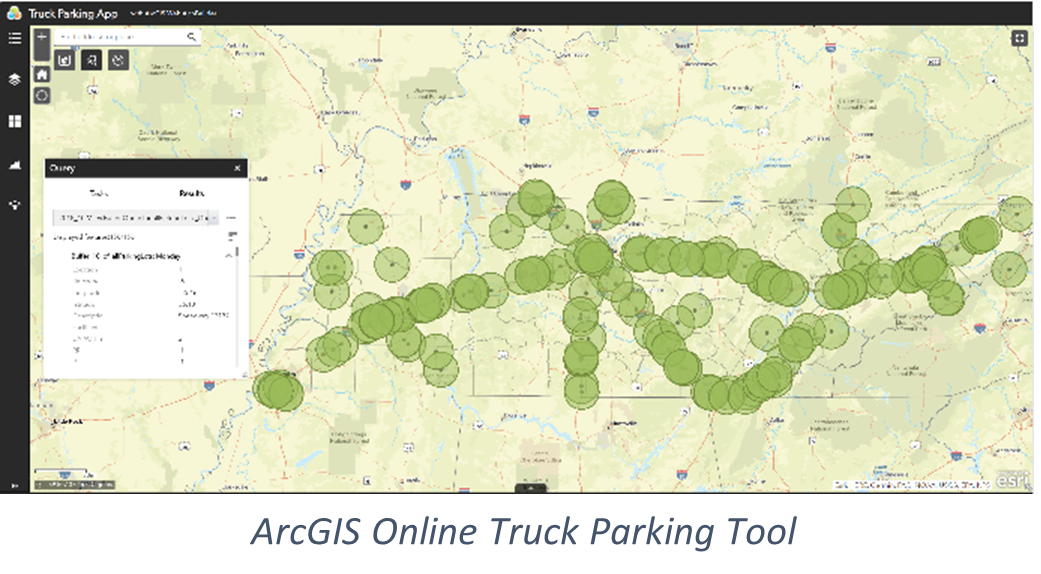 As part of the research, two data management and analysis websites were produced to determine various truck parking performance measures, such as volume capacity ratios and
violation rates by time of day, day of the week, hour of the day and roadway segments between locations where truck parking facilities may be located. In addition, a geographic information system (GIS) desktop application was created to help in the selection of new truck parking locations.
Two criteria—average and peak hour parking utilization rates—were used to identify areas with limited or no access to parking spaces for trucks, while taking into consideration parking utilization rates of neighboring locations were based on the coverage of existing locations. The utilization rates were used to categorize public and private parking facilities as adequate when they exhibited an average or median peak hour parking utilization rate lower than a limit, which is set by the user. If a parking facility met either of the criteria, then it was considered to have adequate parking capacity.
For more information, email Dr. Mihalis Golias, mgkolias@memphis.edu.