New Herff College of Engineering dean named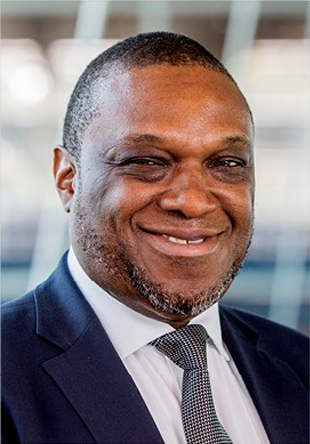 Dr. Okenwa Okoli has been named Dean of the Herff College of Engineering, effective Jan. 1, 2023.
Dr. Okoli is a Professor and former Chair of the Industrial and Manufacturing Engineering Department at the Florida A&M­/Florida State University College of Engineering, and the Associate Director of the High-Performance Materials Institute (H PMI) at FSU. His innovative research efforts encompass the cost-effective manufacture of customizable multiscale multifunctional composites; re-engineering and optimization of UHMWPE recipe in combination with the confinement of ceramic structures to achieve enhanced personnel protective armor; and a paradigm shift creating inherent and ubiquitous damage sensing in advanced composite structures. His research efforts have garnered $36M as Pl or Co-Pl in external funding.
He has 10 US patent applications (awarded and pending). He received the R&D 100 Award (2004), the ACMA Best Processing Technical Paper (2004) and the SAM PE Outstanding Paper Award (2015). A recipient of FSU's Dr. Martin Luther King, Jr. Distinguished Service Award, he has contributed to efforts to recruit and retain US students in STEM graduate programs with a focus of bridging the achievement gap in the underrepresented minorities. He is a chartered engineer and a chartered scientist of the Engineering and Science Councils (UK) respectively.
Dr. Okoli received a bachelor's degree in Mechanical Engineering from the University of Lagos (Nigeria), a Master of Science in Manufacturing Systems Engineering from the University of Warwick (UK) and a PhD in Engineering from the University of Warwick (UK).