UofM and IAMPE Sign Academic Partnership Agreement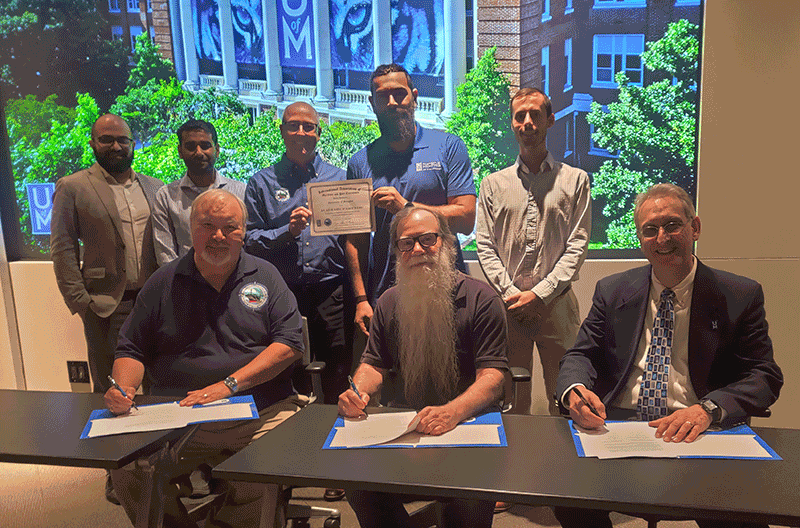 The University of Memphis (UofM) and the International Association of Maritime and Port Executives (IAMPE) have signed a Memorandum of Understanding (MOU) agreeing to work together on professional development for the maritime and port industry. Under the MOU, UofM and the IAMPE will acknowledge and endorse each other's programs related to port and terminal education and training. The IAMPE will look to provide a professional certification as Marine Terminal Operator (MTO) to UofM undergraduate students for successfully completing the appropriate engineering undergraduate program. In addition, UofM will grant IAMPE programs academic credits in their related graduate programs.
UofM graduate students can earn both a master's degree as well as the Maritime Port Manager (MPM) certification. IAMPE members who independently complete the IAMPE certification could receive academic credit towards the related graduate degrees at UofM. The IAMPE will also share all its research and electronic library with the college as well as course content for the Marine Port Management and Marine Port Executive Certifications. Both organizations will promote each other's programs to benefit professionals in the industry. They have also agreed to work together to develop new programs and undertake research as appropriate to improve offerings to the global port and maritime industry. A long term goal is to establish an Inland Rivers Research and Development Center at the University.
"We are very pleased to be working with the University of Memphis in this important effort and look forward to expanding the professional development goals of both of our organizations," said John Henshaw, Chairman of the IAMPE Board of Advisors.
"This is a great opportunity for the master's and undergraduate degree programs at the University to provide additional value to our students as well as contributing to education of maritime and port professionals worldwide. Working with the IAMPE will enhance our effort and commitment to advancing global standards in the maritime and port industry," explained Dr. Mihalis Golias, Professor of Civil Engineering AMPE-instructor in port and maritime programs and Co-Director of the Center for Transportation Innovations in Education and Research (CTIER) at UofM.
The UofM is one of the country's leading learner-centered metropolitan research universities. Located in "North America's Distribution Center" with five class 1 railroads, the nation's largest freight airport, and the fourth largest in-land port, and home to several large trucking companies operating on some of the busiest freight corridors in the country, UofM is also the home of CTIER, where faculty, researchers, and students have applied cutting-edge modeling in simulating and optimizing the behavior of many elements of the freight transportation system including Maritime. Professors Golias and Mishra (who co-direct all activities of CTIER) have collaborated with national and international researchers, industry (FedEx, Maher Terminals), and public entities (USDOT, TDOT, MI-DOT, MSHA, Baltimore MPO, Memphis MPO, PANYNJ, NYMTC, NJDOT) on multiple freight transportation and supply chain projects. Through this research they have developed several analytical and simulation tools to support policy and decision making; evaluated technological innovations that can streamline and improve efficiencies in transportation; and improved the ability to evaluate the environmental, health, and community impacts of capital and operational improvements.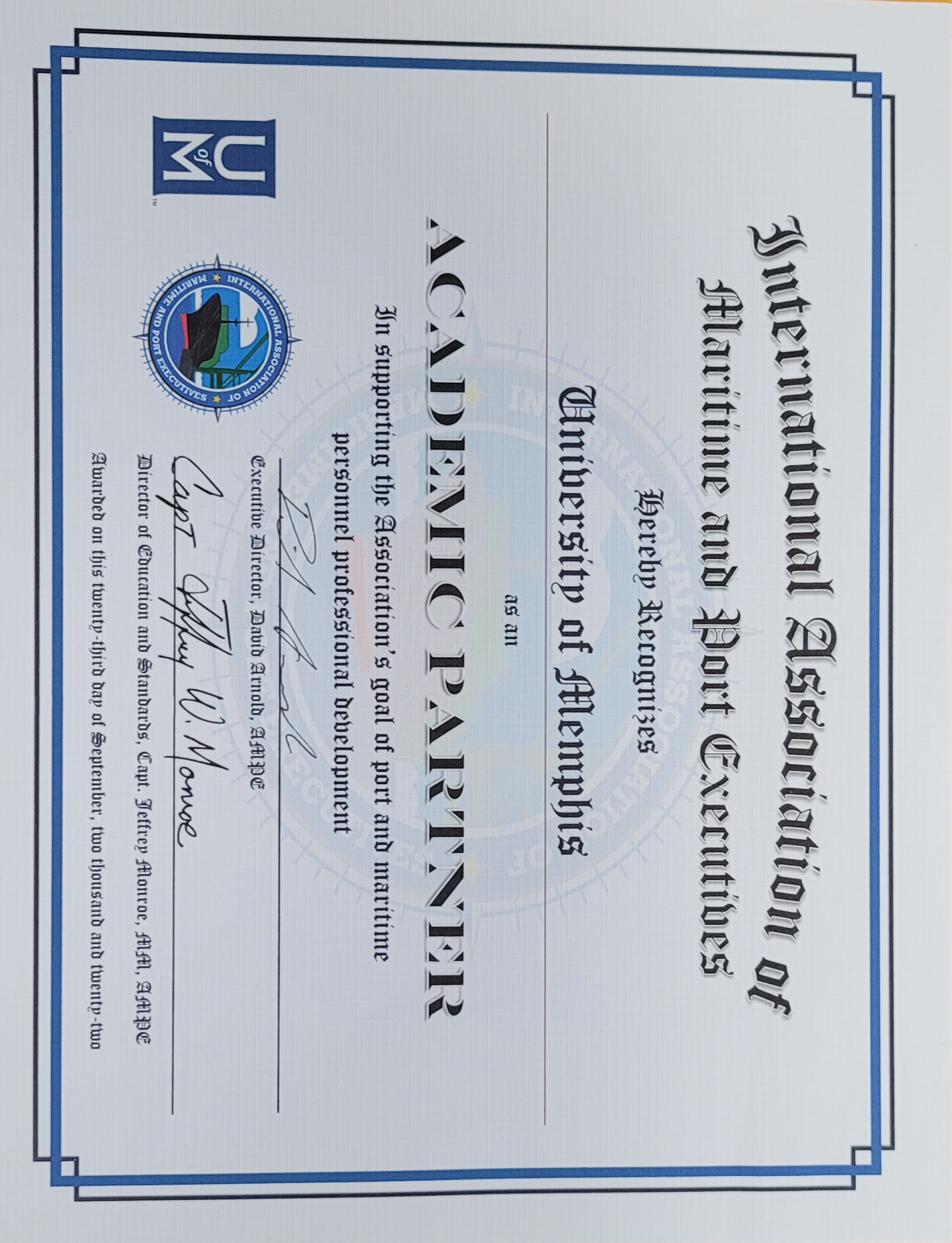 The International Association of Maritime and Port Executives is a not-for-profit industry association based in the United States that provides professional certification internationally for maritime and port professionals. The IAMPE offers professional development seminars in port management and operations, and executive management, and also has an ongoing continuing education program. The IAMPE provides industry recognized professional certification based on standards approved by the IAMPE Board. The Board is comprised of over 20 professionals from ports and maritime interests throughout North America. IAMPE certifications which have been granted to over 2,500 alumni worldwide in the port and terminal industry, military, and government agencies. The Association is working with industry partners to develop a worldwide port professional education and certification standard. This is the Association's first international college partner joining Maine Maritime Academy's Loeb-Sullivan Graduate School of International Business and Logistics, the graduate programs of Massachusetts Maritime Academy, Texas Southern University, and the State University of New York Maritime College Continuing Education Program.
"Our association with the University of Memphis is a great step in setting a gold standard for professional development and certification for industry professionals on the inland waters of the United States," said Capt. Jeffrey Monroe, MM, AMPE, Director of Education and Standards for the IAMPE. "The modern maritime and port industry must be managed by professionals with the highest standard of professionalism and education that can be provided, and we look forward to working with UofM professionals and in providing the industry with those opportunities," Monroe concluded.
"This agreement provides both our graduate program students and our undergraduate students an excellent opportunity to broaden their horizons and professionalism in the inland port and maritime industry," said Dr. Shahram Pezeshk, Professor and Chair of the Civil Engineering Department at UofM. "We look forward to offering inland port and terminal engineering and similar education program opportunities to the alumni of the IAMPE professional development programs."