Celebrating Dean Richard Sweigard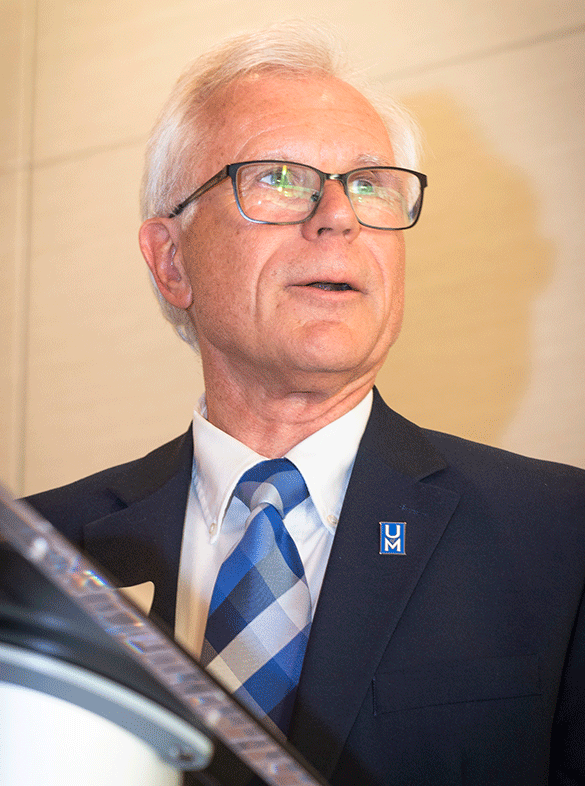 Increase. Development. Progress. Growth. Expansion. Enhancement. There are many ways to describe Dr. Richard Sweigard's nine-year tenure as Dean of the Herff College of Engineering. When he started in June 2013, he said he wanted to increase the Herff College of Engineering's positive impact on the region. Looking at what he has accomplished, he might be considered an overachiever.
When he came to the University of Memphis, Dr. Sweigard breathed new life into the faculty, staff and students of Herff. He had experience from the University of Kentucky College of Engineering that everyone believed would drive the college forward because he was considered "the bridge between our past, our present and the promise of our future."
One promise for the future will come to fruition soon with the impending construction of the STEM Research and Classroom Building, a $41 million, 65,000 square-foot building that will provide the college that has grown and is bursting at the seams the space to spread out and allow for future growth and more effective recruiting. The new building will connect to the Engineering Science Building, going north to south at the corner of Central and Zach Curlin. It will include space for researchers from the College of Arts and Sciences, enhancing existing collaborative relationships.
"This is the first opportunity we have had, really in the history of the college, to design space specifically for research. That is going to make this space so much more amenable and is going to help us in attracting not only students but faculty as well," Dean Sweigard said in a Daily Memphian article about the importance of updated facilities that are designed for research unlike previous facilities that were designed for classroom instruction.
Research growth is part of an aggressive, 10-year strategic plan that was created during his first year at Herff. A departure from previous strategies, the plan was fueled by the need to boost the number of engineering graduates in West Tennessee (which was two-thirds below the national average), drive state funding based on new performance-based metrics, adopt the University's Responsibility Center Management policies, and contribute to the University of Memphis ambitious research goals.
The strategic plan had six objectives:
B.S. Student Growth,
Graduate Student Growth,
Research Growth,
Improved Talent Management,
Increased Private Funding and
Increased Visibility and Reputation
Driven by Dean Sweigard, that plan led to many Herff successes and milestones. Some of the highlights include,
Increased six-year graduation rate
Increased number of B.S. degrees awarded from 114 (academic year 2012-13) to 203 (academic year 2021-22)
Increased the number of M.S. degrees awarded from 31 (academic year 2012-13) to 43
Increased the number of Ph.D. degrees awarded from 6 (AY 2012-13) to 22 (AY 2021-22)
Increased the number of undergraduate students by 37% and B.S. degree completion by 50% between 2013 and 2018
Increased the number of first-time freshmen by 137% through recruitment efforts, the Herff Merit Scholarship program and other student success initiatives
Increased efforts to attract and recruit historically underrepresented student populations to make sure Herff is representative of the diverse community in which students will work and live; In 2020, the enrollment of African American, Hispanic, Pacific Islander and Native American students at Herff was 30%, nearly double the national average for engineering colleges
Increased the student retention rate
Created the Engineering Living Learning Community, designated spaces for men and women in Centennial Place that provides a close-knit, caring community for engineering majors equipped with dedicated computer facilities, public spaces and study lounges
Honored with student services space on the third floor of Engineering Administration dedicated to him
Increased research funding from about $4.4 M in FY 2018 to about $9.2 M in FY 22; in FY 21, Herff faculty accounted for about 20% of total new research at the UofM
Drove the process to fund the STEM Research & Classroom Building, a $41 M, 65,000-square-foot research and classroom facility that will serve as a hub for STEM research, instruction and competition/exhibit space (groundbreaking planned for Fall 2022)
---
Slideshow honoring Dean Sweigard
About Dean Sweigard...