Employment - Off-Campus
Optional Practical Training (OPT)/Extension
What is Optional Practical Training?
Post-Completion Optional Practical Training is the United States Immigration & Citizenship Service (USCIS) work permit for F-1 individuals that have completed their coursework. If you are an F-1 visa-holding student, you are allowed to work 12 months with a full-time OPT and extensions are possible for students in limited categories.
OPT/CPT Workshops
The International Student Services office will present several OPT and CPT workshops for F-1 visa students covering the application process, eligibility to apply, types of employment, and what to expect after applying. Seating is limited at each workshop and punctual attendance at a session is mandatory before applying for authorization.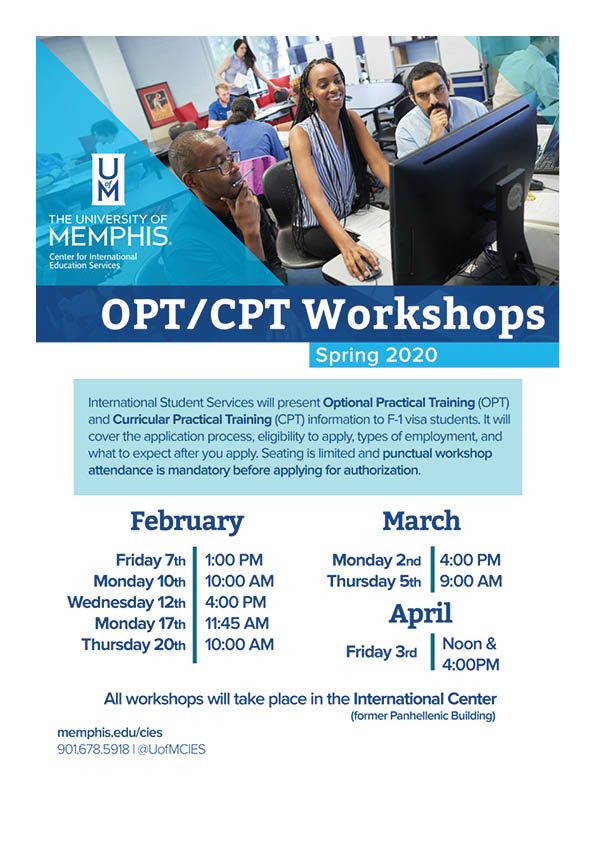 How do you obtain this work permission?
After thoroughly reading the instructions, and attending an OPT workshop, you should fill out the forms I-765 and I-538. Obtain all required documents and get pictures made as described below for the packet to send to USCIS. Next, you need to sign the new I-20 that will be a part of your OPT application. If you are not currently in Memphis, please email theworld@memphis.edu to arrange for alternate document imaging for the OPT packet. Lastly, you should mail the completed packet to the United States Immigration & Citizenship Service.
Photograph Requirements:
2 identical color passport-style photos taken within 30 days of filing your application.

No smaller than 1 ½ inches and no larger than 2 inches.

Printed with a white or very light color background on thin paper with a glossy finish.

No glasses, hats or scarves, unless it is required by the religious order to which the student

belongs.

Your name and I-94 number should be written on the back of the photograph using a pencil or felt tip soft pen.

Do not staple the photographs.
Money:
The fee to mail the completed packet is $410. This fee can be paid with a personal check or money order made payable to "U.S. Department of Homeland Security" with your SEVIS ID number in the memo line.
For credit card payment, submit form G-1450, authorized payment amount to $410. You may only use a credit card account with a U.S. billing address - no foreign billing address is allowed. You can use cards with Visa, MasterCard, American Express, and Discover.
What should you do after obtaining all of the items on the checklist?
You should send images of the completed I-765, completed I-538, and departmental confirmation to theworld@memphis.edu. The International Student Services Office must review your materials and then enter the data into the SEVIS computer system which will produce a new I-20. A signed copy of this new I-20 will be required as part of the final packet mail to the government.
Where should you send the completed application?
The ISS Office must process your I-765 and I-538 information and verify the academic department's estimate of your final enrollment. These forms must be processed in order to produce a new I-20. Most OPT applications take 4-5 to process before they are ready to mail.
Once prepared, the student should either pick up the new I-20 or email theworld@memphis.edu if the student is not currently in Memphis. Students who complete their degree at a Tennessee school must send their applications to the Texas Regional Service Center.
When should you apply?
You should apply no earlier than 90 days before the completion of your coursework and no later than graduation. You should not wait for a job offer to apply, as there is no expedited processing available for OPT.
How long does it take to receive the card?
View Texas Service Center processing times HERE. Then choose the "I-765 Application for Employment Authorization" and select the "Texas Service Center".
Can I start working after I've submitted my OPT packet to USCIS?
No. You must wait for the USCIS to respond to your request for work permission. Until you have the EAD card, you are not legal to work.
If you decide to earn another degree, do you get 12 more months of work permission?
International students are allowed 12 months of full-time Optional Practical Training per degree level. This means that you may be eligible for 12 months of OPT after a bachelor's degree earned inside the U.S., 12 more months of OPT after a U.S. master's degree and then 12 more months after completing a PhD.
Can you become unemployed on OPT?
F-1 visa holders are allowed a maximum of 90 days of unemployment while on their initial 12 months of OPT. Any student who is not employed within the first 90 days of their OPT card start date will be considered in violation of their status. Volunteer jobs do count as employment, but you need to get documentation of the volunteer work. The government can ask to see proof of employment.
If you are on OPT, are you still F-1?
F-1 status continues while on OPT, which means that the ISS Office must report your status and employer information to the government while you are on OPT.
What about extensions to OPT?
There are two types of OPT extensions available. Each extension has restrictive policies that may not apply to all students. You should check with the ISS Office to determine if you qualify for either type of extension.
Extension 1: STEM – 24 Month Extension
OPT extensions are available for some F-1s who have completed coursework in a government-selected list of approved majors. The STEM-category majors are listed here: https://studyinthestates.dhs.gov/eligible-cip-codes-for-the-stem-opt-extension
Additionally the F-1 must be employed with an E-Verify registered company. A form I-983 must be completed by both the student and the company, signed by the company and submitted to the ISS Office, where the new I-20 will be produced for the extension.
Extension 2: Cap Gap Extension
F-1s who are currently on OPT with a pending H1B application may also qualify for a temporary extension, regardless of their major. Any major qualifies for this H1B "Cap Gap" extension. No E-Verify is required for this extension and no special major is required, but the H1B application must be in progress. You should be prepared to show your H1B application receipt number.
What if you change your mind and want to go back to school?
OPT time cannot be returned or saved if you cancel the card early or decide to return to school full-time. If an F-1 student requests a new I-20 for a new degree program during the OPT time, it will cancel the OPT. F-1 visa holders are allowed to take part-time classes while on OPT but are not required to take classes.
What does an employer need from you? Can you change employers?
Your employer needs to keep a photocopy of your OPT card to prove that you are legal to work. They also need a social security number to comply with tax laws. You are allowed to work for more than one employer and can change jobs while on OPT. Jobs must be related to your course of study and appropriate for your degree level. You should NOT use OPT for student worker jobs or graduate assistantships.
Can you travel when you are on OPT?
F-1 students on OPT are allowed to travel domestically in the U.S. with no special paperwork requirements. HOWEVER: Travel outside of the U.S. is always uncertain. There have been a few cases of OPT students being denied re-entry to the U.S. At some border points, OPT students have been asked to show proof of a job, their OPT card, their valid F-1 visa and I-20.
*Travel outside of the U.S. is at the students' own discretion
What if you do not want to take OPT right after graduation?
If not taking OPT, you have a 60-day grace period after completion of the academic program in which you can:
Leave the U.S.

Change visa status

Sign an I-20 for a new degree program
What happens when your OPT card expires?
You are allowed a 60-day grace period following the expiration of your OPT card. During this 60-day period, you may pack and leave the U.S. OR obtain a new I-20 for a different degree program OR move to a new visa type.
How do you notify the USCIS that you have moved or changed employers?
F-1 visa students using OPT must remain in contact with the International Students Office. Your International Student Advisor will update SEVIS with your address changes and employment information. You may also upload the information to your SEVP portal.
*Your UofM email may expire after graduation, so another email address will need to be provided as well.
Checklist for First-Time OPT Applications (Initial 12 Months of OPT)
Send a scan of all required items to theworld@memphis.edu so that the International Student Services Office can begin the OPT process with a new I-20.
A scan of a completed and signed form I-765

A scan of a completed and signed form I-538 - be sure to include the planned OPT start date on this form.

A scan of the your passport data page, showing your name, birthdate and passport expiration. Note that the passport must be more than 6 months from expiration.

Your academic department must provide an estimate of your last semester of enrollment. This does not need to be an elaborate letter, but the ISS Office must confirm that you are at the end of your academic program in order to proceed with OPT processing.

Notify the ISS Office of any pending Permanent Residence Application, Change of Status, or other visa issues.
After the ISS Office has prepared the new I-20, you will need to sign it, make a copy of the signed I-20 and include it in the finalized OPT packet.
After the I-20 is signed and copied, include it with the original, signed I-765, a copy of your passport, visa, printout of the I-94, and copies of all previous I-20s. These items combined will complete the OPT packet.
Use only paperclips to attach your check and photographs on the top of the finalized OPT packet and ship it to the government.
Consider Priority Mail, Express Mail, or another delivery service with a tracking number when shipping the finalized OPT packet.
Remember to only use scanned or photocopied I-20s for domestic paperwork purposes only. Do not attempt to travel with a photocopy or scan of any I-20.
Curricular Practical Training (CPT)
Curricular Practical Training is the U.S. Federal permission for F-1 students to take a class requiring off-campus practical experience and receive pay while enrolled in that class.
Eligibility Requirements
The student must provide proof that they have completed at least two semesters in F-1 status prior to the CPT application, or show proof that they are enrolled in a program of study with mandatory internship requirements for all students within the first two semesters of the program.

The student must show proof from their professor stating that he/she is supervising the internship class, the course number and the dates that the professor will monitor that class. Please see the form

for Professors/Academic Coordinators

.

The company letter should present an internship or practicum with a specific end date to match the end date of the professor's grading period. Letters offering regular employment or open-ended jobs are not acceptable.

The student must provide sufficient documentation regarding the full-time or part-time status of their CPT, and the number of hours of course credit enrollment for that semester.
Students are not legally allowed to work until they receive approval documents from the Center for International Education Services. Any amount of time spent working without approval is considered a violation of the United States Code of Federal Regulations and is a violation of F-1 visa status. [8CFR 214.2(f)(10)].
For further information, please see Curricular Practical Training Form and CIESi538 Form.