INSTITUTE FOR HEALTH LAW & POLICY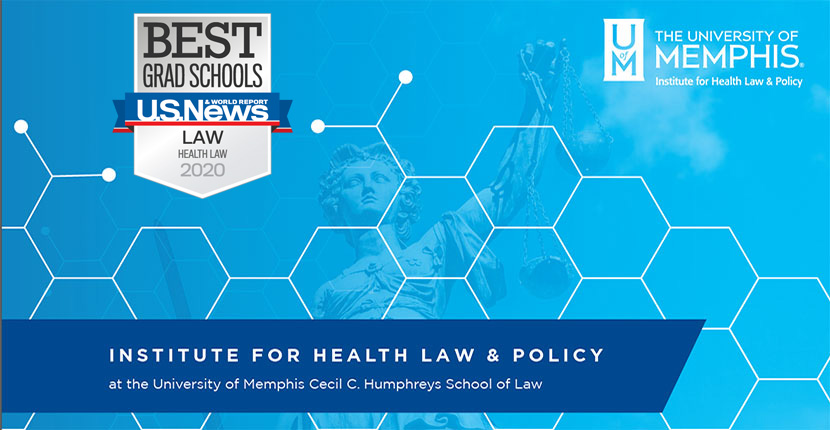 History:
In fall 2013, the University of Memphis School of Law embarked upon a mission to create the Institute for Health Law & Policy. After a year of developing priorities and meeting with key area stakeholders, the Institute formally launched in fall 2014 with a new Institute Advisory Board, a Health Law Certificate Program, and a mission to use law to advance health via interconnected education, research, and service endeavors.
Vision:
The Institute for Health Law & Policy at the University of Memphis will be an innovative leader in educating the next generation of health lawyers equipped with the knowledge and skills to advance health through law and policy.
Mission:
The mission of the Institute for Health Law & Policy at the University of Memphis ("iHeLP" or "Institute") is to prepare the next generation of health lawyers for practice in today's complex and ever-changing health care environment, and also with the skillset and dexterity to adapt practice to the issues and needs of tomorrow. Our graduates provide informed legal counsel, can break down complex legal issues for diverse, non-law audiences, and have the foresight to identify and potentially avert future legal issues. They represent a vision of preventive, relational lawyering attuned to the utmost professionalism and highest ethical standards in dealing with clients, affected parties, organizations, and the community. Critically, they also recognize the role of law as a service profession, and the need for lawyers who are ready, willing, and able to engage in and with the community, beyond their own clients, to advance the community's health through use of law and policy.
Core Approach:
The Institute achieves its mission through engagement in three core, integrated areas: education, scholarship, and service.
Educational goals focus on developing competencies and skills in law students for interdisciplinary, client- and mission-driven practice via traditional coursework, as well as externships and other skills-based opportunities. Focus areas include ability to skillfully provide legal counsel through traditional health law firm practice and as counsel for health systems and science/biotechnology firms, as well as in public health and policy settings. Faculty have expertise in a diverse array of health law fields and are also drawn from the surrounding community, the latter contributing a critical practice-based orientation to education.
Scholarship opportunities open up for students the possibility for self-directed and faculty-sponsored research, both within and transcending the law school's boundaries, to include, for example, collaboration with affiliated faculty with the School of Public Health and the Loewenberg College of Nursing at the University of Memphis, and with the University of Tennessee Health Science Center.
Service extends the Institute's reach into the community where iHeLP endeavors to: address unmet community health law issues, host community forums on health law and policy issues, and work with community leaders to proactively address health policy needs.